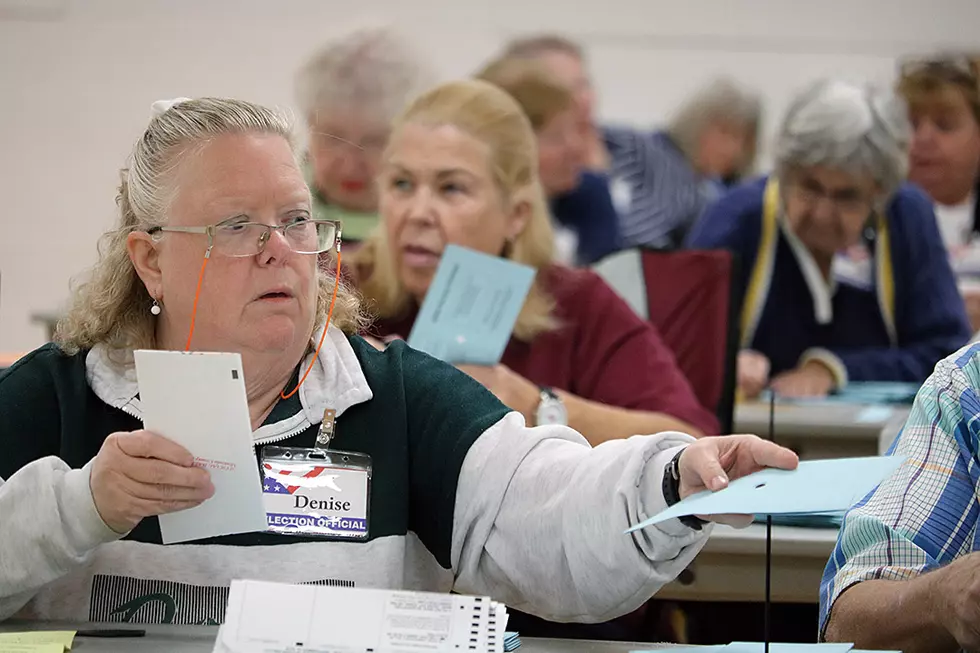 GOP candidates lobbied for all-mail ballots in Montana's big GOP counties
While Republicans are suing to halt all-mail voting in Montana's Nov. 3 general election, campaigns for top GOP candidates in the state lobbied officials in two big Republican-leaning counties to adopt mail ballots, MTN News has learned.
The two counties – Ravalli and Flathead – ultimately chose to conduct the Nov. 3 election with mail ballots, including a vote by the Flathead County Commission Sept. 3 to reverse an earlier decision to use polling stations.
GOP officials told MTN News that the campaigns of U.S. Sen. Steve Daines, gubernatorial candidate Greg Gianforte and other statewide Republican candidates worried that voter turnout in the GOP-leaning counties could be reduced, in a tight election, if they didn't use all-mail ballots.
"I'm against having an all-mail ballot," said Terry Nelson, head of the Ravalli County Republican Central Committee. "But we felt if other (Democratic-leaning counties) are doing it, we should, too, so we're not at a disadvantage."
The Ravalli County Republican Central Committee is a plaintiff in one of two GOP lawsuits in federal court, seeking to block Democratic Gov. Steve Bullock's Aug. 6 order allowing Montana counties to choose whether to adopt all-mail ballots for the general election.
State law says the general election must have polling stations open on Election Day. But Bullock said his emergency powers, during the Covid-19 pandemic, allowed him to give county officials the choice to go to all-mail ballots.
County election officials had requested the order, with many of them saying they might be unable to recruit enough election judges or find reliable locations for open polls on Nov. 3, because of the pandemic.
Forty-six of the state's 56 counties have chosen all-mail ballots, meaning they will mail ballots to all registered voters on Oct. 9, and continue mailing ballots to anyone who registers up to Oct. 26.
Polling places will not be open on Election Day in those counties, although some may have ballot drop-boxes at certain polling places.
Most state Republican Party officials have been denouncing Bullock's order, accusing him of using all-mail ballots to gain an advantage in his challenge of Sen. Daines in Montana's high-profile U.S. Senate contest.
The Trump presidential campaign and three Republican Party groups also filed suit in federal court Sept. 2 to block Bullock's order, and another suit was filed Wednesday, by Republican voters, legislative candidates and the Ravalli County GOP group.
The suits said mail ballots would increase the potential for voter fraud and disenfranchisement of voters.
A hearing on the suits is scheduled Sept. 22 before U.S. District Judge Dana Christensen in Missoula.
However, while GOP officials publicly opposed the Bullock order, campaigns for GOP statewide candidates urged officials in Ravalli and Flathead counties to choose all-mail ballots.
The Daines campaign said it wanted to make sure all Montanans have access to the same voting options – but that it still believes Bullock's "checkerboard mandate" is designed to give him an advantage.
Gianforte's campaign also said counties should consider using the same system, to avoid confusion.
Officials in Ravalli County, the state's seventh-most populous county and a heavily Republican area, decided Aug. 25 to go to all-mail ballots.
In Flathead County, the state's fourth-most populous county and another GOP enclave, commissioners had decided not to have an all-mail ballot. But the county commission reversed itself Sept. 3 on a 2-1 vote.
Commissioner Randy Brodehl, who was the single "no" vote, said the Daines campaign had contacted him about supporting the change and that he'd heard other GOP statewide candidates were making the same push.
"They were saying we'd get a better turnout in Flathead County," he told MTN News. "I just feel like manipulating the election is not the right reason (to use mail ballots)."
Commissioner Phil Mitchell, who supported the change, said he'd also heard the concerns from Republican candidates – but that's not the reason he switched.
Mitchell said he'd spoken with some elderly residents of his church who said they didn't want to go to the polls, because of fears about Covid-19. But they were unfamiliar with requesting an absentee ballot and had said they might not vote at all, he said.
"I just want people to vote – Democrat or Republican, I don't care," he said. "I'd rather have a 90 percent turnout, than a 60 percent turnout."