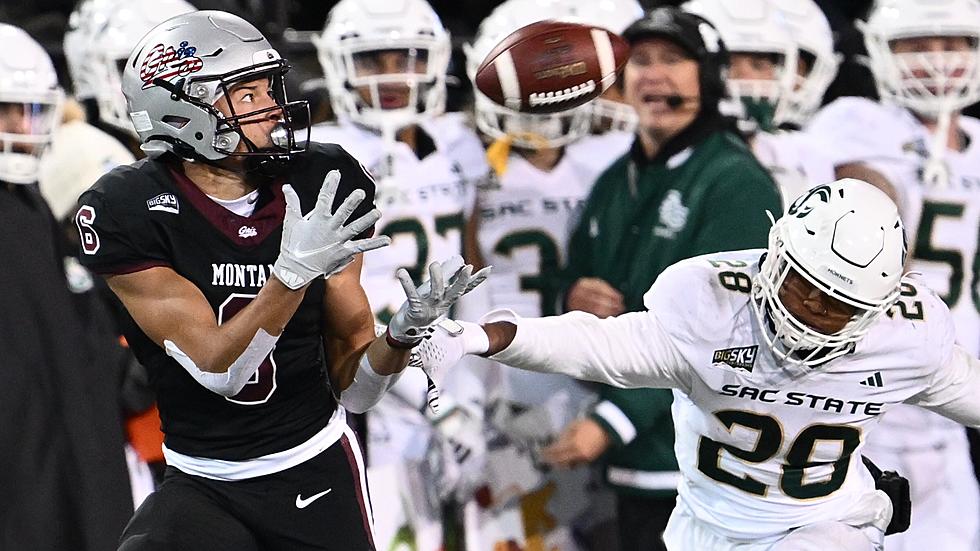 Griz beat Sacramento State and Hauck makes history
The Montana Grizzlies downed 7th ranked Sacramento State on Saturday night. (Ryan Brennecke/University of Montana)
(Montana Sports Information) Head coach Bobby Hauck has won a lot of football games in his career as the head coach of Montana Grizzly football, including some iconic playoff games and epic rivalry battles.
Saturday night's 34-7 domination of No. 7 Sacramento State may not be at the very top the list, but it's very near the pinnacle of his now record 124 wins.
With the victory, Hauck became the Big Sky Conference's all-time winningest coach at 124-35, passing Northern Arizona's Jerome Sauers.
"I'm appreciative of that milestone," Hauck said. "There have been so many great coaches and teams in this league and to be able to be at the top of that heap and to be a part of so many good football teams is just special."
The Grizzlies allowed the first score of the game but put on a masterclass following, scoring the final 34 points to remain undefeated at home on the year. It avenged an overtime loss from last season to the Hornets, snapped a three-game losing streak against them, and keeps Montana in the driver's seat in the chase for the Big Sky Championship.
Montana proved superior in every phase of the game, outgaining Sacramento State 547-268 in the game with a balanced offense and a defense that held the Hornets to just 25 percent on third down. A Sacramento State offense that averages 32 points per game was held to just seven.
They have now won five straight games to improve to 8-1 on the year and 5-1 in Big Sky play.
The Grizzly defense held Sacramento State without a point on its final 10 drives. The Hornets have averaged over six yards per play and 433 yards per game this year, but held to just 268 total yards on Saturday with only 3.9 yards per play.
Montana, meanwhile, had a season-high 547 total yards in yet another balanced effort. They ran the ball for 305 yards and threw for another 242, averaging 7.6 yards per play. They had a couple of big quarters with 152 yards in the second and 212 yards in the final quarter to put it away.
The rushing attack could not be stopped. The Grizzlies carried the ball 50 times for a season-high 305 yards. It's the most rushing yards in a game since Montana had 337 in a 63-7 blowout win over Eastern Washington last November.
Eli Gillman had his second straight 100-yard rushing game with 113 on 16 carries. He added a score. Clifton McDowell played the entire game at quarterback, running 15 times for 83 yards. Nick Ostmo also had 11 carries for 68 yards and two scores.
"I think the fact that we wore them down and then, we talked about it at halftime how we had them close to not wanting to play the run as well as they did in the first," Hauck said. "In the second half, but particularly the fourth quarter, we made them not want to tackle anymore."
McDowell also threw for 218 yards and two scores and caught a 24-yard pass from Junior Bergen. His favorite receiver on the day was Aaron Fontes, who hauled in six catches for 88 yards and a score.