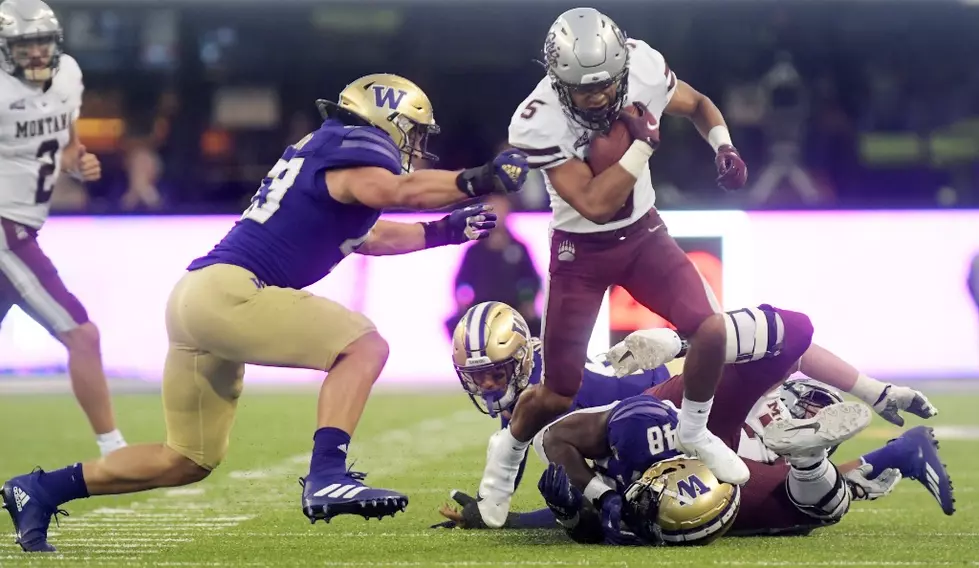 16 new Grizzlies added to roster as players report for fall camp
(UM photo)
(UM News Service) Montana football head coach Bobby Hauck announced the addition of 16 new players to the roster as the Grizzlies reported to fall camp on Friday, capping a summer of recruiting for the UM staff.
The Griz added nine transfers with collegiate experience and seven players from the high school ranks to fill out the roster on report day.
Hauck and his staff addressed needs up and down the roster with the summer recruiting haul, adding seven newcomers to the defense, six to the offense, and three specialists that will compete for playing time in the fall.
"Recruiting is a never-ending process in the current landscape of college football," said Hauck.
"Each of the players we've brought in can help us win, so we're excited to have them here and to get going with fall camp."
Including the recruits that committed to the team on signing day in February, a total of 35 new players have now joined the team since the end of the 2022 season, with 21 high schoolers and 14 transfers enrolling at UM.
The Grizzlies open fall camp on Monday with the first of 18 practices at Dornblaser field.
Montana opens the season on Sept. 2 with a first-time matchup against the Butler Bulldogs at Washington-Grizzly Stadium. Season tickets, mini-plans, and single-game tickets are on sale now at GrizTix.com. 
2023 Summer Roster Additions
| | | | | | | | |
| --- | --- | --- | --- | --- | --- | --- | --- |
| | Name | | Yr. | Pos. | Ht. | Wt. | Hometown / Previous Schools |
| 1 | Tanner | Barbour | Fr. | S | 6' 2" | 175 | Pullman, Wash. / Pullman HS |
| 2 | Travis | Benham | R-Sr. | P | 6' 3" | 210 | Pacifica, Calif. / Archbishop Riordan HS / San Jose St. |
| 3 | Kade | Boyd | Fr. | S | 6' 0" | 185 | Billings, Mont. / Central HS |
| 4 | Brayton | Boyer | Fr. | K | 5' 11' | 180 | Madison, N.J. / Madison HS |
| 5 | Jordan | Dever | Fr. | WR | 6' 0" | 170 | Spokane, Wash. / Shadle Park HS |
| 6 | Grant | Glasgow | R-Fr. | K | 6' 1" | 195 | Lawrence, Kan. / Lawrence HS / Kansas |
| 7 | Joseph | Grezmak | So. | TE | 6' 5" | 249 | Pilot Mountain, N.C. / East Surry HS / Louisburg |
| 8 | Duke | Holter | Fr. | OL | 6' 3" | 265 | Highlands Ranch, Colo. / Rock Canyon HS |
| 9 | Matai | Mata'afa | R-So. | DL | 6' 1" | 220 | Lahaina, Hawaii / Lahainaluna HS / Mississippi St. |
| 10 | Clifton | McDowell | Sr. | QB | 6' 4" | 220 | Spring, Texas / Louisiana / Kilgore / Central Arkansas |
| 11 | Brendan | Murphy | Fr. | LB | 6' 2" | 225 | Seattle, Wash. / O'Dea HS |
| 12 | Erich | Osteen | R-Jr. | LB | 6' 2" | 220 | Simi Valley, Calif. / Chaminade Prep / UCLA |
| 13 | Lucas | Pendergast | R-Fr. | WR | 6' 4" | 210 | Seattle, Wash. / Kings HS / Nevada |
| 14 | Evan | Shafer | Jr. | TE | 6' 5" | 270 | Connersville, Ind. / Connorsville HS / Hillsdale |
| 15 | Owen | Tesch | Fr. | LB | 6' 2" | 215 | Yorba Linda HS / Yorba Linda HS |
| 16 | Jelani | Warren | R-Jr. | CB | 6' 0" | 199 | Oakland, Calif. / Bishop O'Dowd HS / UCLA |