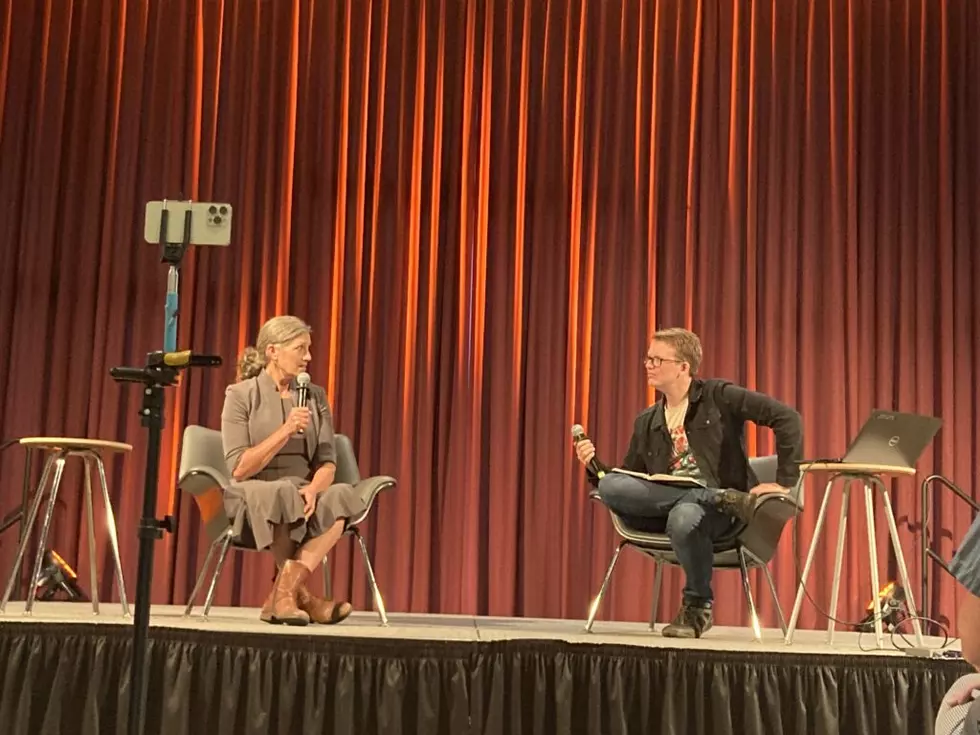 Hank Green hosts event with Monica Tranel in Missoula, will host Bozeman event in October
Online personality and science communicator Hank Green hosted a forum with Democrat Monica Tranel, the first political candidate for whom he's held a forum. Tranel is running for the U.S. House of Representatives against Republican Ryan Zinke and Libertarian John Lamb. (Keila Szpaller/The Daily Montanan)
Keila Szpaller
(Daily Montanan) Online media sensation Hank Green instructed the crowd soon after he took the stage: Calculate the dollars worth of boba tea you've consumed the last month, take out a phone, and donate that amount to Monica Tranel.
"Just one? That's $6.95 at Pearl. Unless you got extra boba," Green said, to laughter.
Tranel, the Democrat running for the U.S. House of Representatives in Montana's new western district, is the first political candidate for whom Green has hosted an event. Wednesday in the U.C. Ballroom at the University of Montana, some 500 people cheered as he walked onto the stage.
"Oh. Em. Gee," said one person in the crowd.
"Hank Green got me through high school science," another person said earlier.
Green, an entrepreneur and video blogger with nearly 3.5 million YouTube subscribers on vlogbrothers, said he turns down invitations to events in Montana because it's his home and has been even before he had a following ("I've said 'no,' and later I feel badly about it, and that's my strategy," he joked). But he said he himself invited Tranel to speak and rented the room.
Green said he had asked her why she was running for Congress because to him, the job seems terrible. He said Tranel gave him the expected answers at first, basically her platform, but then she said something he hadn't expected.
"She said, 'I'm running because I can win.' And I was like, wohoho."
He then introduced Tranel, a Missoula lawyer who grew up on a ranch in eastern Montana, the same way he's heard her introduce herself: "This is Monica Tranel. She's running for Congress."
The Republican in the race, former U.S. Secretary of the Interior Ryan Zinke, is favored to win. FiveThirtyEight gives him the seat 98 times out of 100, and Sabato's Crystal Ball paints the new district a solid red.
Libertarian John Lamb is also on the ballot.
Lee Banville, a UM journalism professor and political analyst, said Republicans have a comfortable margin of error. Democrats have a shot, he said, but it's a narrow path, and for them to win, everything has to line up just so.
That includes the youth vote.
"These kinds of events — and I'm sure you'll see a bunch of them in Montana, youth oriented, celebrity sightings — are all about getting these young people engaged," Banville said.
Pearl Jam hosts events for U.S. Sen. Jon Tester, and the Democrat has won in Montana by the thinnest margins. Banville said he's probably not in office because of the band, but the band creates engagement that helps drive people to the polls.
Banville said the events aren't about persuading people to a political party. With no president or governor on the ballot this year, they're about convincing people to show up and vote.
Especially with the elimination in Montana of same-day registration, he said, campaigns have to energize voters early, even in late September and early October.
"They almost have to get them so fired up that they … get registered right there," Banville said.
At UM, the event with Green started at 7 p.m., but even by 3 p.m., organizers said people had started lining up outside the door. Tables had voter registration forms available for participants, and Green encouraged them to register, volunteer, write letters to the editor, donate (he's already given her the maximum, he said) but at the bare minimum, to vote.
He offered a comparison that made the audience laugh: "Voting is to civic engagement as wiping your butt is to hygiene. So you've got to do a lot of stuff to not smell bad in your life."
The conversation drew a student inspired to study ecosystem restoration at UM after watching a YouTube video by Green, youth who weren't yet eligible to vote, and a parent who wanted to encourage her son to vote and asked Tranel for advice.
The query pulled Tranel out of her seat, and the crowd cheered: "I feel really strongly about this. … The most powerful form of voter suppression is apathy. And we have to overcome that."
In her career, Tranel said she's stood up against corporate monopolies, and she said the richest and most powerful people are afraid of one force: "The people. The people, we the people."
To right the ship, she said people have to set aside urban and rural divides and cultural divides. It's a time of "incredible wealth inequality," she said, and purposefully so: "That has been an intentional, calculated paid-for policy by the wealthiest who would subjugate democracy for money."
The solution? "Everyone has to go vote."
Asked at a media briefing if he disagreed with Tranel on any issues, and Green and Tranel both pointed to clams: she likes them, and he's allergic. In a serious response, though, and one he also shared during the public forum, Green said he was surprised that Tranel spoke her positions plainly and didn't temper her message based on her audience.
Tranel joked about that trait at the main event: "Maybe it's a simple thing, where I just don't want to remember everything I said last time I talked."
Really, though, she said it's important to build trust with people, especially because it's a time when there's so much erosion of trust. In 2020, she ran for the Public Service Commission, and she said the union asked where she was on Colstrip.
"I said, 'I'm not with you on that plant,'" Tranel said of the coal fired operation. "And they said, 'You are the first person who's been honest with us about that,' and they endorsed me."
Green will host an event for Tranel on October 12 in Bozeman.