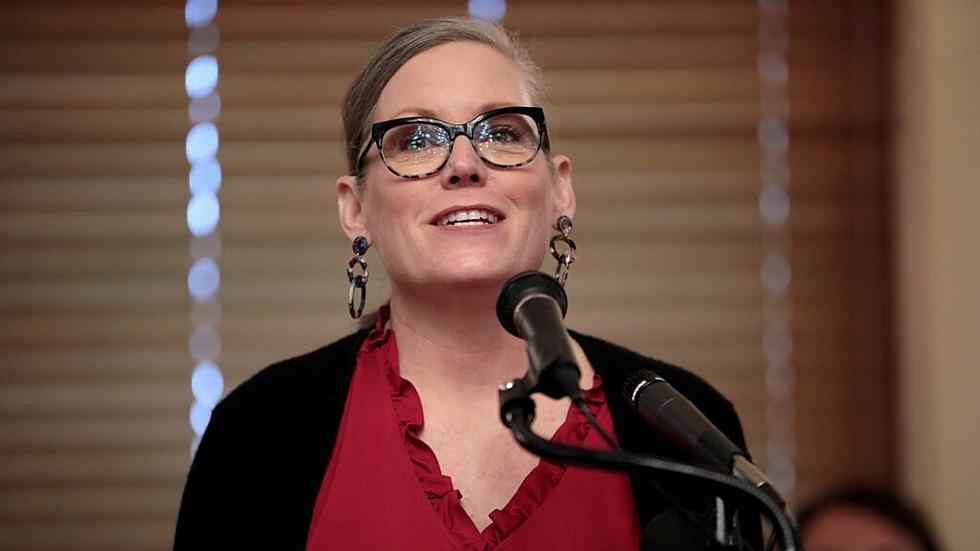 Hobbs sets Arizona's veto record over elections, vaccines and firearms
Photo by Gage Skidmore (modified) | Flickr/CC BY-SA 2.0
Caitlin Sievers
(Arizona Mirror) Gov. Katie Hobbs surpassed former Gov. Janet Napolitano's veto record on Tuesday, the 100th day of the legislative session.
Hobbs signed 29 bills on Tuesday and vetoed 11 more, bringing her total veto count so far to 63. Napolitano previously held the record for Arizona governor with most vetoes for the 58 bills she nixed in 2005.
Napolitano and Hobbs, both Democrats, faced Republican-controlled legislatures, which in Hobbs' case has led to the legislature sending her a slew of bills that they know won't make it past her desk.
Arizona Senate Republicans said in a Tuesday statement that Hobbs' vetoes showed her "weakness and lack of leadership."
"Despite the Governor only winning the 2022 general election by less than a percentage point, Hobbs has so far chosen to alienate the remaining voters who also duly elected their Republican lawmakers to represent them on a variety of issues important to their lives and livelihoods," the Senate Republicans said in the statement.
Included among the bills that Hobbs vetoed Tuesday was Senate Bill 1021, which would have required the Arizona attorney general to defend the constitutionality of any law passed by the legislature and signed by the governor.
In her veto letter, Hobbs wrote that the Arizona attorney general is legally obligated to follow the state constitution, as well as Arizona's laws.
"Unfortunately, the legislature has been known to pass laws that its own lawyers advise would not survive constitutional scrutiny," Hobbs wrote. "On occasion the legislature has even passed laws intended to prompt litigation. Rather than change state law to require the Attorney General to defend laws even under such circumstances, I encourage the legislature to be more exacting in its deliberations to ensure fidelity to the Constitution."
That bill was prompted by a 2022 law criminalizing some filming of police officers that has been blocked by the court after the Arizona Mirror and other media organizations sued. Then-Attorney General Mark Brnovich refused to defend it in court.
Another bill that got the ax was Senate Bill 1565, which would have banned Arizona counties from using artificial intelligence in verifying a voter's signature on an early ballot or in processing ballots.
"I believe that there are opportunities to work together to tackle the challenges facing elections in Arizona," Hobbs wrote in her veto letter. "This bill, instead, attempts to solve challenges that do not currently face our State."
Another election bill that met with Hobbs' veto stamp was House Bill 2691, which laid out strict chain-of-custody protocols for every ballot sent out and then returned. It also obligated the county recorder to "maintain a record of all voting irregularities that occur during early voting, emergency voting and election day voting," but the bill did not outline what it meant by "irregularities."
"As I have stated previously, I am to work with the Legislature to advance legislation that strengthens our elections," Hobbs wrote in her veto letter. "This bill, unfortunately, does not reach that goal."
House Bill 2394, which would have prohibited any state or municipality in Arizona from enacting new taxes, levies or fees aimed specifically at firearms or ammunition, also was vetoed by Hobbs on Tuesday.
"This bill exempts the firearm industry from the same basic regulation to which all other industries are accustomed," Hobbs wrote in her veto letter.
She also vetoed House Bill 2474, which would have disallowed schools from requiring students to receive vaccines approved through emergency authorization.
"Vaccines are vitally important for the health and wellness of our state," Hobbs wrote in her veto letter. "This bill will undermine public trust in vaccines approved by the Federal Drug Administration."
Senate Republicans said in their statement that Hobbs' vetoes showcased her acrimony toward the Republicans who control the state legislature.
"Vetoing is a tool that weak leaders will use in an effort to control legislative priorities, and we're witnessing this tactic front and center from Katie Hobbs," Senate President Pro Tem T.J. Shope said in a statement. "Instead of demonstrating diplomacy and bipartisanship, the Governor is showcasing her failure to work across the aisle."
Bills that did make it past the governor on Tuesday include Senate Bill 1609, which allows the Department of Corrections to enter into a contract with an Arizona licensed facility for transitional housing for inmates.
Hobbs also signed House Bill 2313, which will require the Department of Child Safety to conduct interviews and perform specific searches within 30 days of taking a child into temporary custody, in an effort to find adult relatives and other people with significant relationships with the child.
Senate Bill 1260 also got Hobbs' signature of approval. This bill will decrease the Arizona small business tax rate from 2.8% to 2.5%, to be applied retroactively at the start of this year.