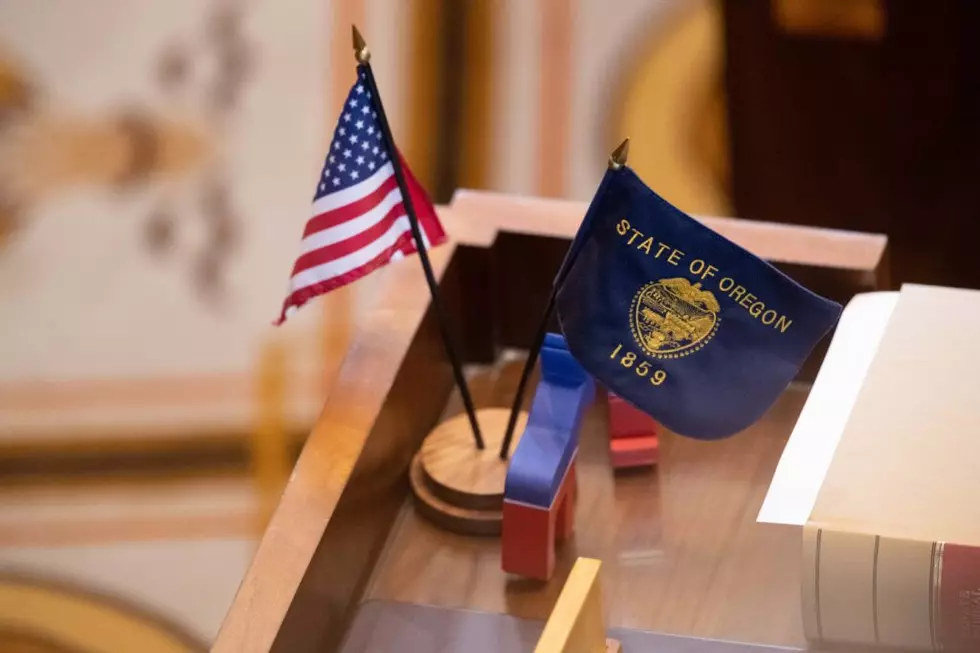 Housing, semiconductors, budget take center stage; Oregon lawmakers hope for bipartisan session
Flags on a desk in the Senate chambers at the Oregon State Capitol. (Amanda Loman/Oregon Capital Chronicle)
Julia Shumway
(Oregon Capital Chronicle) Housing, homelessness, behavioral health and expanding Oregon's semiconductor industry will take center stage in the 2023 legislative session against the backdrop of a challenging budget.
Senate Democrats and House leaders from both parties laid out the broad strokes of their plans for the session in separate media briefings Tuesday. Details – including how much money the Legislature will allocate to different areas – will be hashed out in committee hearings and backroom conversations over the coming months.
House Speaker Dan Rayfield, D-Corvallis, said legislators have an opportunity to work together on common goals – as they generally agree on the issues facing Oregon – even if they have different opinions about how to solve those problems.
"We spent a lot of time looking at campaign mailers during the last six months, and the one thing that you saw that was very uniform, it didn't matter whether you're Democrat or Republican, every candidate was talking about housing," Rayfield said. "Every candidate was talking about behavioral health. Every candidate was talking about housing supply, strengthening education."
Housing and investing in the state's semiconductor industry will be two early priorities, as Gov. Tina Kotek and House Democrats have called for early spending on housing and states need to have semiconductor incentives in place quickly to compete for billions of dollars in federal funding provided by the CHIPS and Science Act.
Before the legislative session ends in late June, lawmakers must pass a budget for the two-year period that begins July 1. Money appropriated in that budget won't be spent until at least July, but money appropriated during the first 60 days of the legislative session can be used during the current budget period. Kotek has asked for $130 million to be spent on housing and homelessness during those 60 days, and Rayfield said legislators will evaluate her request and other proposals.
House Republican Leader Vikki Breese-Iverson, R-Prineville, said she and Republicans will push to make sure rural communities receive funding. Many of them aren't included in Kotek's recent homelessness state of emergency because they haven't seen the same increase in homelessness as urban areas.
"If we're going to spend money for problems, for the solutions, I think we should absolutely look at making sure that those dollars go to every community," Breese-Iverson said.
Sen. Janeen Sollman, a Hillsboro Democrat and co-chair of the Joint Committee on Semiconductors, said Oregon needs to be prepared to compete with other states. Oregon lawmakers are considering approving up to $300 million in tax credits and other incentives. About 15% of the nation's semiconductor workforce is based in Oregon.
Sollman said she and committee co-chair Rep. Janelle Bynum, D-Clackamas, and Republican vice chairs Sen. Tim Knopp of Bend and Rep. Kim Wallan of Medford are starting work on a comprehensive package of incentives. The committee will hold its first meeting at 5 p.m. Wednesday to hear about the current state of the semiconductor industry.
Rayfield said companies in Oregon are ready to submit applications for federal money as soon as it's available. The Legislature's responsibility is to help those companies receive as much money as possible to build or expand in Oregon.
"We're able to take a package that is from a given industry or given business and we're able to help sweeten the pot where it leverages their application for it to pull down the federal dollars," he said.
Budgetary questions
The state's budget is the biggest issue facing lawmakers. Sen. Elizabeth Steiner, D-Portland and co-chair of the budget-writing Joint Ways and Means Committee, said lawmakers are starting from a place of uncertainty. The past three years have seen robust economic growth and a massive infusion of federal money from pandemic relief packages, but Oregon economists are now anticipating a mild recession.
"We don't know what's going to happen to our economy at the moment," Steiner said. "It looks pretty steady, but we expect that there will be a recession, hopefully mild and not one that affects employment too much. But we just don't know, and we have to be very, very thoughtful about how we manage our budget in this construct."
She said Oregon is better-prepared than many states to weather a recession because it has made targeted investments and has reserves large enough to cover most of its operating costs.
Steiner said budget issues affect all Oregonians, even if they might think otherwise. Investing in child care, for instance, directly helps parents with children who need care, and that means more parents can return to the workforce.
Lawmakers also spoke about the possibility for a new era of bipartisan cooperation with new leaders in the House and Senate. The six leaders – Rayfield, Majority Leader Julie Fahey and Breese-Iverson in the House, and Senate President Rob Wagner, Majority Leader Kate Lieber and Minority Leader Tim Knopp in the Senate – are all new to their positions since 2021.
"I think you're going to see a very clear tone that good ideas come from everywhere," Wagner said.