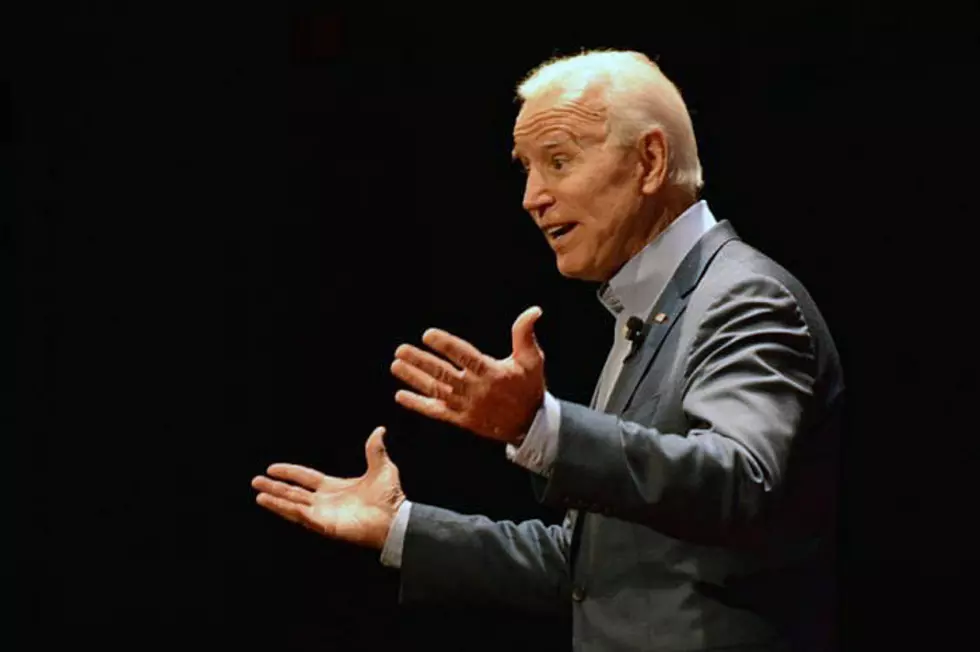 Potential presidential candidate Joe Biden in Missoula: 'We can't have four more years'
"I think I'm the most qualified person in the country to be president. The issues that we face as a country today are the issues that I've worked on my whole life – the plight of the middle class and foreign policy," former vice president Joe Biden said Monday night in Missoula. "But my family and I need to decide as a unit whether we're ready – we do everything as a family." (Laura Lundquist/Missoula Current)
When asked to describe his life as a shape, former vice president Joe Biden chose a straight line "based on principles and ethics." But based on his new book and his talk in Missoula Monday night, it's clear that his life has been anything but.
As part of his "American Promise Tour," which features his book "Promise Me, Dad," Biden wove both his father's many pithy sayings and his son's powerful few into stories of his life, his family, his losses and his triumphs. And he's had all of the above in spades.
"For me, and the reason I wrote this book, was not to have people feel sorry for me or for me to give a prescription for what you do. But to let people know that you can find purpose is the way to get through," Biden said.
"No one can experience great love without great pain."
New York Times columnist Bruce Feiler led Biden through various events in his life that took little pieces of his heart but ultimately gave him something in return.
Biden took a lot of bullying as a boy in Catholic school because he stuttered. Even though his father had told him, "When you get knocked down, just get up," having a teacher make fun of his speech made him leave class one day. When his mother learned what happened, she took on the Mother Superior, Biden said.
"She was ferociously supportive," he recalled.
Witnessing that and watching his father lose his business and have to start over in order to care for his children taught Biden that families stick together and that a job is about a person's dignity and respect, not just a paycheck.
Learning to value a person's dignity and respect led Biden to spend the late 1960s working for civil rights, but he returned to Wilmington, Del., to work as a public defender after the death of Martin Luther King Jr.
At the time, the Republicans were more progressive than the Delaware Democrats so a 20-something Biden started trying to turn things around. Eventually, the Democrats asked him to run for the county council. Having been told the Republicans would win, Biden agreed to run just so they wouldn't run unopposed. He was a little stunned when he won.
That launched Biden's political career, and two years later, he was asked – at age 29 – to run for U.S. Senate. He won again, which should have been a heady victory, but six months later he lost his wife and daughter in a car accident. His two sons were injured but survived.
Losing part of his family sent the devout family man into the depths of despair until he got some advice from the governor of New Jersey, who had also lost his wife.
The governor told Biden the way to pull out of depression was to find purpose, something that is meaningful, especially if it was meaningful to his wife.
"To me, the purpose was my sons," Biden said. "I had two young boys who needed me but I needed them more than they needed me. My boys raised me."
Biden's son Beau would steady Biden at times, saying "Dad, look at me. Home base."
That level of need made it even more difficult when Biden learned one of his sons, Beau, was slowly dying of cancer in 2015. Then Beau's saying became, "Dad, continue to do what matters."
Beau didn't want people to know how sick he was. So Biden, then vice president, put up a tough front and couldn't tell his staff that he wouldn't run for president in 2016. But he had to be honest with his boss, President Barack Obama, because Biden had refused to be Obama's vice president unless Obama was honest about every decision.
Biden was a bit startled to see tears on Obama's cheeks. A few months later, Obama spoke at Beau's funeral.
"You could tell from his eulogy that he and Michelle and the girls were so invested in this that I found myself trying to shield him from the pain he felt for us," Biden said. "There are too many people out there who have gone through so much more than I have. And the one thing that we desperately need is hope."
Over the years, Biden has learned to overcome his pain with service, and his hope runs high, thanks to his faith in God and his fellow Americans. That's why he's toying with the idea of running one more time for president in 2020. But it's a decision that his family must make with him.
"I think I'm the most qualified person in the country to be president. The issues that we face as a country today are the issues that I've worked on my whole life – the plight of the middle class and foreign policy," Biden said. "But my family and I need to decide as a unit whether we're ready – we do everything as a family."
Feiler rattled off some of the reasons people might come up with for opposing a Biden run for president: He's too old; he needs to raise too much money; he cosponsored a bad crime bill; he's a "gaffe machine."
Biden said none of that fazed him, countering each reason with his own.
"I may be a gaffe machine, but my god, what a wonderful thing compared to a guy who can't tell the truth. No one doubts what I say, the problem is I sometimes say all that I mean," Biden said. "The question is what kind of nation are we becoming?"
"We can't have four more years."