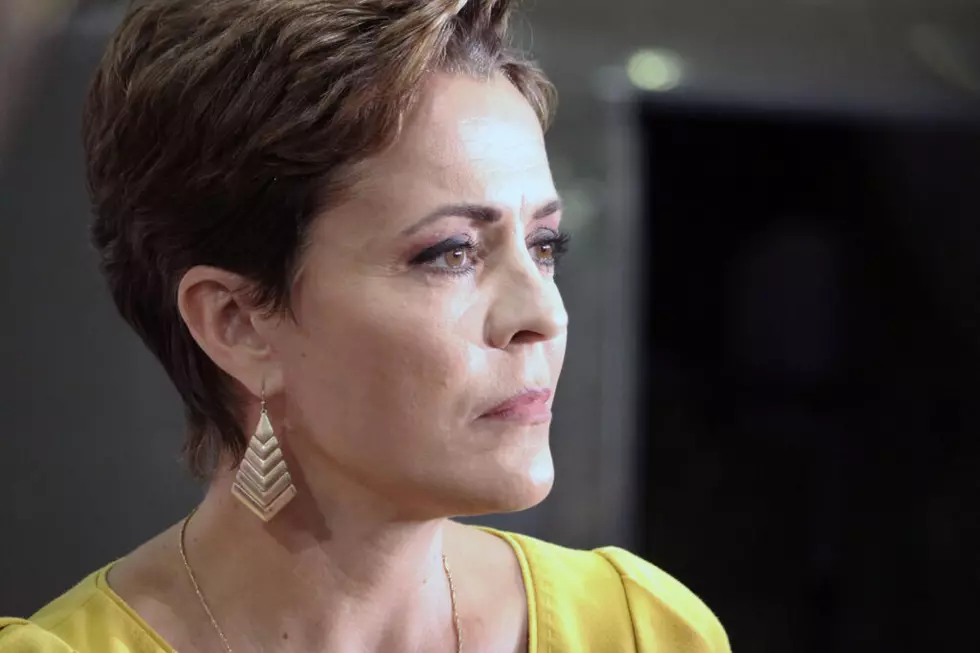 Arizona state bar investigating Kari Lake's attorneys
Kari Lake at a campaign event in Scottsdale. (Jerod MacDonald-Evoy /Arizona Mirror)
Caitlin Sievers
(Arizona Mirror) The two attorneys who represented Kari Lake in her failed attempt to overturn the results of Arizona's 2022 gubernatorial election are being investigated by the State Bar of Arizona.
Bryan Blehm, a Scottsdale divorce lawyer, and Kurt Olsen, an employment attorney from Washington, D.C., have represented Lake in multiple court cases over the past year. In those cases, Lake, a Republican, challenged the results of the gubernatorial race that she lost by more than 17,000 votes to Democrat Katie Hobbs.
The State Bar is in the process of investigating two charges brought against Olsen and one charge aimed at Blehm related to their conduct in the election challenge trials, State Bar spokesperson Taylor Tasler told the Arizona Mirror.
No further public information is available in either of the cases, Tasler told the Mirror, but the investigations have the potential to lead to both attorneys being disbarred.
But in Blehm's response letter to the Bar investigation, which was shared on the social media site X, he refers to a post he made accusing the chief justice of the Arizona Supreme Court of creating a task force to counter disinformation in 2019 at the request of what he calls the "national security state" in an effort to stop legitimate election fraud cases following the 2020 election.
Blehm, like Lake, claims without evidence that the presidency was stolen from Donald Trump in 2020.
The rest of Blehm's letter details a list of conspiracy theories that don't all seem to directly correlate to the Lake election fraud case, including his apparent belief that COVID-19 was created purposefully in a lab. He goes on to declare that tens of thousands of ballots cast in the 2020 election had signatures that did not match the voter and says that the CIA had pressured the State Supreme Court in an attempt to stamp out legitimate election challenges before they begin.
He presented no evidence or citations for any of the claims.
"The lawfare being waged against conservative attorneys, especially those involved in election related law will soon drain the bar associations of anyone willing to raise election challenges on behalf of conservative candidates," Blehm wrote. "There will soon be a unibar where there is no dissent or contrary opinion on issues that matter, in this case our elections."
Blehm did not immediately respond to a request for comment and a number listed on several websites for Olsen's law firm led to a receptionist who said Olsen didn't work there.
A spokesman for Kari Lake, who is now running for the U.S. Senate, did not respond to a request for comment.
The Arizona Supreme Court has already sanctioned Lake, Blehm and Olsen in May for making false statements in their election challenge filings, ordering them to pay $2,000 for writing in her appeal that it was an "undisputed fact" that more than 35,000 ballots were illegally inserted into batches of legal ballots in Maricopa County when the November 2022 ballots were being sorted shortly after Election Day.
"Sometimes campaigns and their attendant hyperbole spill over into legal challenges," the court wrote in its order. "But once a contest enters the judicial arena, rules of attorney ethics apply."
The court wrote that Lake provided no evidence that more than 35,000 ballots were illegally inserted into the count, and therefore sanctions were warranted since Lake's attorneys knowingly "made false factual statements" in the lawsuit.
The claims that Blehm made in his response letter were reminiscent of those kinds of assertions he made in court, many of which were thrown out or failed due to lack of evidence.
Those failed claims included that workers within Maricopa County and its elections contractor Runbeck somehow intentionally changed the results of the November 2022 election, delivering a win to Hobbs and pulling a victory out from under Lake. Blehm and Olsen kept changing their claims, as judges shot them down.
In a second trial, they pivoted from their claims of intentional fraud to the theory that Maricopa County conducted no signature verification on early ballots, an assertion that Lake's own witnesses refuted.
"Every one of Plaintiff's witnesses — and for that matter, Defendants' witnesses as well — was asked about any personal knowledge of both intentional misconduct and intentional misconduct directed to impact the 2022 General Election," the judge wrote in his decision. "Every single witness before the Court disclaimed any personal knowledge of such misconduct. The Court cannot accept speculation or conjecture in place of clear and convincing evidence."
Blehm and Olsen fumbled their way through proceedings in front of judges in the trial and appeal courts, as well as before the Arizona Supreme Court, often displaying ignorance of standard court procedures and state law.
Blehm and Olsen started out Lake's initial election challenge trial in Maricopa County Superior Court in December 2022 with an admonishment from Judge Peter Thompson for providing exhibits that were not properly numbered, making a lot of work for Thompson's clerk the night before the trial.
Later that day, Blehm attempted to call a witness who was not on the witness list and said that he had provided evidence to the defense when they claimed he had not.
Things didn't change much during Lake's second election challenge trial in Maricopa County Superior Court in May, when Olsen called an expert witness, asked only about the witness's background, and then said he had no further questions.
He quickly tried to take that back, saying he didn't have more questions for the witness at that particular moment, but wanted to ask more questions later.
"You said 'no further questions,'" Thompson told him, explaining to Olsen that, when an attorney utters that phrase, that means they are done questioning the witness.
Lawyers for defendants Hobbs, Secretary of State Adrian Fontes and Maricopa County balked at Olsen's lack of knowledge.
"It's not my fault they don't understand basic procedure," Craig Morgan, the attorney for the Secretary of State's Office, said. "He ceded the witness to me, and now it's my turn to cross-examine or not. That's how we do this, your honor."
Olsen asked for Thompson's indulgence in allowing him to continue and the judge gave it, after admonishing Olsen.
"I feel like I'm teaching a seminar up here," Thompson said.
Olsen was involved in the Texas attorney general's failed attempt to overturn the results of the 2020 election, and spoke to Trump several times on Jan. 6, 2021, the day of the U.S. Capitol insurrection. Olsen was a partner for around 18 years at Klafter, Olsen & Lesser, a New York law firm he founded, before the firm distanced itself from him in 2021, changing its name to Klafter Lesser LLP and removing references to Olsen from its website.
In his letter responding to the State Bar of Arizona allegations, Blehm also seemed to admit that he knew he wasn't up to the job of taking on the Lake election challenge case.
"When attorneys fear raising specific issues before our courts because they do not want to make this appearance, we implicitly deny individuals full access to our judicial system as finding suitable counsel can be difficult if not impossible," Blehm wrote. "Kari Lake's case should have been handled by a much larger law firm with resources. Rather, she was left represented by a small sole proprietor with few to no resources. The same can be said about Abe Hamadeh."