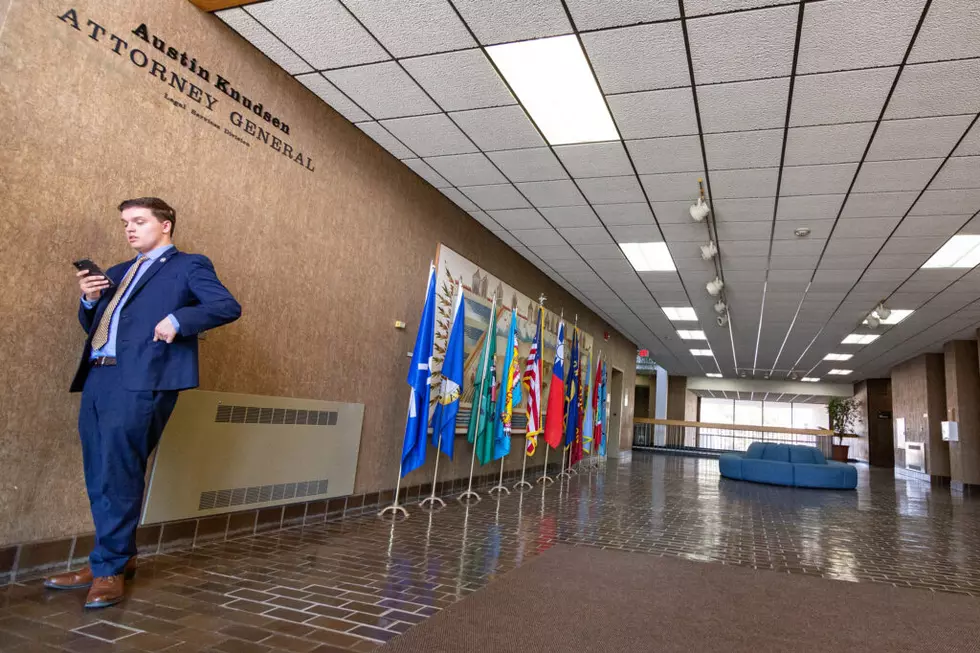 Legislative counsel requests AG's documents in St. Peter's dispute
The office of the Attorney General of Montana (Photo by Eric Seidle/ For the Daily Montanan).
(Daily Montanan) A legislative special counsel tasked with probing allegations that state officials in the Attorney General's office harassed doctors at St. Peter's Health in Helena have formally requested documents related to the incident from the AG's office, a concrete step forward in an accelerating investigation made possible only by legislation passed this session.
The letter from special counsel Abra Belke requests "any and all documents, records, and electronically stored information maintained by or in the possession of the Montana Department of Justice … referring to or related to the complaint of patient mistreatment and the ensuing investigation by your office" by next Friday, Nov. 5. "These records may include, but are not limited to, memoranda, e-mail, calendars and scheduling requests, call logs, dispatch records, investigative reports, and notes taken by Department of Justice employees."
Democratic legislative leadership requested their counterparts in the majority investigate the allegations last week, on the heels of reports from the Helena Independent Record in which St. Peter's said unnamed state officials threatened doctors at the hospital for not prescribing a COVID-19 patient ivermectin, an unapproved treatment for the virus. The patient, an activist in the Lewis and Clark County Republican Party politics, has since passed away.
"These officials have no medical training or experience, yet they were insisting our providers give treatments for COVID-19 that are not authorized, clinically approved or within the guidelines established by the FDA and the CDC," St. Peter's said in a statement to the Independent Record. "In addition, they threatened to use their position of power to force our doctors and nurses to provide this care."
Attorney General Austin Knudsen confirmed to the media that his office was involved, and that he spoke to hospital officials and dispatched a state trooper to investigate what he has described as an allegation of patient mistreatment.
"It is the policy of the special counsel not to assume that statements that appear in news reports are accurate or complete," wrote Belke in her letter to Knudsen's office. "This inquiry will rely upon statements, records, and other documents produced by involved parties."
Knudsen didn't respond to a request for comment through his spokespeople Friday. He has denied any allegations of harassment, and told the Independent Record that a member of the patient's family reached out to Chief Deputy AG Kristen Hansen with concerns that the family was being denied access, and that Hansen reached out to Knudsen.
The special counsel
The legislative special counsel is a new position this year. The job was created under House Bill 483, a proposal mostly about legislative staff limits that was modified in the final weeks of the session to also create a special counsel that serves at the pleasure of legislative leadership "to investigate and examine state governmental activities."
House Speaker Wylie Galt and Senate President Mark Blasdel appointed Belke, the top Republican staffer in the Senate, as the inaugural special counsel in September, in part to assist a select judicial integrity committee formed amid a legal battle between the Legislature and the state Supreme Court.
She'd been involved in the dispute — initially arising from a law passed changing the judicial nomination process but soon growing to include a number of issues, including the authority of legislative subpoenas — before her new role, authoring a subpoena for emails from Supreme Court Administrator Beth McLaughlin in April.
Belke, a Butte native, graduated from Gonzaga Law in 2016; prior, she was a lobbyist for the National Rifle Association and a staffer for U.S. Congressman Denny Rehberg, a Republican from Montana.
Belke's role in the investigation into Knudsen combined with her past as a Republican staffer and the relative quickness with which Republican leadership responded to the request has created an interesting political dynamic, said Lee Banville, a political analyst and journalism professor at the University of Montana.
"We've entered this era where the partisanship is so intense that the assumption is each side will never work with or acknowledge the other side," he said. "This is actually how government works — the legislature is supposed to provide oversight over the executive branch." 
Belke declined to comment for this story through a spokesperson.
"The special counsel's partisan background is something we're aware of," said House Minority Leader Kim Abbott, who along with Senate Minority Leader Jill Cohenour requested the special counsel probe. "We understand what this role is and the parameters of this role and expect her to approach it in a fair and impartial way. If we think she isn't doing a fair and impartial job, we'll certainly say so."
Anthony Johnstone, a law professor at UM, said there's likely no legal conflict of interest just because of Belke's past work with the legislature and AG.
"Legal ethics rules primarily prohibit conflicts of interest between a lawyer's clients. Ms. Belke's client is the Legislature, not the Attorney General, even if she has collaborated with that office in the past in her role representing the Legislature," Johnstone said. "The Attorney General's client is the State of Montana, which means different things in different contexts but is still distinct from the Legislature, even when he is defending state laws. We would expect each to put their own client's interests first in this matter regardless of past collaboration on other matters."
Exactly what happens after November 5 isn't yet clear. Belke's authority is somewhat limited outside of the legislative session; Galt and Blasdel authorized her to "examine any relevant government records in accordance with the law."
Under HB483, the counsel can also recommend changes to law, but it can only hold hearings or issue subpoenas if attached to a legislative committee — one that currently doesn't exist for this purpose.
Limited in scope or power as it may be, Banville said the investigation still elevates the allegation and drags it out in the public eye.
"It moves it from being statements from the hospital and coverage from the press to now they do have to cough up documents and start answering questions," he said. "It's made it official."