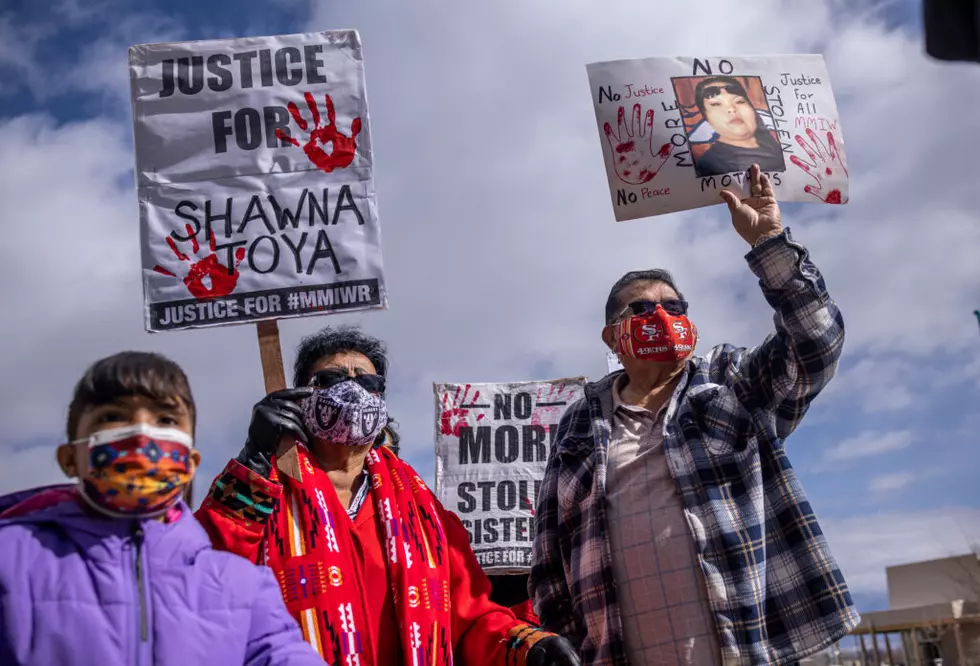 New Mexico AG's Office says it needs more funding to investigate missing Indigenous people
Families searching for missing relatives gather outside the Indian Pueblo Cultural Center in Albuquerque, N.M. on Feb. 24, 2022. (Photo by Sharon Chischilly for Source NM)
Megan Gleason
(Source New Mexico) Nearly 200 Indigenous people are missing in New Mexico. Probably more, one Navajo lawmaker says. And the state tasked the Attorney General's Office this year with working in partnership with sovereign nations on cases of missing Indigenous people. But a deputy director for the AG's Office said they can't do much more without additional state funding.
Gov. Michelle Lujan Grisham signed a bill into law in February ordering the attorney general to work with other state, federal and tribal agencies to investigate these cases.
Mark Probasco is the deputy director of special prosecutions at the N.M. Office of the Attorney General. He talked to the interim legislative Indian Affairs Committee on Thursday about work that's been done since the governor signed the February bill.
But even though some training and collaborations were accomplished, he said not much more progress can be made until the office sees another $1.5 million, at least, dedicated for this effort from the state.
Half of the funding requested in the original bill was cut. Although lawmakers approved $1 million in grants that the AG's Office can award to tribal agencies, they slashed the other $1 million that would've funded more specialists to work cases of missing Indigenous people. That's what Probasco said the office is seeking: even more dollars for personnel than were denied then.
He said the AG's Office plans to request a minimum of $1.5 million in the 2023 legislative session to employ more experts. There are two specialists and one designated prosecutor for the division. "The need is dire," he said.
"It's one thing for the state to say that it's committed," Probasco said, but in order for the office to maximize the intent of the legislation, the state needs to allocate more funding.
He said this money would allow the office to hire four or five full-time employees, addressing a structural problem. "We need highly skilled attorneys, investigators, victim advocates and specialists," he said.
There are 192 missing Native Americans throughout New Mexico and the Navajo Nation, according to an October report from the FBI.
"We're making positive steps in the right direction. We have updates to provide," he said, "but there's definitely much more work that can be done within this field."
And that funding request is really just the minimum of what's needed, Probasco said. So Sen. Shannon Pinto (D-Tohatchi), who sponsored the original bill, suggested the number be bumped up to $3 million. The committee passed a motion supporting the minimum of $1.5 million in funding but advocating for an expansion to $3 million.
Trying to close multi-jurisdictional loopholes
It's up to the state to solve the cases of missing Indigenous people, Probasco said.
"Each one of these names has a family behind it that needs to get resolution in their lives and needs to have the government do the job that the government needs to be doing of actively investigating and — if there's a path toward prosecution — prosecuting those cases," he said.Rep. Anthony Allison (D-Fruitland) pointed out that there are probably actually more than 192 Native people who are missing, due to delays or a lack of reporting.
"I'm speaking from what I have experienced on the Navajo Nation," said Allison (Diné). "The Navajo Nation is so rural that some of the members that are missing are not found until years later, but the parents or the families do not report them missing until the body or some evidence is found that they are no longer returning."
With the differing state, federal and tribal laws in play, finding someone and prosecuting their assailant is complex.
Cecelia Finona is one example. It took two years for law enforcement to find the body of Finona, who was murdered in 2019 in New Mexico but not found until 2021 in Nevada. After cross-state efforts, the person who pled guilty to her kidnapping and murder faces up to 33 years in prison.
All families should get the justice that Finona's did, Probasco said, despite the multi-jurisdictional complexities. He said the state partnered with the U.S. Attorney's Office to ensure that more crimes crossing sovereign and state borders will still be pursued, just as with Finona's.
"Her family was able to get her body back, was able to bury her, knew what happened to her and was able to see her killer brought to justice," he said.
Probasco said that case is also an example of the obstacles that the New Mexico AG's Office will face as officials search for missing and murdered Indigenous people.
"Those that commit violence don't get to take advantage of jurisdictional obstacles and constraints towards justice," he said.
The office also helped train state prosecutors on the legal complexities and rules for cases like these, Probasco said. He added that the AG's Office participated in a training by the New Mexico Press Association on how to sensitively and respectfully report on missing Indigenous people, as well.
"There has to be a quality in treatment for all those that experience violence in the state of New Mexico, and especially populations that do not have the same focus when crime happens to them," he said.
This shouldn't stop at one conviction or the passage of a single piece of legislation, he said.
"Everyone in New Mexico is entitled to justice," he said, "and it doesn't matter what nation or sovereignty you come from."