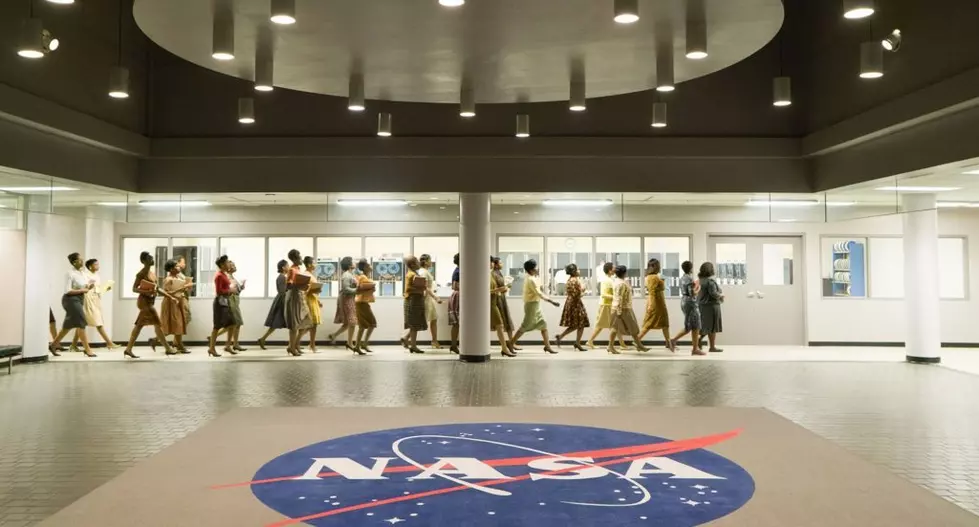 'See yourself clearly,' leadership coach advises Missoula businesswomen
Billings leadership development coach Eryka Johnson honored the women who were NASA's "human computers" in the early, critical days of the space program, as depicted in the film "Hidden Figures." (20th Century Fox)
By Sherry Devlin/Missoula Current
Invoking the legacy of a pioneering NASA mathematician, a leadership development coach implored several hundred Missoula businesswomen Saturday to "showcase" their value.
Eryka Johnson told the annual Missoula Businesswomen's Network Symposium that she had to learn that lesson herself, after nearly failing in her first years as a mechanical engineer for ExxonMobil.
But with the mentorship and inspiration of everyone from a corporate HR officer to the characters on "A Different World," Johnson "responded to the call" to stand up for who she really was – and eventually led a number of high-visibility projects for the multinational energy company.
"As women, we have been on a journey," Johnson said during her keynote address.
2017 is a critical time for women, though, she said. Hillary Clinton broke barriers with her run for the presidency, even without succeeding. The Women's March on Washington collectively gave women a global voice. But what next? Johnson asked.
"How are we going to respond to the call to stand up for who we are?" she said. "What we do and how we respond is going to dictate where we go as a community of successful women, and as a nation."
Johnson shared her own story, growing up in a single-mom family in Bunkie, La., confident that she was not only "different" but that her success story would be one never before written in her family.
After earning top honors in high school and college, Johnson said she struggled in the corporate world and quickly "fell to the bottom."
"Instead of succeeding, I was told, 'We don't know why you are here,' " she remembered. "I had to take ownership of what I wanted. I had to focus on where I wanted to go."
Johnson not only succeeded at ExxonMobil, but is now CEO of High Pursuit LLC, an executive leadership consulting company based out of Billings.
The first barrier she had to overcome, Johnson said, is the self-doubt created by the "imposter syndrome," that little voice in the back of your mind that says: "I'm a fraud."
It's "the anxiety of being found out," she said. "The belief that you don't deserve success. A fear of what others think, even though what they think really is no concern of yours. It's the feelings of inadequacy despite evidence of success."
"The No. 1 lie of the imposter syndrome?" Johnson said. "It's the fear of who you are and who you want to become, because you are so small in a world that's so big."
Thus come Johnson's coaching sessions and workshops for professional women, many of whom are already quite accomplished but who nonetheless doubt themselves.
Among her strategies for defeating imposter syndrome:
Be more intentional with your thoughts.
Focus on what you've accomplished and the impact it's made on others. (Johnson keeps a list on a whiteboard in her office.)
Build more self-awareness around your value.
Keep defeating fear by showing up every day.
"A confident woman showcases her value confidently," Johnson said. "To succeed, you need to recognize and showcase your brilliance – your core values, your instincts and your strengths."
Successful women also do precisely what the Missoula Businesswomen's Network has done for the past 12 years – meet and educate themselves and establish networks with other successful women, Johnson said, applauding the symposium's 350-some attendees.
Saturday's agenda included presentations on personal and business finances, motivating others, successful networking, community business resources, successful business plans, and motherhood.
"A confident woman builds her power circle," she said. That network includes positioners (who help ground you and build your skill level), observers (who hold you accountable), watchers (who inspire you as role models), elevators (who champion your success) and reinforcers (your soul sisters who encourage you to keep going).
"Get out of your shell," she beseeched the crowd. "It's about connecting, about networking, about forming that power circle. It's how you see yourself clearly."
Which brought Johnson back to her inspiration for the afternoon: Katherine Johnson, the NASA mathematician and "human computer" who calculated the flight trajectory and landing for John Glenn's historic first Earth orbit.
Depicted in the film "Hidden Figures," Johnson and other women were one of the keys to America's successful space program, but faced obstacles every single day – because they were women, and because they were black.
In a key scene, actress Taraji P. Henson (portraying Johnson) explains to a would-be suitor why she and the other women "human computers" are a valued, in fact essential, part of the space program.
"It's not because we wear skirts," she assures him. "It's because we wear glasses."
And in Eryka Johnson's world, those glasses signify that women in 2017 – just as in 1960 – must not only "see themselves clearly," but understand the importance of "getting other people to see you clearly, for your full value."
Read more about Eryka Johnson's leadership coaching and advice online at www.erykatjohnson.com. To learn more about the Missoula Businesswomen's Network, visit www.DiscoverMBN.com.
Reach reporter Sherry Devlin by email at info@missoulacurrent.com.