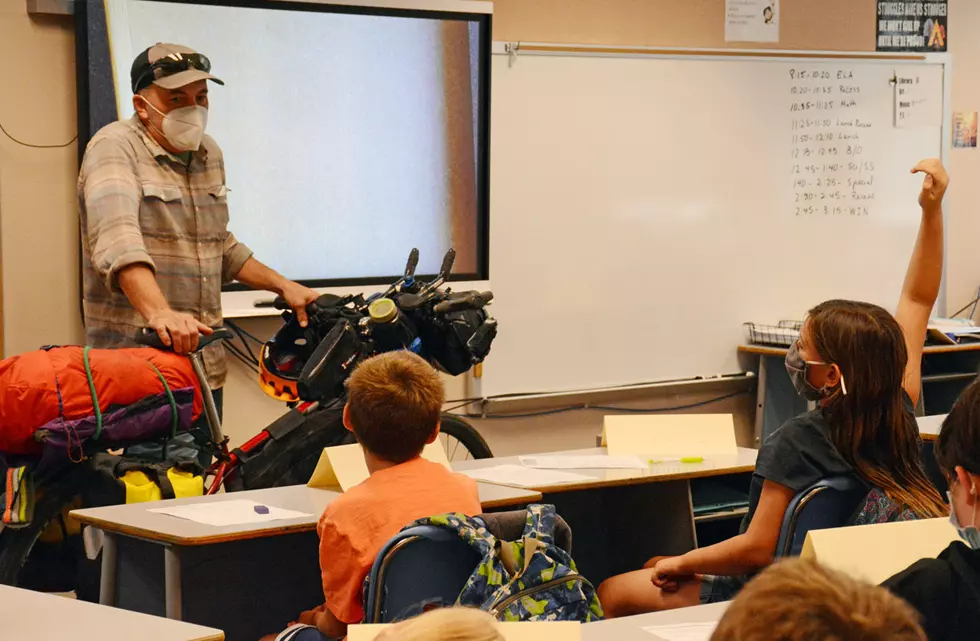 Missoula cyclist riding to Scotland for global climate conference, with message
Dave Morris meets with students at Paxon Elementary to discuss his ride from Missoula to the East Coast and on to Scotland for the 26th United Nations Climate Change Conference of the Parties in October. (Laura Lundquist/Missoula Current)
Leaning on his touring bike at the front of the classroom, Dave Morris called on one of the students with her hand up. Her question was simple: Why?
"Why? Why would I do this crazy thing?" Morris said. "Well, one – I like riding my bike. And two – there's this climate conference in Glasgow, Scotland."
On Tuesday, Morris wheeled his bike into three different 5th grade classes at Paxson School to tell them about the journey he was starting on Wednesday morning, and why he felt he needed to pedal about 3,000 miles across the U.S.
"This is a good way to meet people, a good way to see the country and do it without having to use fossil fuels," Morris told another student.
Morris plans to ride from Montana, down to Colorado and across the nation to arrive in Washington, D.C., toward the end of October. From there, he'll fly with his bike to London, England, and then ride the rest of the way to Glasgow, Scotland, arriving in time to observe the 26th United Nations Climate Change Conference of the Parties, or COP26, which runs from Oct. 31 through Nov. 12.
Many say the decisions made at COP26 will chart the course of whether Earth's climate warms to deadly levels or whether humans can stop their consumption of fossil fuels and slow climate change.
This summer has provided alarming glimpses of what the future holds as the northwestern U.S. withstood record heat domes; drought-caused wildfires raged across the West, the Amazon and in Greece; floods killed hundreds in Germany, India, China and Afghanistan; and the Atlantic hurricane season is on tap to produce more than 20 named hurricanes.
The Intergovernmental Panel on Climate Change issued its sixth report in early August, presenting dire warnings for the future if greenhouse gases aren't reduced. Scientists worldwide concluded it's unequivocal that human activity is responsible for the unprecedented atmospheric warming we're experiencing.
Unfortunately, the amount of warming lags behind the amount of carbon pollution we've caused, so even if we stopped all carbon emissions immediately, the atmosphere would still continue to warm a bit more. Some changes, such as loss of polar ice and rising sea levels, are irreversible. The problem is that humans are now burning more fossil fuels than ever, and if that continues unabated, the latter part of the century will see environmental catastrophe.
Thinking of the Paxson School 5th graders and future generations, Morris plans to do whatever he can to convince people they need to avert the worse scenario.
"I'm hoping that the world can come together to address climate issues in a meaningful way. All the science is saying where we're at is not the new normal - this is a new trend, more than anything. So we need to blunt this trend of drought and fire and floods and extinctions, if we want to have a world that all those kids I was talking with are going to love and enjoy," Morris said.
"Every bit of carbon emission avoided is crucial. We have to do as much as we can as fast as we can. It's not going to be perfect just like my ride isn't perfect – I have to use an airplane. But we gotta do all the things we can to address this."
In order to make it to Washington, D.C., on time, he'll have to average about 70 miles a day to leave himself a few rest days in between. When students asked how much it would cost, he explained how he intends to camp every night and cook his own food. He demonstrated where his tent, sleeping bag, food and cook stove fit on his bike. All packed, his bike weighs about 75 pounds.
"I bring as little as possible. The lighter it is, the easier it is to ride, especially uphill," Morris said.
One extra item Morris is bringing is his computer, because he'll be blogging about his adventure all the way to Scotland, followed by the events at the conference. He's also working with 5th grade teacher Kimberly Olson so he can answer students' questions while he's on the road.
He'll also be talking to people that he meets along the way. From his 15 years of experience leading month-long Wild Rockies Field Institute rides, he knows that people are always curious about riders so it's easy to strike up a conversation.
So he created the "Climate Courage Tour" and developed five questions for those who were willing to talk to him. The questions probe hopes and concerns about climate change and what people might want to tell world leaders about climate change. At night, Morris will enter the answers in his computer and create a document to submit in Scotland.
"I was just trying to think of what I personally could do with my peculiar skill set to try to contribute something. I think that riding across the country talking with folks about climate issues and trying to get beyond the polarized nature of it by asking a set of serious questions might help both here and in Scotland," Morris said.
Morris will also carry with him letters from Missoula Mayor John Engen and Missoula County commissioners urging world leaders to take bold steps. He's also planning on getting letters from city leaders in Helena, Bozeman, Livingston and any other town or city he can contact.
Once he completes his task and the conference is over, he'll fly back to Missoula, something he's not proud of. He knows some may wag their fingers and point out that airplanes use a lot of fossil fuel. But he plans to do something to make up for it.
"I looked into offsets and the critiques of offsetting - and there are a lot of valid critiques - and worked with Climate Smart Missoula to create something local. The Missoula Footprint Fund, through the Human Resource Council, does weatherization and home equipment upgrades for low-income people. So you can offset your carbon emissions, help low-income people, provide some local jobs and support a great nonprofit," Morris said.
Contact reporter Laura Lundquist at lundquist@missoulacurrent.com.