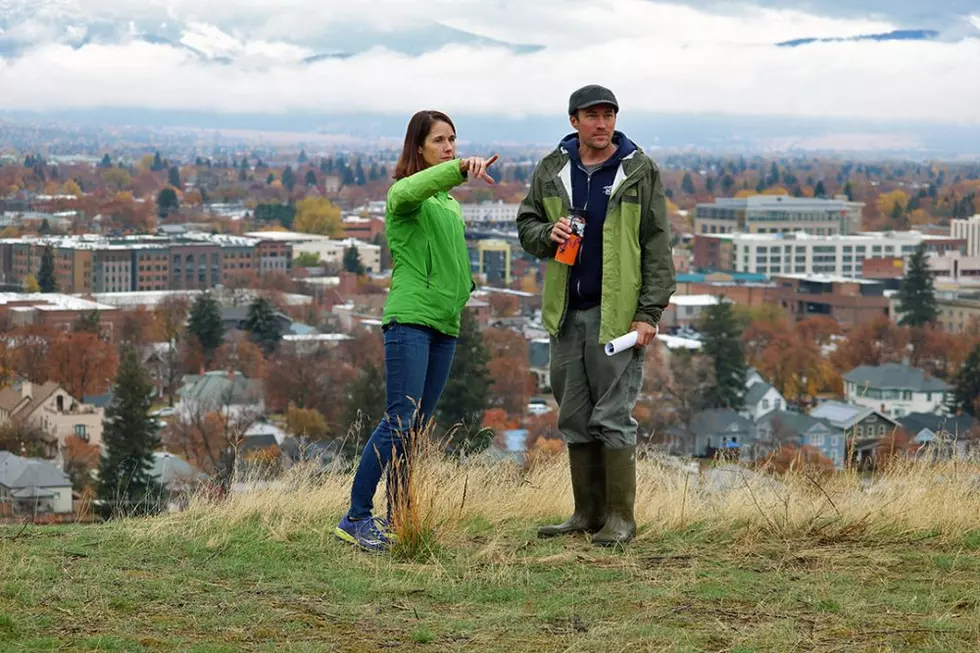 Missoula voters approve $15M open space bond, $500K stewardship levy
Morgan Valliant, right, the city's conservation lands manager, and Elizabeth Erickson, the city's open space program manager, recently hiked up the North Hills to consider Missoula's future as a growing city and the role a new open space bond and stewardship levy would play in guiding it. (Martin Kidston/Missoula Current)
Just as they did 12 years ago, Missoula County residents have said they want to maintain and improve the open spaces that make their backyards such good places to live and play.
As election returns came in Tuesday night, about 60 percent of Missoula County voters voted in favor of a $15 million Open Space Bond, giving the city and county renewed funds to purchase more open space, restore lands and improve public access.
Even so, Julie Gardner of Yes for Open Space, Rivers and Farmland, didn't want to assume victory until more returns were in.
"Missoula County was slow because there were still so many people still wanting to vote. We're thrilled about that. But we wanted to be respectful of those willing to stand out in the rain to vote," Gardner said. "But now we want to say we're so proud of Missoula County and so grateful that they're willing to step up for open space again."
The previous 2006 open space bond raised $10 million from city and county residents, which went to everything from helping to buy land for Travelers' Rest State Park to helping families from Seeley to Frenchtown protect agricultural land and reinvest in rural businesses.
It ended up financing more than $10 million in work because the county was able to use some of that as seed money to qualify for larger amounts – up to about $40 million – from federal programs, such as the federal Land and Water Conservation Fund.
Now with the new open space bond, the county can continue to exploit that advantage with projects such as creating new trails on Mount Dean Stone and Marshall Mountain and improving public access to the Clark Fork River from downtown Missoula through Frenchtown and beyond.
The open space bond will cost the owner of a $265,000 home roughly $18 a year.
Also approved Tuesday, the city's perpetual stewardship levy will generate an additional $500,000 annually and cost the owner of the same home $14 a year. Only city residents have to pay for the stewardship levy. That measure had garnered about 61 percent of the votes counted by midnight.
Not everyone was happy with the results.
Missoula City Councilman Jesse Ramos said one of the problems is that open space assessments are piling on top of other levies that Missoula County residents already have to pay.
That's why he opposed the bond before the election, saying Missoula has enough open space and should focus on affordable housing and getting property taxes under control.
Ramos pointed to a $25,000 University of Montana survey requested by the city that showed residents consider property taxes and affordable taxes to be important issues. But while other city and county officials, including Mayor John Engen agree, Ramos said their actions say otherwise.
"Mayor Engen was the driving force, the spearhead, of something that was put on the ballot that would raise property taxes," Ramos said.
Now that the open space bond and stewardship levy have passed, Ramos says his next step is making sure the mayor and county commissioners "stick to their promises and don't purchase land that is prime for development."
"We need to make sure that they don't turn Missoula into the next Boulder, Colo., where the average median home price is $850,000, largely due to Boulder's open space policy," Ramos said. "We need to make sure with the mill levy that they don't deplete the maintenance fund by purchasing more open space."
Gardner said citizen oversight will ensure that the money will go to the projects that are most important to county residents. And if that means buying new open space, Gardner said the voters just made it clear that protecting open space and farmland is what citizens want.
"It's an important Missoula County value," Gardner said. "The voters have spoken."
Precincts that were less supportive of the open space bond included Bonner, Clinton, Frenchtown, Lolo, Petty Creek , the Swan and Seeley Lake.