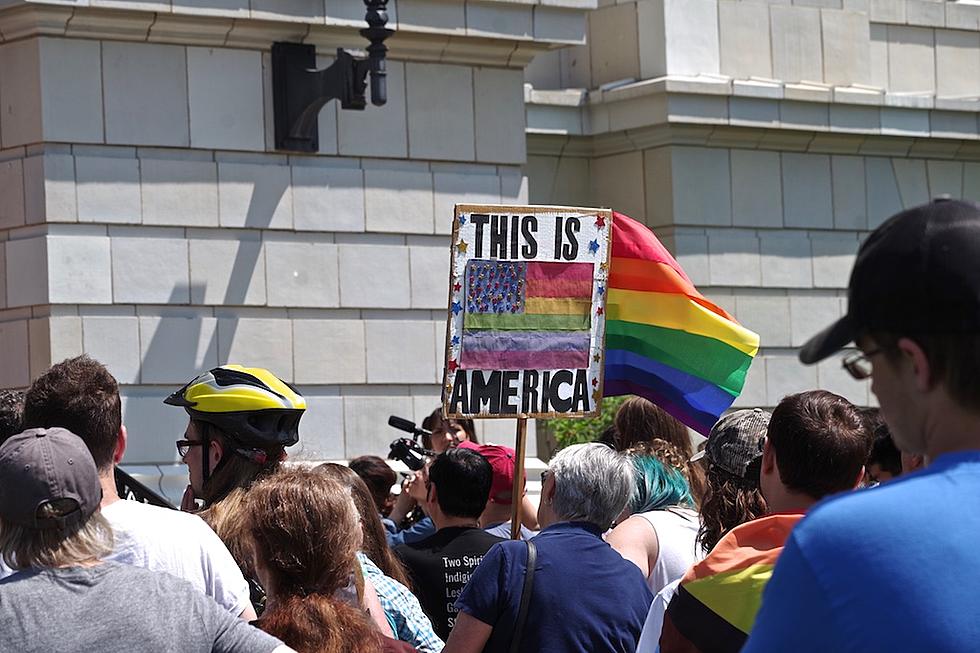 Montana anti-LGBTQ+ incidents listed in national extremism report
(William Munoz/Missoula Current)
Nicole Girten
(Daily Montanan) Two national organizations tracking anti-LGBTQ+ acts across the country included two Montana incidents in a report finding more than 350 instances of harassment, vandalism and assault across the country in the past year.
However, Shawn Reagor with the Montana Human Rights Network said the organization identified an additional six incidents in the same period that did not get wide coverage.
"We know that incidents go under reported and are very difficult to track," Reagor said in a text to the Daily Montanan.
Anti-hate organization the Anti-Defamation League and GLAAD, a national LGBTQ+ organization, partnered and found between June 2022 and April 2023 there were a total of 356 Anti-LGBTQ+ "extremist and non-extremist incidents motivated by hate" across the U.S., including 305 acts of harassment, 40 acts of vandalism and 11 incidents of assault.
Released this week, the report included two incidents of harassment that occurred in Montana within that time. The one incident in Missoula was in the "Government" targeted trend, meaning it was related to government buildings and/or elected officials. The harassment in Billings was uncategorized.
Events captured in the report include the Club Q shooting in Colorado that left five dead at the LGBTQ+ nightclub, a firebombing in Ohio at a church that was set to host a Drag Story Hour and the extremists arrested in Coeur d'Alene, Idaho ahead of a Pride celebration.
Anti-LGBTQ rhetoric and extremist events have been on the rise in recent years, with fringe talking points making their way into the halls of state legislatures across the country, including Montana.
Following an incident last month where an older man at a Target in Missoula threw merchandise for Pride month on the floor and told a transgender couple shopping to "enjoy it while you can," Reagor cited the connection between rhetoric at the statehouse and increased anti-LGBTQ+ violence and threats.
"Hate-filled rhetoric and actions started in the Capitol this session and (have) flooded this state," Reagor said in a statement to the Daily Montanan in May.
Bills banning gender-affirming care for minors, drag performances on public property, and defining "sex" in code as binary were all signed into law by Republican Gov. Greg Gianforte following the 2023 legislative session. The bills garnered hours of public comment, bringing in both supporters and anti-LGBTQ+ rhetoric, along with people supporting the community in opposition to the legislation.
Rep. Zooey Zephyr, D-Missoula, the first transgender woman elected to the Montana statehouse, was censured by Republicans in the House for language she used in opposing the bill against gender-affirming care for minors.
In May, Zephyr tweeted there was an attempted "swatting" of her home, referring to someone who calls in a false report of a crime happening around that location, with the hope law enforcement respond there, as reported by the Missoulian.
There's also been pushback to Drag Story Hours around the state in the last year with events in Billings and Helena facing online and written threats in advance although taking place largely without incident and with large turnouts.
Drag events and performers were targeted the most across the country, the ADL/GLAAD report found, making up 138 incidents. There were 33 incidents relating to schools and educators, 23 incidents relating to healthcare facilities and providers, and 22 incidents relating to government buildings and elected officials.
The report found at least 191 anti-LGBTQ+ incidents of harassment, vandalism and assault making explicit references to "grooming" or "pedophilia," referencing a false conspiracy theory, making it the most cited trope among incidents.
The ADL and GLAAD also noted that anti-LGBTQ+ events would often overlap with other forms of hate, with at least 128 incidents also citing antisemitic tropes and 30 incidents also citing racist tropes.
Incidents were reported in 46 states with nearly half perpetrated wholly or substantially by individuals associated with extremist groups.
The incidents of anti-LGBTQ+ harassment, assault and vandalism were reported and identified by ADL from victim reports, the media and partner organizations.
The report's methodology clarified it is not a public opinion poll or an effort to catalog every expression of anti-LGBTQ+ extremism, noting not every instance of anti-LGBTQ rhetoric is reported and that the report did not include all online hate.
"This new report makes abundantly clear that extremism is escalating against LGBTQ people and endangers every American," said GLAAD President and CEO Sarah Kate Ellis in a press release Thursday. "Extremists, including elected officials, must be held accountable for inciting violence and using vile rhetoric against marginalized people who just want to live in safety and peace."