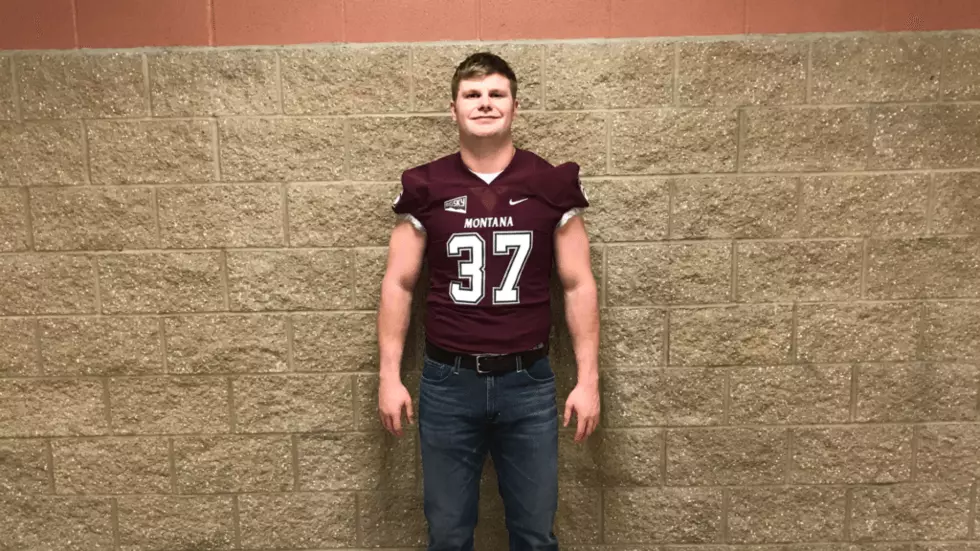 Griz DE Schye to wear famed No. 37 for 2017 season
GoGriz.com
Montana defensive end Tucker Schye received just about the best Christmas present a lifelong Griz fan from the Hi-Line could ask for. The famed 37 legacy jersey.
On the afternoon of December 25, Schye received a text from his friend, former teammate, and incumbent No. 37 Caleb Kidder asking if he had time to talk. He didn't know exactly what Kidder wanted to talk about, but he had a hunch.
"My heart was pounding when I went up to my room to take the call," said Schye, who is back home in Malta for the holiday break.
"We talked about what it means, had a great conversation, and I told him I'd be honored to wear it."
And just like that, Montana's traditional legacy jersey was passed from one Montana-born standout to the next, as it has been since 1986 when Kraig Paulson bestowed the jersey on Tim Hauck.
"I'm really just honored to be thought of in the same arena of all the guys that have come before me that have worn the number. It truly is an honor for me. It might be a cliché, but it's a humbling thing."
While Schye is humbled to be in the same elite brotherhood of Grizzly greats that have passed before him like Ciche Pitcher and Ryan Fetherston, he has certainly earned the recognition.
Getting set to enter his final season as a Griz, Schye has impressed Montana coaches and teammates alike since he was a freshman, earning the defensive "Scout Team Player of the Year" award in 2013.
Since that year, the linebacker-turned-defensive end has bided his time and learned from legends like Jordan Tripp, Zack Wagenmann, and Tyrone Holmes, and as a junior pushed for a starting spot behind Ryan Johnson.
Since 2014, the 6-foot-4, 240-pound pass rusher has played in every game for the Grizzlies, making 38 career appearances to date. Schye has racked up 63 total tackles, and 12.5 tackles-for-loss in addition to 2.5 sacks. Big numbers considering who has played ahead of him at D-end.
That sort of output didn't go unnoticed by Kidder either, never one to take the responsibility of wearing the jersey lightly.
"Tucker, to me, exemplifies everything that 37 means to the state of Montana. He's a hard worker, he does everything the right way, he's accountable, and to me, it would be a great honor I think for the state of Montana to have him wear 37," said the NFL prospect, who believes Schye's best days are ahead of him.
"There are really no limits with Tucker. He could have a great year next year, so I just want to see him go out and play, and just exemplify what he's already shown me, and the rest of the team, who he is and what his character represents."
Growing up in Malta, Schye fell in love with the Griz and learned about the tradition of the program when his idol, fellow Mustang Lance Spencer, moved to Missoula to play for UM in the early 2000's.
"From then on I wanted to be a Griz," he said. "I really got a knowledge of the hard-working, bad-ass mentality of being a Montana guy that plays for Montana, and I think that's what the number emulates."
While Schye knows the importance of the honor he has been given, it may take a little while for it to sink in. But even when it does, Schye says he's still going to be the same player that earned him this accolade in the first place.
"Honestly, I don't know if it's fully hit me yet. It's just been a surreal experience so far, and I just can't wait to get back with my teammates this spring and get after it.
"I was reading something that (Jordan) Tripp had to say about the jersey. It's not a thing that changes you, and I totally agree with that. It's an honor to wear it, but I'm not going to change how I am as a player or my work ethic. I'm going to get back in and work as hard as I possibly can like I have the last couple off-seasons, and just prepare for the season."
Schye and his Grizzly football teammates begin winter conditioning with the start of the new semester in February in preparation for the 2017 season.
The #37 Legacy
Kraig Paulson – Fullback, 1983-86, Plentywood
Tim Hauck – Safety, 1987-89, Big Timber
Todd Ericson – Safety, 1990-93, Butte
Jason Crebo – Linebacker, 1994-97, Helena
Andy Petek – Defensive End, 1998-00, Helena
Ciche Pitcher – Defensive End, 2001-03, Anaconda
Loren Utterback – Linebacker, 2004-07, Fort Benton
Carson Bender – Defensive Tackle, 2008-10, Deer Lodge
Ryan Fetherston – Defensive End, 2011, East Helena
Jordan Tripp – Linebacker, 2012-13, Missoula
Zack Wagenmann – Defensive End, 2014, Missoula
Caleb Kidder – Defensive End, 2015-16, Missoula
Tucker Schye – Defensive End, 2017, Malta