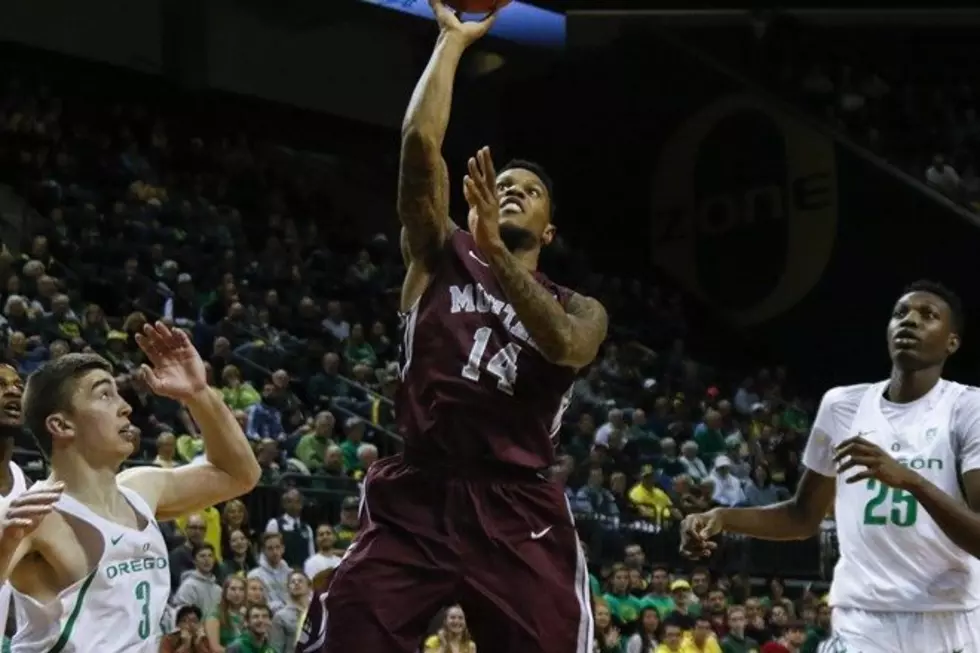 Griz leave Flagstaff with the 'W' and road sweep
Montana (13-13, 8-5 BSC) shot 54 percent from the field (its second-best average of the year), and outrebounded the Jacks (the league's top rebounding team) 36-31 to snap NAU's four-game home win streak. (GoGriz.com)
GoGriz.com
Montana head coach Travis DeCuire knew his forwards had to step it up against the physical Northern Arizona Lumberjacks if the Griz were to come away from Flagstaff with a win.
Freshman Jared Samuelson received that message loud and clear, setting a new career high with 20 points to lead all scorers, as the Grizzlies swept their second Big Sky road trip of the season, defeating NAU 70-59.
Montana (13-13, 8-5 BSC) shot 54 percent from the field (its second-best average of the year), and outrebounded the Jacks (the league's top rebounding team) 36-31 to snap NAU's four-game home win streak.
With Samuelson scoring at will down low and fellow forward Fabijan Krslovic putting in 29 productive minutes with six rebounds, Montana was able to employ its biggest lineup for long stretches, resulting in the team's most complete overall game to date.
"There's no question that was probably our best 36 minutes," said a pleased DeCuire, who is now 5-0 against NAU.
"We came out with intent to throw the first punch, and be the aggressor. There's no one else in our league that is like this in terms of how physical they are in the paint. Once we got a feel for it - got to stick our toes in the water and see how warm it was - we responded and worked our way through it. I'm definitely impressed with our team right now."
Samuelson's 20 points were just half of the 40 points UM received from its bench against the Jacks, with Sayeed Pridgett and Bobby Moorhead each adding eight. The Grizzly bench also scored 46 points against Southern Utah on Thursday for a total haul of 86 points on the weekend.
"We knew what he was capable of," said DeCuire of Samuelson, who had been fighting off a bout with turf toe in recent weeks. "Part of it was his confidence too. As a freshman, you have one or two games where you don't have the success you think you should have every time; it's kind of hard. Sayeed went through the same thing. You look at his stats tonight, and we win because these guys come off the bench and give us so much."
While the offense clicked along at a better-than-average rate, Montana's defense was the biggest influence in securing the win at a notoriously difficult venue.
Montana picked up four blocked shots to NAU's three, and held the Big Sky's top rebounder Jordyn Martin, who entered the game with three-straight double-doubles, to just nine points and six rebounds. Ako Kaluna, the Jacks' other dominant big man, was held in check as well with just 13 points and six rebounds.
"When we're focused, and we get in the right spots, we're phenomenal defensively," added DeCuire.
"We weren't going to allow them to pound the ball and make a move. We were going to force them to pass it out and then play one on one in late clock. They got some baskets out of that, but we had them under 40 percent I think in the first half, and that played a major role in where we were."
To start the game, Northern Arizona jumped out to an early 9-3 lead thanks to a run of three-straight jumpers from the Jacks.
But Jack Lopez put the Griz back into it with a pair of three-pointers, the second of which gave UM its first lead of the game at 12-11 around the 14-minute mark.
For the next 10 minutes, the Griz and Jacks would go shot for shot, as the lead changed six times during the stretch.
Montana started to take control of the game when Jared Samuelson picked up the foul while connecting on a spin move to put UM up 25-23, spurring on a 12-2 run for the Griz and providing the seventh and final lead change of the game.
Ahmaad Rorie and Moorhead put some distance between them and the Jacks late in the half after UM went on a three-minute dry spell. Rorie snapped the drought with an 18-foot jumper, and Moorehead added to the lead with a three from the top of the key to put UM up 35-28.
Walter Wright added a jumper for the Griz, and UM took a 37-31 lead into the halftime break with nine different Griz scoring for a 48 percent average from the floor, led by seven points from Samuelson at the time and eight points from Rorie.
Samuelson started scoring like a man possessed early in the second half, netting seven more points in the first seven minutes.
The Billings native made the scoring look good too, finishing with a dunk on a sweet dish from Wright, who opted out of an open three-pointer to drive inside and give Samuelson the high percentage shot.
"That's an example of our maturity, and hopefully we can continue to play like that," added DeCuire.
Samuelson continued his strong play inside, drawing a foul from Kaluna and hitting both from the free-throw line. On the ensuing play, Oguine finished a fast break to put the Griz up 58-43 and force a timeout from Lumberjack coach Jack Murphy.
The timeout was needed as well, with Montana rolling on a 16-2 run after the next bucket from Krslovic.
But by then it was too little, too late, as the Griz rode out the rest of the contest for the win with a 15 to 20-point buffer.
The Griz return to Missoula for the final set of home games of the season next week, seeking redemption against Sacramento State on Thursday and Portland State on Saturday, before a tough three-game road stretch to finish the regular season.