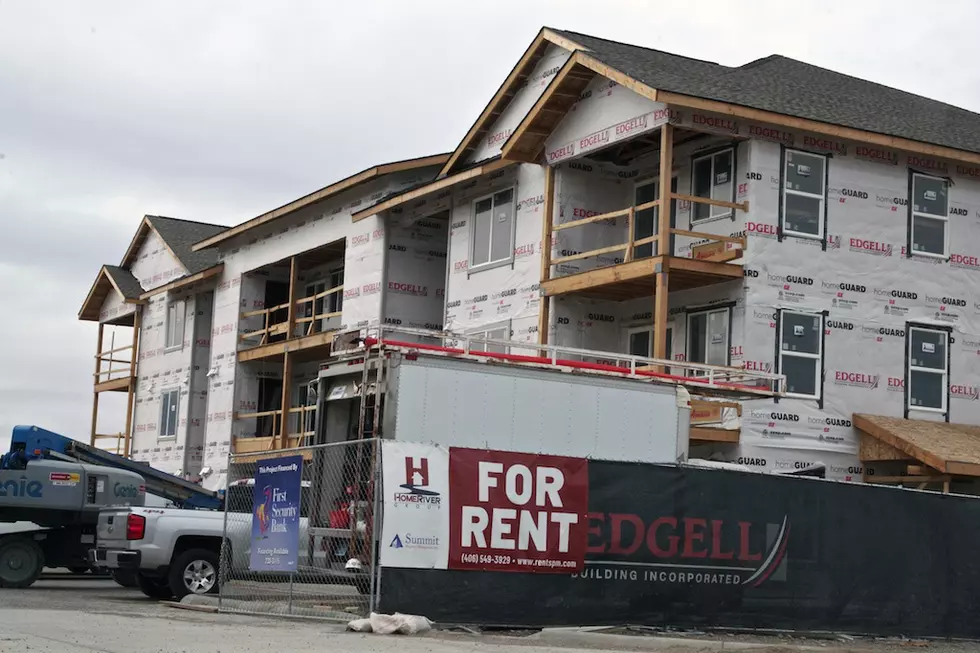 How the 2023 Legislature tried to tackle Montana's housing crunch
(William Munoz/Missoula Current)
Eric Dietrich
(MTFP) This is news to no one: Montana is facing a historic housing crunch.
Population growth, much of it driven by in-migration, has spurred demand for homes and apartments beyond available supply in many if not most of the state's communities. According to real estate website Zillow, the state's typical home value was nearly $428,000 as of March, up from $267,000 at the beginning of 2020. Higher rents, too, make it increasingly hard for businesses to find workers. In particularly tight markets such as Bozeman, it's not uncommon for full-time workers to be living out of the local homeless shelter.
That housing pain was a top-of-mind issue for many lawmakers as the Montana Legislature convened in the state Capitol this winter, taking its every-other-year run at solving the state's problems with new laws and public spending. As far back as last summer, Gov. Greg Gianforte signaled that he expected housing to be one of the session's top-tier issues, convening a task force to suggest potential legislation.
As the Legislature wrapped up its work last week, the year's single largest housing bill, authorizing $225 million in housing spending, passed to the governor's desk with one of the last votes taken by the Montana House.
Lawmakers made two main pushes on the housing issue — both of which ultimately drew bipartisan support.
First, they passed an array of regulatory reform measures that, broadly speaking, intend to accelerate home construction by making it easier to build. Some of those bills focus on streamlining subdivision review, making it faster to divide undeveloped parcels into lots for homes or apartments. Others rein in city zoning powers, negating local land-use rules that housing advocates accuse of bogging down residential construction.
Second, lawmakers passed House Bill 819, a compromise spending package that puts $175 million toward housing initiatives as well as authorizing an extra $50 million for low-interest loans to developers who build rent-restricted apartments.
Gianforte, a Republican, has signaled his support for most of the zoning measures and the spending package, although most of the housing bills haven't been formally transmitted to his office for his signature.
Other housing efforts were generally unsuccessful. A bill to establish a state workforce housing tax credit to fund affordable housing projects fell short, as did state-level efforts to tax Airbnb-style short-term rentals, which can inflame the housing shortage by shifting tourists into homes that would otherwise be homes for long-term residents. Conversely, efforts to limit how cities and towns can regulate short-term rentals themselves also failed.
Additionally, multiple bills aiming to expand legal protections for mobile home park tenants fell short amid opposition from the Montana Landlords Association. One mobile home tenant protection measure, House Bill 889, did pass the Legislature. That bill would among other provisions guarantee mobile home tenants, who often own their home and rent the land beneath it, the option of signing one-year leases instead of month-to-month contracts. It hasn't yet been signed or vetoed by the governor.
Pro-housing and zoning bills
Working with the governor's encouragement, lawmakers passed a host of pro-housing zoning measures — overcoming opposition from local government leaders and other critics who worry the resulting infill development could transform neighborhoods and overload existing sewer systems.
Senate Bill 245, for example, forces cities of 7,000 residents or more to allow apartment-style housing in most areas set aside as a commercial zone. A second, Senate Bill 528, requires cities and towns to adopt rules allowing the construction of accessory dwelling units, or smaller housing units that share a lot with a primary home. A third bill, Senate Bill 323, makes duplex housing allowable on any home lot in cities with 5,000 residents or more, preempting regulations that currently set aside some areas for only single-family homes.
That third bill, SB 323, demonstrates how fast the politics of the Legislature have shifted around zoning. A similar bill, brought by a progressive Missoula Democrat, was in effect laughed out of the House Local Government Committee during the 2021 session. Sponsored by a Republican senator from Great Falls, the year's SB 323 drew bipartisan support as it cleared the House and Senate.
Kendall Cotton, who runs the Republican-leaning Frontier Institute and spent much of the session lobbying for the zoning bills, attributed the change to both the severity of the housing crunch and the governor's decision to focus attention on it by establishing his task force.
"I think getting the task force together was really a way to crystallize this as a big priority for the Legislature — for both parties," said Cotton, who served on the group.
"Zoning reform isn't a silver bullet by any means," Cotton acknowledged, "but this is a great way we can tackle the low-hanging fruit."
Lawmakers also authorized the Montana Land Use Planning Act, or Senate Bill 382, a wholesale rewrite of the land-use planning statutes that apply to towns and cities in counties of at least 70,000 people. It requires municipalities of 5,000 residents or more in the state's urban counties to plan for the housing they need to accommodate population growth. In an attempt to discourage NIMBY-style opposition to projects, it also makes an explicit effort to shift public participation in land-use planning earlier in the process by inviting more public input as growth plans are written and limiting comment once specific projects are proposed.
The land-use planning act bill also requires that local zoning codes treat manufactured homes like site-built houses instead of mobile homes, a provision that could allow for wider adoption of less expensive, factory-built homes.
Zoning bills come easy in Legislature
As it turned out, the zoning bills were the easy lift for housing in political terms at the Legislature this year. Proposals for spending a portion of the state's $2.5 billion budget surplus on housing came from a number of sources, only to be faced with intense debate in and out of public view. It took until the final days of the session for a compromise package to emerge.
That compromise, bundled into House Bill 819, breaks down its $225 million of spending into four primary buckets, three of them filled by the $175 million in General Fund spending, plus the $50 million in additional affordable housing loans.
The $50 million authorization represents a major expansion of the state's existing Multifamily Coal Trust Homes Program, which lends money from the state coal trust to affordable housing developers at below-market rates. In exchange for the low-interest loan, developers agree to price the resulting apartments at rents that are considered affordable for lower-income families.
The $175 million in General Fund spending is divided into $107 million to set up an housing infrastructure fund, $56 million for a mortgage assistance program and $12 million to make more housing options available for workers at the state hospital in Warm Springs and the state prison in Deer Lodge.
The infrastructure fund provision is a reduced version of the $200 million Home Ownership Means Economic Security, or HOMES, proposal advanced by the governor's office before its standalone implementation bill was killed on the House floor.
As it heads to the governor's desk in HB 819, the fund would offer low-interest loans to help housing developers and local governments build the infrastructure necessary to support new urban housing — water lines, sewer lines, streets and sidewalks, among other things. Those loans would be repaid to the fund. The bill requires that state officials ensure that projects benefiting from infrastructure loans are subject to "provisions to preserve long-term affordability of the housing."
The mortgage assistance program would work by distributing the $56 million between regional economic development entities, which would match the money from other sources and use it to help middle-income homebuyers with up to 30% of the cost of purchasing a home. Beneficiaries would have their properties deed-restricted until they sell the home or pay back the program to limit how much equity they can earn from rising home values.
Democrats on the House side of the Legislature expressed concern that the low-interest loan rates specified in the coal trust portion of the compromise bill might not be low enough to subsidize developments to the point they're affordable for very low-income Montanans. Additionally, they pushed unsuccessfully for stronger permanent affordability requirements with the infrastructure fund.
Most Democrats ultimately supported the bill on the House floor in the sessions' final hours regardless, siding with moderate Republicans to give the bill the votes it needed to pass over opposition from hardliners.
"I think a lot of stakeholders we trust and folks in our community would say that 'Yes it is, in sum, better than nothing,'" Rep. Alice Buckley, D-Bozeman, said during a press conference May 4.
Did the Legislature go far enough?
As lawmakers head home from the session, they're already debating whether their crop of housing bills goes far enough.
Minority Democrats, who hold about a third of the Legislature's seats, have argued that they believe the Republican-controlled body hasn't done enough to ease Montanans' housing pain. Democrats at various points in the session floated much bigger housing spending measures, one totalling $500 million. They also advocated unsuccessfully for offering a tax credit for landlords who rent their properties below market rates and pushed to have one-time property tax credits from the state budget surplus benefit renters as well as homeowners.
"We provided no immediate solutions to the housing crisis," Senate Minority Leader Pat Flowers, D-Belgrade, said at a press conference May 4. "There's nothing for renters that came out of this session."
The governor and legislative Republicans have typically focused on housing as a market issue, arguing that the root cause of the problem is that the state has too few homes to house Montanans. As such, they were generally skeptical of subsidy proposals, especially those that passed money to individual renters or homebuyers instead of those that directed funds to encourage construction.
"Given the magnitude of the problem, there is not enough money in the state budget to subsidize housing in a way that would be meaningful across the entire state," Gianforte said during a press conference March 29.
(The state's Board of Housing last year funded projects that would produce 158 units of rent-restricted housing at an average subsidy of $186,000 per unit. State housing officials have told lawmakers that Montana needs 31,000 more homes and apartments that are available to rent at prices affordable to very-low-income renters. Multiplying that figure by the board's per-unit average produces a price tag of $5.8 billion.)
At that same press conference, Gianforte argued for boosting the housing supply by making it easier to build and putting state dollars into the water lines, sewer lines and roads necessary to serve new homes. He also touted his work to promote apprenticeships in trades such as plumbing, carpentry and electrical work, efforts intended to minimize the extent that skilled labor is a bottleneck for housing construction.
Republican legislative leaders have also expressed ambivalence about how much state action can do to shift the weight of the housing market off of cost-burdened residents — and how fast the pro-construction measures they've signed onto will shift the market, even under ideal circumstances.
"Housing is a very complex issue," House Majority Leader Sue Vinton, R-Billings, said at a press conference May 4, in response to a question about whether she believed the Legislature had done enough to address the pain produced by rising prices. "There are many folks who believe the market should really determine what is affordable housing and what should be out there for purchase," she added.
Vinton, who owns a homebuilding company with her husband, also argued that the Legislature's efforts to streamline development will ultimately bring prices down as more homes are built.
"Just drive along our roads and you'll see new construction. I see it now, but I think we'll see it to an even greater extent in the future," she said.
Senate President Jason Ellsworth, R-Hamilton, expressed similar sentiments about the pro-construction housing reforms in a separate press briefing May 4, though he acknowledged it will take time for the new rules to translate into housing projects.
"It's a big undertaking, so it's not going to be something that you're going to see tomorrow. But it is something I think you're going to see within the next 12 to 18 months," Ellsworth said.
This article was first published by MTFP.