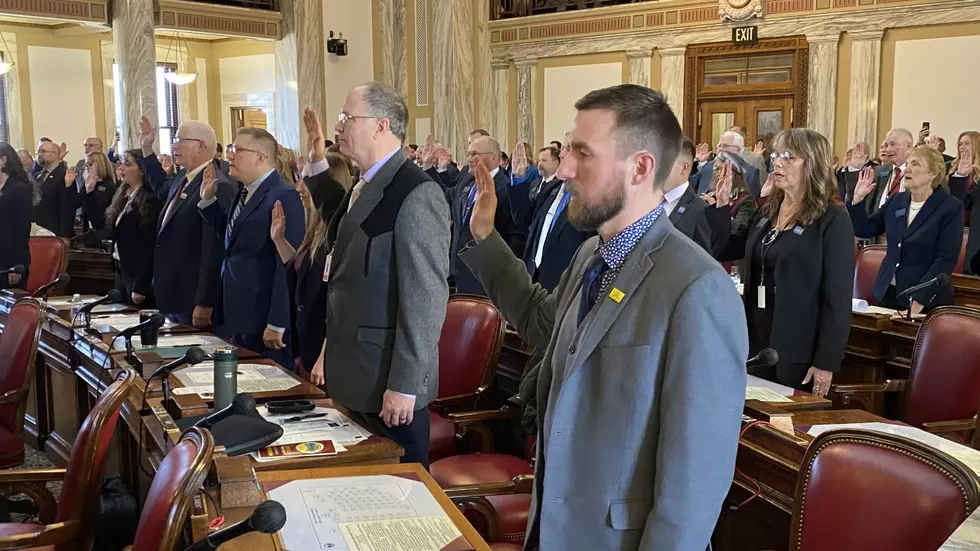 Montana lawmakers sworn in for 68th legislative session
The Montana Legislature. (Jonathan Ambarian/KPAX)
Jonathon Ambarian
HELENA (KPAX) - State lawmakers returned to the Montana State Capitol in Helena on Monday for the first day of the Montana Legislature's 68th session.
It was a day of greetings, as lawmakers introduced and reintroduced themselves to their colleagues. It was also a day of ceremony, as they took the official steps needed to get legislative business underway.
The House and Senate both gaveled in at noon.
"Today begins a new journey for each of you, to honor and serve others with dignity, trust, patience, transparency and kindness," said Montana Secretary of State Christi Jacobsen, who presided over the initial ceremonies for the House. "Every idea, conversation, committee and every vote will be in the best interest of Montana."
As the House began its work, Reps. Neil Duram, Ross Fitzgerald, Denley Loge, Bill Mercer and Kerri Seekins-Crowe sang the national anthem.
Both chambers conducted full roll calls of their members. Representatives and senators then took the oath of office, administered by District Court Judge Ashley Harada of Billings in the House and Montana Supreme Court Justice Laurie McKinnon in the Senate.
While Monday focused on pomp and circumstance, on Tuesday, it will be time for legislative action. Hundreds of bills have already been introduced and assigned to committees, and the first hearings will start Tuesday at 8 a.m.
After the swearing-in ceremonies, leaders from both parties highlighted their expectations for the coming session.
Republicans, who hold a two-thirds supermajority, have talked about reducing regulations, strengthening the state's economy and returning Montana's budget surplus to taxpayers. Rep. Sue Vinton, R-Billings, the House majority leader, called on the party to stay united.
"To the members of the Republican caucus: We must remain steadfast in working together to achieve the conservative mandate that our voters and Montanans have sent us here to accomplish," she said. "I have confidence in each of you here today, that together we can accomplish great things."
Democrats, in the minority, have called for more aggressive action on issues like the housing crisis, child care and health care funding. They said they're willing to work with Republicans where they can, but made clear there will be areas where they'll stand their ground.
"Senate Democrats are ready to create the majorities we need to meet the pressing needs of our state," said Sen. Pat Flowers, D-Bozeman, the Senate minority leader. "We're committed to work with respect for all of you and Montana citizens. You can also expect our conscientious commitment to the rights and freedoms guaranteed by our Montana Constitution."
This session is beginning with 149 active members of the Legislature, not the usual 150. One House seat, representing District 80 in Lewis and Clark and Powell counties, is currently vacant, after former Rep. Becky Beard, R-Elliston, was appointed to the Senate. County commissioners are set to appoint Beard's replacement this week.