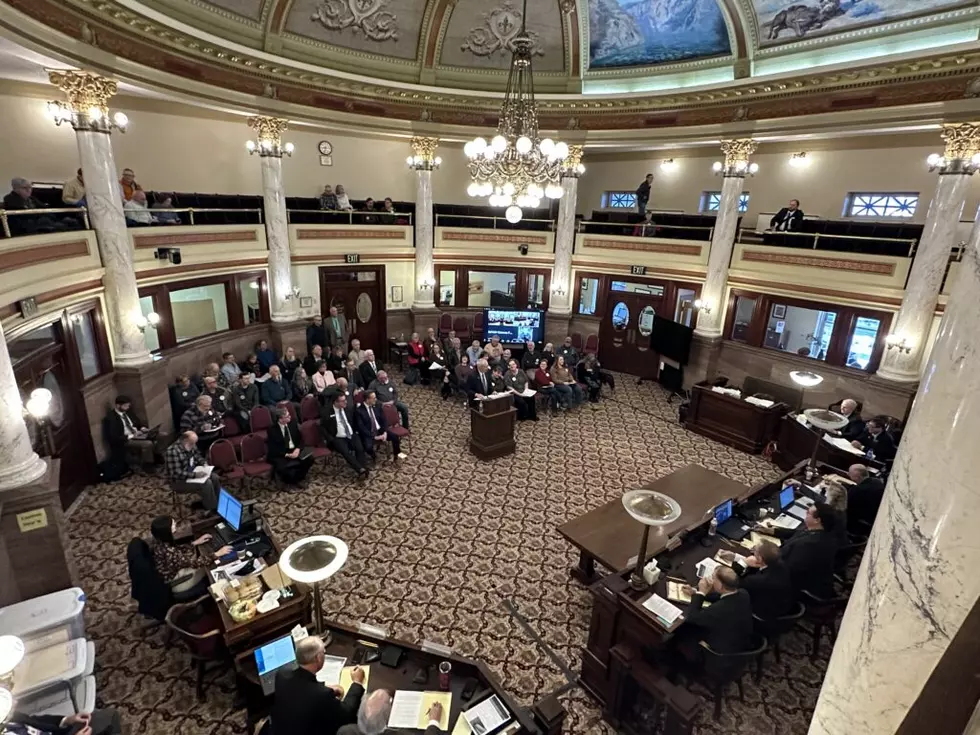 Montana resolution seeking Article V Convention tabled in split Senate vote
Sen. Tom McGillvray testifies in the Senate Business, Labor, and Economic Affairs Committee on Wednesday, Jan. 18, 2023, on his joint resolution seeking to add Montana to a coalition of states that wants to make amendments to the U.S. Constitution. (Blair Miller/Daily Montanan)
Blair Miller
(Dail Montanan) A resolution that would make Montana the 20th state to request an Article V Convention to amend the U.S. Constitution is likely dead after it failed on its third reading in the Senate Wednesday.
The Senate deadlocked 25-25 on its final vote on Senate Joint Resolution 2 a day after the measure narrowly passed on second reading Tuesday, 26-24. Sen. Ellie Boldman, D-Missoula, switched her vote for final passage.
The resolution would have added Montana to the list of states whose legislatures have agreed to ask Congress to call a convention of states together to propose amendments to the Constitution.
The alternative amendment process has never been used before, and the process by which a convention would work is still open to interpretation, according to people who testified at the measure's committee hearing last month and lawmakers who spoke on the floor this week.
On the final vote, 10 Republicans voted against the bill along with 15 Democrats, while 24 Republicans and one Democrat, Sen. Ryan Lynch, D-Butte, voted in favor of the resolution.
On Tuesday, during the resolution's second reading in the Senate, lawmakers spent more than an hour debating the measure. Sponsor Sen. Tom McGillvray, R-Billings, gave several impassioned speeches about the growing national debt being his main reason for bringing the bill for a second straight session.
During the resolution's committee hearing on Jan. 18, proponents of the resolution, including former Pennsylvania Sen. Rick Santorum, said the effort, which has received funding in the past from groups like the Koch brothers, is aimed at three things – having Congress pass a balanced federal budget, term limits for Congress and the federal government, and limiting the federal government's power.
On Tuesday during debate on the resolution, Sen. Becky Beard, R-Elliston, reminded the chamber that they and other citizens had elected Congress and said she wondered why anyone wanted to add more amendments to the Constitution if no one was abiding by it in the first place. She voted against the resolution.
Sen. Bob Brown, R-Trout Creek, said there was risk to passing the resolution because of the unknowns about what would actually happen at a convention. He said he felt Congress would play "political games" with the process and wondered if other states would stay in line with the amendments Montana sought.
Boldman did not immediately return a message Thursday seeking comment as to why she switched her vote.