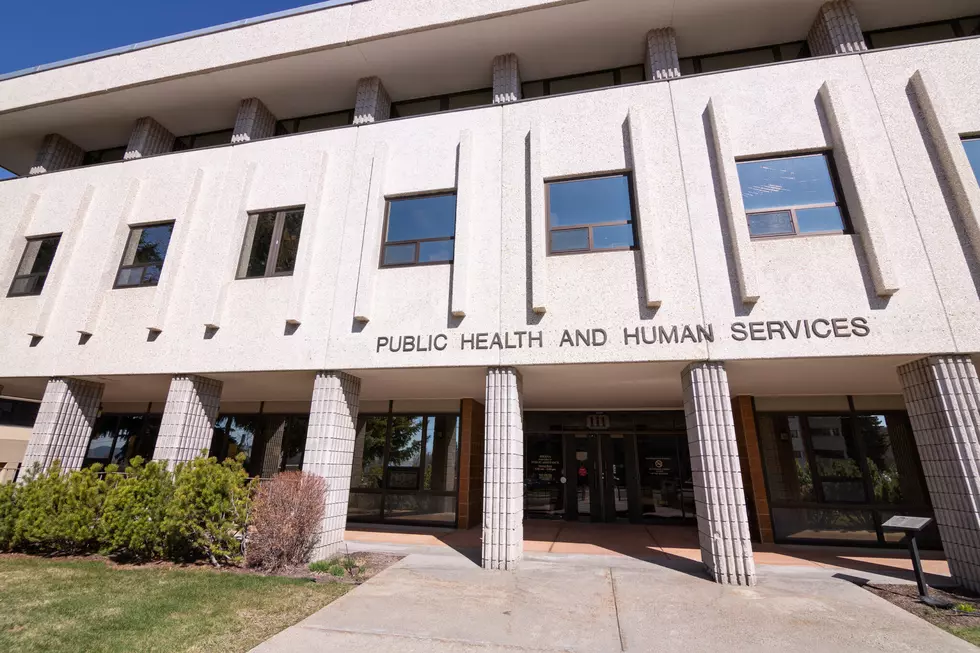 State reverses course, seeks federal dollars for school lunches, saving summer program
The Montana Department of Public Health and Human Services (Photo by Eric Seidle/ For the Daily Montanan).
In a change of course, the Department of Public Health and Human Services announced Friday it submitted a plan to receive federal dollars for food for children for the school year, making Montana eligible for summer funding as well, the latter amount earlier estimated at $36.6 million.
"This program has been a valuable resource for thousands of Montana families in helping to supplement their food budgets, in a time when grocery costs continue to rise," said Health Department Director Adam Meier in a statement.
Friday, Meier offered an update on the Pandemic Electronic Benefits Transfer funds, or P-EBT, to the Children, Families, Health and Human Services Interim Committee. He also took questions from a committee member about other funds and programs meant to support children and families, such the $16.5 million paid out of $61.3 available for provider stabilization.
In a March letter urging the state to apply for P-EBT funds, a coalition of some 60 organizations led by the Montana Food Bank Network estimated Montana would lose nearly $37 million for summer alone if it didn't submit a plan for the school year. At the time, a department manager told a legislative committee the program, established in 2020 to help children who lost free lunch because of school closures, was too burdensome to administer.
In a news release Friday and in remarks to the interim committee, Meier said the U.S. Department of Agriculture, which administers the program, has since allowed more flexibility with P-EBT plans, and his team found a solution that didn't have significant administrative challenges by focusing on children from 0 to 6 in the school year, which still allows older children get help in the summer. As such, he said DPHHS is confident about its ability to administer P-EBT going forward; a news release from the department said DPHHS issued more than $66 million in benefits from March 2020 to August 2021.
If approved, the most recent P-EBT funds will be available to children under age 6 who participated in the Supplemental Nutrition Assistance Program, or SNAP, this school year, according to DPHHS. The department estimates that nearly 17,000 children who had reduced access to child care meals will be eligible for a $33 per month benefit. DPHHS said this amount is for September to December 2021; it said the amount for January 2022 to May 2022 has yet to be determined.
"I'm pleased that a workable solution has been identified, and USDA heard our concerns," Meier said in a statement. "In the end, this is about providing valuable assistance to Montana families and ensuring children have access to nutritious foods. We committed to re-evaluating P-EBT in light of federal flexibilities, and we met that promise."
At the meeting, Meier said he anticipated the amount of money would be significantly less than projected earlier because more children were in school, but he said it was too soon to know a precise figure. DPHHS also said it plans to submit a plan to collect summer 2022 P-EBT benefits and anticipates the funds will be available to children from 0 to 17 years old.
During questions from legislators, Sen. Mary McNally, D-Billings, praised DPHHS for submitting a plan to help secure dollars for meals for children. However, she also quizzed Meier about other programs intended to support children.
For example, McNally said she was concerned that at least 500 children who used to receive mental health services through the Comprehensive School and Community Treatment Program are no longer getting help. She also noted the question is for the Office of Public Instruction as well, not just the Health Department.
"I'm concerned about what's happened with those kids," McNally said.
In the 2021 legislative session, lawmakers directed the two departments to figure out how to deliver CSCT, which provides mental health services to students in public schools, after a federal change meant the state needed to pay hard matching funds rather than certify a soft match. The transition has been fraught with complications, and earlier data from DPHHS showed fewer children using the services.
Friday, Meier said some clinics could be picking up some of the children, and some of the schools might be offering similar support but possibly through COVID-19 relief funds instead. McNally said she wanted to know the actual outcomes, and Meier agreed to report back.
McNally also asked about the $61.3 million available in child care stabilization out of ARPA funds, the American Rescue Plan Act, and $40.4 million available for innovation. DPHHS has paid $16.5 million for stabilization and just $200,000 for innovation, according to data from the state, and McNally said she understands complex processes are involved, but Montana should do better.
"I'm just wondering when more of that is going to get to the people who really need it," McNally said.
Meier said although not all the funds have been paid, Montana has been the first- or second-fastest state to obligate and commit funds, meaning many recipients already know they are being awarded a specific amount, and DPHHS is making regular disbursements. The department received 593 applications for stabilization money, he said.
"Although all the payments haven't gone out, most of that money is obligated to those providers through a grant award," Meier said.
He also said the total amount of money to award is significant, and it's an undertaking to allocate funds in a way that is fair and complies with auditing and other requirements. Additionally, Meier said the ARPA funds are different than earlier relief money in that they are meant to support longer term recovery.
McNally said she appreciated the quick work in obligating funds, but she also didn't want millions of dollars just sitting around when she was seeing that child care workers are earning a median $11.19 an hour, and families can use the help: "It just doesn't make sense to me."
In the exchange with the committee, Meier noted work to distribute funds is ongoing, and he said a current request for proposals will mean some $15 million goes out across the state in a minimum 15 awards for communities to grow child care. 
Montana Budget & Policy Center comments
"Hundreds of Montanans stepped up, shared their stories, and made their voices heard. We're grateful the state is reversing course and ensuring 97,500 children across the state will be able to access food supports through the summer," said Jackie Semmens with the Montana Budget & Policy Center in a statement.
The Budget & Policy Center noted the Food and Nutrition Service issued new guidance on summer P-EBT benefits, and this summer, the standard benefit amount will be $391 compared to $375 last summer.
Editor's note: The Budget & Policy Center submitted a corrected quote to the Daily Montanan, updated here.