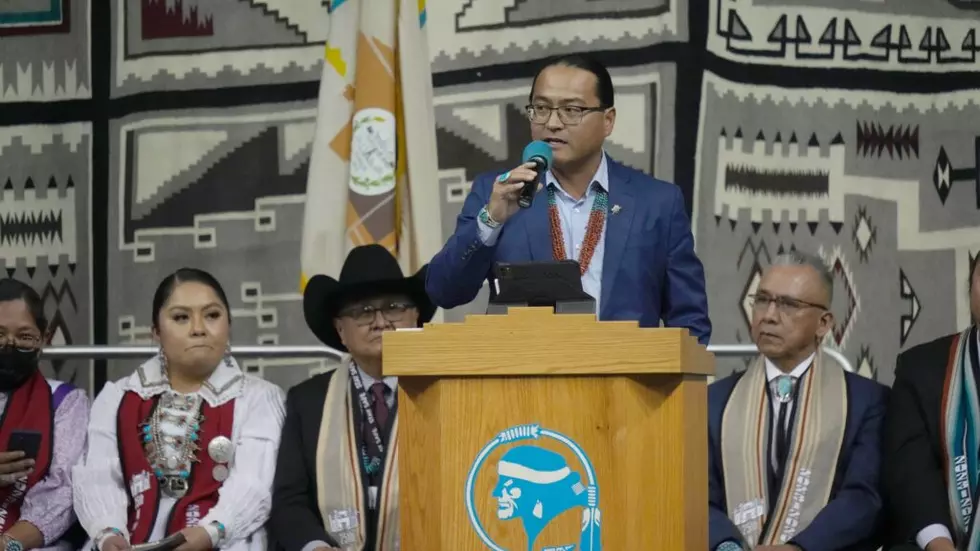 Navajo Nation have youngest president, first woman VP
Navajo Nation President Buu Nygren gives his inaugural speech inside the Bee Hółdzil Fighting Scouts Events Center Tuesday afternoon in Fort Defiance, Ariz. Nygren was sworn in as the 10th president of the Navajo Nation. (Donovan Quintero/ Navajo Times)
Shondiin Silversmith
(New Mexico Source) New Navajo Nation President Buu Nygren and Vice President Richelle Montoya were sworn into office Tuesday, along with the Council delegates who were elected in November.
Throughout the ceremony, incoming and former tribal leaders discussed the importance of moving forward and working for the Navajo people to better the future of the Navajo Nation.
"If we cannot come to a conclusion, let us all come to a solution that we all can agree upon," Montoya said during her speech. "We need to come together. We need to be together for the betterment of our Navajo people."
"All these generations coming behind us is who we have to think about," she added.
Nygren and Montoya, alongside the 25th Navajo Nation Council, took their oaths of office in front of hundreds of people at the Bee Hółdzil Fighting Scouts Events Center in Fort Defiance.
Nygren and Montoya won their election by nearly 3,500 votes, ousting incumbent President Jonathan Nez. Throughout his campaign, Nygren promised the Navajo people he would improve infrastructure, bring in water lines and broadband, and secure more funding from the U.S. government.
This will be the first time Nygren has held political office and the first time the Navajo Nation has elected a Navajo woman as vice president.
Nygren is from Red Mesa. His Navajo clans are Táchii'nii (Red-Running-Into-The-Water Clan) born for Naa'ádaalts'ósí (Vietnamese), his maternal grandparents are Todích'íí'nii (Bitter Water Clan), and his paternal grandparents are Naa'ádaalts'ósí (Vietnamese).
Montoya is from Torreon, N.M., and served as president of the Torreon Chapter House. She is Hashtł'ishnii (Mud clan) and born for Ta'neeszahnii (Tangle clan). Her maternal grandfather is Kinłichii'nii (Red House clan), and her paternal grandfather is Táchii'nii (Red Running into Water clan).
The Navajo Nation is one of the largest tribes in the United States, with nearly 400,000 citizens. About 175,000 of those are living on the Navajo Nation, which is primarily located in northeastern Arizona and northwestern New Mexico and parts of southern Utah.
With his hand over a Bible and Navajo wedding basket, Nygren took his oath of office with his wife, former state Rep. Jasmine Blackwater-Nygren, and his one-year-old daughter standing with him on stage.
During his inauguration speech, Nygren addressed the crowd first in Navajo and then in English. He wore what has become his signature look, a light button-up shirt with a blue blazer.
"We know it's going to be tough," Nygren said of being the Navajo Nation president. "We campaigned on, how do we combat the everyday things that hurt and go up against our people?"
He said that he expects unity with the council, and that their combined leadership "is going to be strong, and we can stop talking about the basic needs of our Navajo people."
"We have one mission: Let's get basic services to the Navajo people," Nygren said, indicating the Navajo Nation needs water, roads, broadband and better public safety. "As your next Navajo Nation president, I will not hesitate. I will do whatever it takes to make sure that our people have a chance, that our people have an opportunity to make something of themselves."
Throughout his speech, Nygren talked about how his time in office will be spent being a champion for the basic needs of the Navajo people.
Nygren said the decisions he'll make as a tribal leader will be simple and based on two needs: will it move the nation forward and help the nation get out of third-world poverty conditions?
"It's about time we believe you. This administration will be about you," he said. "We are tired of moving off the Navajo Nation. It's about time the grass is greener on the Navajo Nation."
During her speech, Montoya encouraged the Navajo people to speak their language as much as possible and to do it no matter what anyone tells them. She recalled a time when she went to a day school in Torreon where they were speaking Navajo fluently until, one day, they were instructed to stop.
Montoya said they did, and then years later, she recalls being told that the Navajo language was dying and the Navajo people needed to start speaking it again.
"It's still within us," Montoya said of the language. She gave her speech in both Navajo and English, and opened up with a song and prayer.
"We are here today, standing on the shoulders of our ancestors," Montoya said before telling the men in the room that she would take a few moments to take in the moment with the Navajo matriarchs watching the inauguration. Montoya is the first Navajo woman to be elected vice president of the Navajo Nation.
"For the next four years, I will give you my very best shi k'é (my family)," Montoya said. "I am proud, honored and humbled to be your elected Navajo Nation vice president."
Former Navajo Nation Council Speaker LoRenzo Bates spoke during the ceremony and talked about the importance of the tribal leaders working together for the Navajo people because that is why they were elected.
"That is why leadership is here today, because of the people that voted you into office," Bates said."You will have the awesome responsibility of defending our sovereignty."
Bates said to the incoming Navajo leaders that it is their responsibility to ensure that the U.S. government adheres to their federal trust responsibility as outlined in the treaty of 1868.
"You will be ensuring that our Diné people will be protected and given the resources to thrive," Bates added, saying that the administration will be working with local, state, federal, and tribal leaders to bring "real and lasting changes to the Navajo Nation."