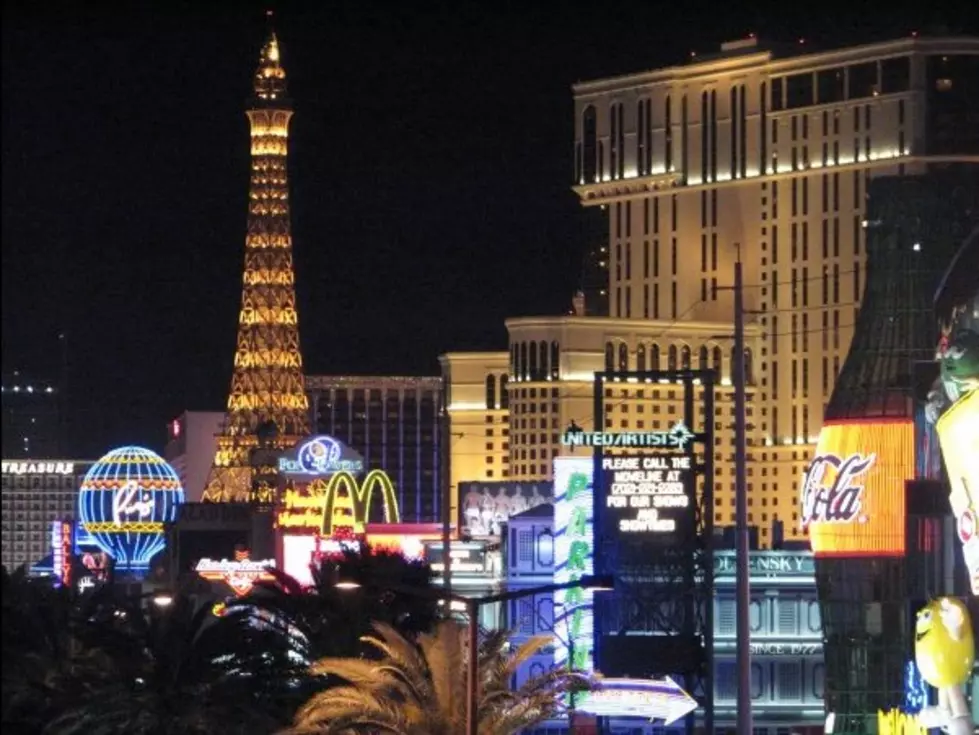 Nevada economic forecast still rosy, analysts nudge state budget up $250 million
A nighttime view of the Las Vegas Strip. (Martin Kidston/Missoula Current)
April Corbin Girnus
(Nevada Current) Politicians in Carson City have another $250 million to argue over.
The Economic Forum on Monday adjusted its general fund revenue projections for the upcoming biennium to $11.6 billion — up from a $11.4 billion projection they approved in early December. The slightly rosier outlook gives Nevada's Republican governor and Democratic Legislature a little wiggle room in their ongoing budget battles, which are likely to ramp up between now and the end of the regular session on June 5.
The slightly rosier projection is a result of more confidence in the gaming sector, which has been riding the high of a 25-month streak where gaming win totaled more than $1 billion. The Economic Forum bumped projected gaming revenue for the upcoming biennium by $78.7 million. Nevada's premier industry is now expected to bring in $1.8 billion over the biennium.
Other major revenue streams that received upward adjustments for the upcoming biennium included: live entertainment tax, the modified business tax, and the insurance premium tax.
Notably, the forum did not adjust its projection on sales and use tax revenue, which is by far the biggest contributor to the state general fund. Sales tax is anticipated to bring in almost $3.8 billion in the upcoming biennium — about a third of the total.
One fifth — $50 million — of the $250 million in newly projected revenue is expected to be generated during the current fiscal biennium, which continues to see revenue exceeding projections.
Gov. Joe Lombardo's office in a statement Monday said it would submit budget amendments in light of the forum's updated projections. Those recommendations will include $25 million in one-shot capital improvements for state office buildings, $6 million for his "government modernization and efficiency act," and $3.3 million to fund his proposed Office of School Choice, which is part of his larger K-12 education platform.
The office also named "funding for charter school transportation" and "critical social services infrastructure" as potential areas for additional funding, though the statement did not include any specifics.
"Governor Lombardo remains committed to fiscal responsibility and not overspending," said Ben Kieckhefer, Lombardo's chief of staff, in a statement.
Lombardo, as part of his government modernization proposal, Senate Bill 431, has proposed increasing the cap of the Rainy Day Fund from 20% of general fund appropriations to 30%.
Senate Majority Leader Nicole Cannizzaro and Assembly Speaker Steve Yeager in their own statements made it clear their caucuses' priorities differ from the governor's.
"Today's updated state revenue projections show that we are now in a strong position to address many long-time unmet needs," read Cannizzaro's statement. "As we begin the final work on our biennial budget, we have the opportunity to make unprecedented investments in health care, housing, public education, and improving the quality of core services the state provides to Nevadans."
Similarly, Yeager said the "additional revenue should be used to boost funding for critical public services such as education, affordable housing, mental health, public safety, and more."
The $11.6 billion state general fund projection for the 2023-2025 biennium is significantly higher than the $9.2 billion budget approved for the current biennium by the Economic Forum in May 2021. Forecasters at that time did not expect the Nevada economy to rebound as quickly as it has.
Economists in presentations Monday acknowledged the potential for a downturn, especially if uncertainty within the banking industry were to kick off a wider financial crisis. However, they held to the position that they expect the economy both nationwide and in Nevada will slow but not enter a formal recession.