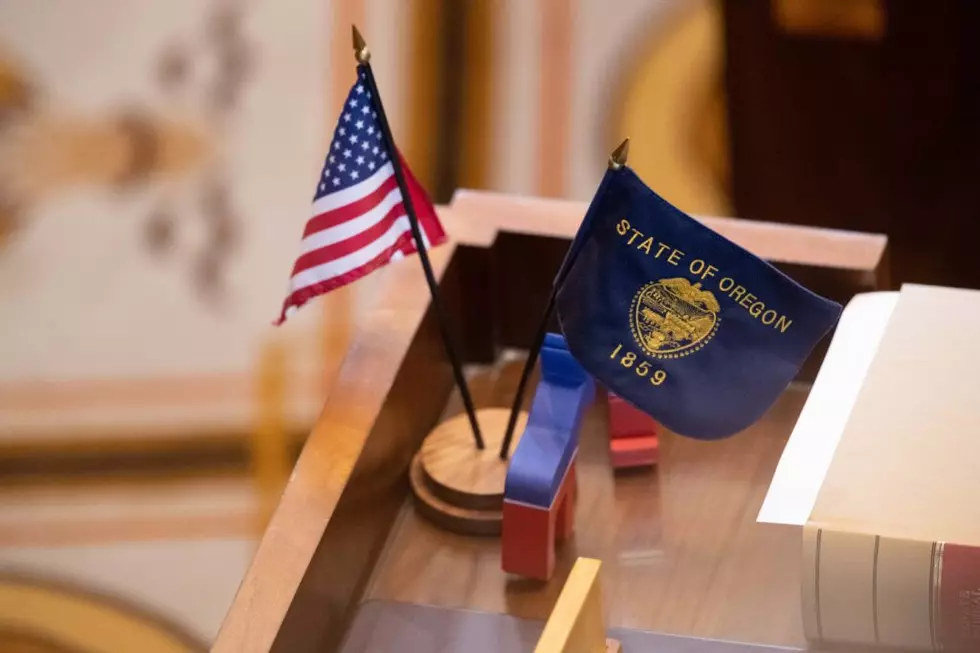 Oregon Republicans return to Senate after 6-week walkout
(Amanda Loman/Oregon Capital Chronicle)
Alanna Madden
SALEM, Ore. (CN) — Republican state senators returned to Oregon's Capitol this week, ending a six-week walkout spurred by two Democratic-backed bills involving reproductive rights and gun restrictions.
In return for ensuring quorum throughout the rest of this year's legislative session, Senate Democrats have agreed to strike several provisions from the bills, including one that would have provided constitutional protections for abortion, same-sex marriage and gender-affirming care.
Back on May 3, Senate Minority Leader Tim Knopp, a Republican from Bend, explained the walkout as a protest against the unreadability of pending Senate bills. However, the boycott quickly revealed itself as a stand against House Bill 2002 and House Bill 2005, both of which passed Oregon's House of Representatives on May 2 without GOP support.
Initially drafted to protect abortion providers and expand gender-affirming services covered by Medicaid, Republican senators took issue with HB 2002 due to a provision that would allow minors at any age to receive an abortion without parental consent or notice. Meanwhile, HB 2005 sought to ban ghost guns, raise the state's minimum age requirement from 18 to 21 to purchase certain firearms and allow agencies to ban guns on government properties.
According to the offices of Democratic Senate President Rob Wagner of Lake Oswego and Democratic House Speaker Dan Rayfield of Corvallis, HB 2002 would still affirm standard abortion care in Oregon otherwise threatened by last year's Dobbs decision. The leaders also conveyed that the bill would establish provider protections against outside states' anti-abortion and anti-transgender laws while requiring health insurance to cover medically necessary gender-affirming care.
Yet, the Oregon House Republican Caucus explained that the agreement framework for HB 2002 "protects parents' rights by striking large portions" of the bill and eliminating Senate Joint Resolution 33 "in its entirety" — the latter of which would have asked voters to amend the state's Constitution to guarantee protections for abortion, same-sex marriage and gender-affirming care.
Several changes were made to the gun bill as well.
Democrats announced that the bill would still ban untraceable ghost guns, establish a workshop to study policy solutions to gun violence and suicide prevention and invest $10 million in the Community Violence Prevention program. What the bill now lacks, however, involves provisions that punished the manufacturing and transferring of ghost guns and included age limits on purchasing semiautomatic rifles and carrying concealed weapons.
What leaders from both parties announced uniformly is how their negotiations included consideration of House Joint Resolution 16, which would allow voters to amend the state's Constitution to provide the Legislature with the ability to impeach elected officials. Oregon is currently the only U.S. state without this procedure.
Both parties also announced the agreement as a win for Oregonians but for different reasons.
"Senate Republicans and Independents stood firm as the last line of defense for parental rights and the rule of law," said Knopp in a statement. "I am incredibly proud of their steadfast determination to give their constituents a long-overdue seat at the table. We have said from the very beginning that we cannot allow the Senate to operate in an unlawful, uncompromising and unconstitutional manner."
Knopp added that Republicans have repeatedly urged Democrats to "put the critical needs of all Oregonians first instead of prioritizing an extreme agenda that does nothing but divide us."
"I am pleased to say that we were able to hold the Democrat majority accountable and accomplish all these things," Knopp said. "We achieved constitutional, lawful bipartisanship. And parental rights were restored."
The Republican-led boycott stalled numerous bills that could benefit schools, wildfire relief, drought and water security and more. It also undermined voter-approved Measure 113, which sought to end legislative walkouts by disqualifying officials from re-election at the end of their term if they miss 10 legislative floor sessions without permission.
Senators Knopp and Brian Boquist, a Republican from Tillamook, insist that the fine print of the measure doesn't do what voters thought it would. In response, Democrats vowed to fine absent senators, and on Wednesday, Democrats introduced a House resolution that would ask voters to amend the state's Constitution to require a simple majority for quorum instead of a two-thirds majority.
During a press conference on Thursday, Wagner said it was clear that when voters passed Measure 113, there would be significant consequences for walkouts.
"I believe that the framework that we have today is going to move Oregon forward and there are obviously a whole bunch of legislators that aren't going to be able to come back to this building," Wagner said.
Wagner denied any responsibility for presiding over the longest walkout in Oregon's history.
"I'm not responsible, nor are members responsible for people that are deciding to walk off the job, which is what I would say, in violation of the Constitution," Wagner said. "I think the Constitution is very clear about what your job is when you get elected, so I don't think Democrats really should be taking responsibility for the decisions of others like that."
Returning to the framework, Wagner said he is proud of what the senators put out there and the impact they will make on families in Oregon.