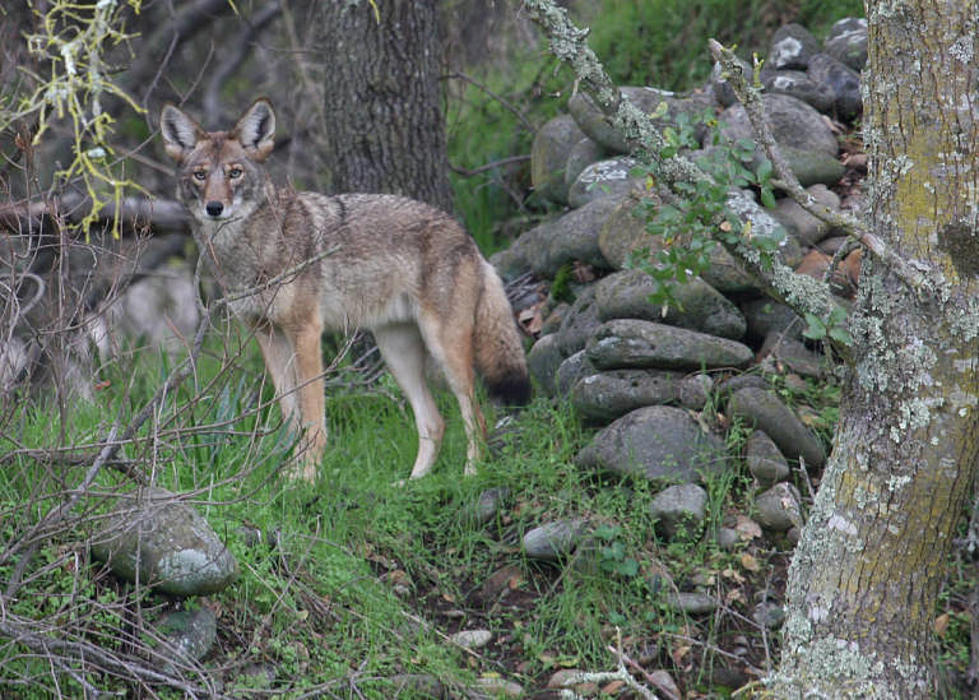 Oregon state wildlife officials ban wildlife killing contests on public land
Wildlife killing contests have been directed against coyotes. (Steve Thompson/U.S. Fish and Wildlife Service)
Lynne Terry
Oregon Capital Chronicle) Four years after the Legislature failed to ban wildlife killing contests, the Oregon Fish and Wildlife Commission outlawed them.
At its meeting Friday in Bend, five commissioners, with one abstaining, voted in favor of a rule to prohibit the contests, which have been held to kill coyotes in a few rural counties in Oregon. The derbies have drawn hundreds of people, offering the potential to win thousands of dollars in prize money.
The rule makes it "unlawful to organize, sponsor, conduct or participate in a contest that has the objective of killing unprotected mammals native to Oregon." The vote makes Oregon the ninth state to ban the contests after Arizona, California, Colorado, Maryland, Massachusetts, New Mexico, Vermont and Washington. The New York Legislature also passed a ban in June that awaits the governor's signature.
The Oregon rule will only apply to public land. Brian Wolfer, a wildlife deputy administrator, told the commission it does not have the authority to ban the killing of predatory animals on private land.
Environmentalists and animal rights advocates praised the vote .
"We are overjoyed that cruel, unsporting wildlife killing contests will never again occur on public lands in Oregon," said Bethany Cotton, conservation director with Cascadia Wildlands, a Eugene-based group. "We thank ODFW staff and commissioners for recognizing that killing contests violate the agency's mission to manage wildlife in trust for present and future generations."
'Predator management'
The vote followed testimony from more than 40 people, a majority supporting the ban. They included hunters like Michael Finley, former chair of the wildlife commission. He said the contests were "antithetical to the concepts of sportsmanship and fair chase." He also testified to the state Legislature in 2019 supporting a proposed ban, which didn't make it out of the House Committee on Rules.
Paul Donheffner, legislative chairman of the Oregon Hunters Association, who hailed the lack of legislative action, also weighed in on the ban, writing a letter he said represented his personal opinion.
"The issue is really about bullying by well-organized animal rights organizations who seek to tell eastern Oregon citizens how to live," Donheffner said. "It has almost nothing to do with protecting coyotes, which could still be killed 24-7, every day of the year under the proposed bills and under this rulemaking. The only thing this rule does is say you can't have any fun doing so."
Other opponents to the prohibition declined to speak to the Capital Chronicle on the record, saying the subject is controversial and has sparked death threats against them. They called the events "predator management contests" and said they were necessary to control the coyote population. Coyotes can go after livestock and kill elk and deer. Hunters blame coyotes for reducing those populations, though wildlife officials say the growth in rural populations is a bigger factor.
Research by the U.S. Department of Agriculture and others have shown – paradoxically – that killing coyotes does not reduce their numbers. Rather, the animals respond by stepping up breeding and moving into areas where their numbers have been diminished. One study showed that their numbers were replaced within weeks.
Organizers have publicized coyote killing contests in Lake and Harney counties. The Harney County Coyote Classic has been held in Burns every winter, including last year. Supporters said it has drawn up to 500 hunters and their families, mostly from Oregon, giving the area an economic boost by filling hotels and restaurants at a time when most people are hunkered down at home.
Teams of hunters, sometimes with night vision goggles, thermal imaging and electronic devices that mimic the sounds of young prey, have killed hundreds of coyotes at a time and offered prizes for the biggest and smallest animals slayed, animal rights groups said.
"Wildlife killing contests are abhorred by the Oregon public and have no place in our state," said Kelly Peterson, Oregon state director for the Humane Society of the United States, an animal rights group. "Engaging in wanton waste of a native wildlife species as part of a contest for prizes is abhorrent and we are grateful that the Oregon Fish and Wildlife Commission voted to end these cruel, gruesome competitions."
Peterson told the Capital Chronicle that in the last four years, more than 1,000 coyotes have been killed in Oregon derbies.
"Because of growing opposition to these contests from the public, they are now rarely advertised publicly, instead happening in the shadows, and promoted through word of mouth." Peterson said in an email.
The rule will go into effect as soon as it is filed, perhaps by next week, said Michelle Dennehy, a spokeswoman for the wildlife agency. She acknowledged that the rule might not eliminate the contests altogether.
"It's possible the contests will move to private land, but the commission can only work within its regulatory authority," Dennehy said.