February snow rescues western Montana's snowpack, for now
For a second year in a row, a snowy February has saved Montana's winter snowpack. But the trend needs to continue for a few more months to ensure that streams run full.
As sunshine flooded the Missoula valley and temperatures rose into the mid-40's Monday, the outlook for at least the first week of March is warmer and drier. But the snow squalls that passed through last week were February's frosting on the cake, returning Montana's snowpack close to normal for this time of year after a somewhat dry January, according to the U.S. Natural Resources Conservation Service monthly water supply summary.
Meteorologists had been saying this was to be a moderate La Nina year based upon trends in ocean currents and water temperature. That usually means the northern part of the U.S., and Montana in particular, will have a wetter winter. But January wasn't all that snowy, and worse, it was incredibly warm. Most of the state experienced average temperatures at least 2 to 4 degrees above normal while the northeast corner, already in drought, were 8 to 10 degrees above normal.
So it was good when La Nina finally made an appearance last month along with colder temperatures.
Precipitation amounts far exceeded February averages in all but the most northwest basins. The upper Clark Fork and Bitterroot basins received almost double the normal precipitation for the month while the Flint and Rock creek drainages received more than double. Even the lower Clark Fork drainage saw 134% of normal precipitation in February.
All that precipitation brought almost all Montana's mountains up to where they have normal amounts of snowpack, based upon a 30-year average. Only the Kootenai River basin in northwest Montana has less than 90% while the Milk River basin of north-central Montana is doing the best with 125% of average.
The upper Clark Fork basin above Missoula is at 111% of average while the lower Clark Fork didn't do quite as well, reaching only 95% of average. The Bitterroot Range received the most moisture of the local area and now holds 117% of the February average.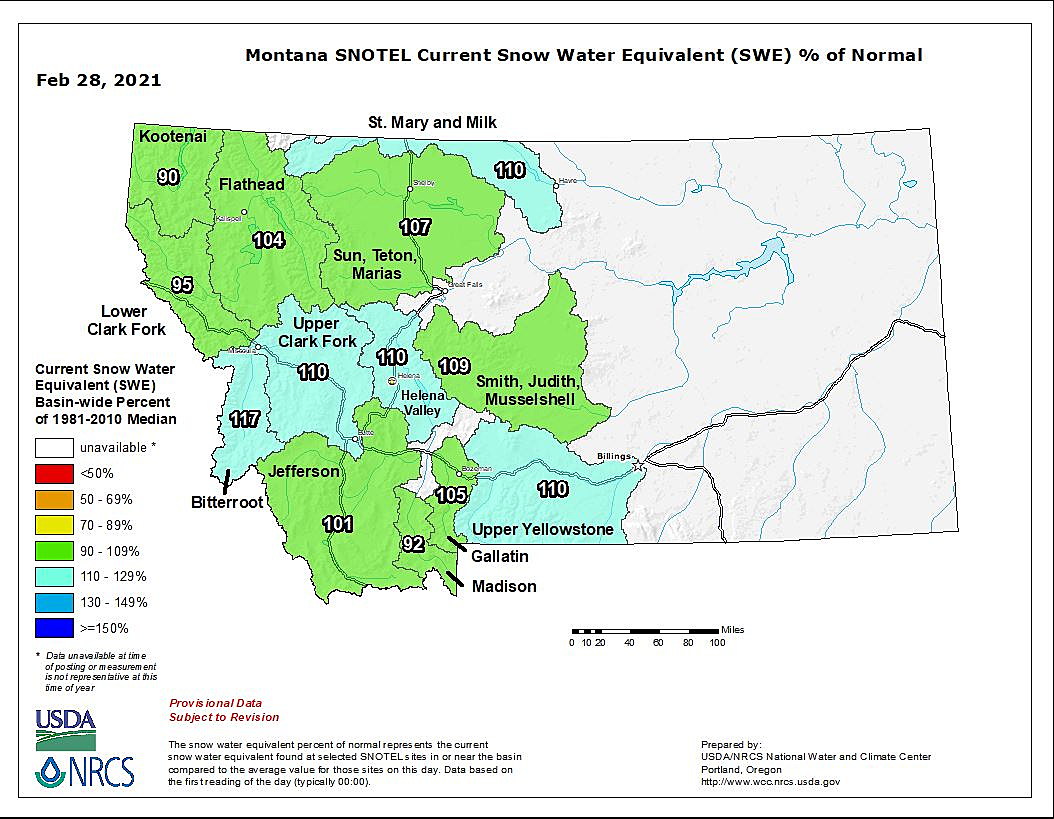 These spatial and timing trends are similar to what played out last winter, when again, February brought above normal snowfall to make up for what had been a lackluster December and January. The northwest corner continues to be less snowy while the north-central region gets the most snow.
These kinds of winters may be the new normal for Montana under the effects of climate change.
Last year, March brought less than average snow to the western side of the Continental Divide but cold temperatures allowed the mountains to hang onto what snow they had.
That may repeat this year in spite of this week's warm-up. The long-range forecast from the National Oceanic and Atmospheric Administration shows western Montana has a good chance of being colder than normal and slightly wetter than normal. But both trends disappear as we get into April and May.
La Nina needs to give us her best because the NOAA Drought Monitor classifies almost all of Montana as either in drought or abnormally dry as of Feb. 23. The far eastern counties of Montana are in severe drought while much of the midsection is in moderate drought.
Fortunately, areas west of the Divide and a swath along the Missouri River to Fort Peck – 40% of the state – are just abnormally dry. But that's up quite a bit from one year ago when none of the state was experiencing drought and only 5% was abnormally dry.
At this point, it's too early to predict what could happen to streamflows. But the snows need to continue because a few dry months could put the whole state in trouble.
Contact reporter Laura Lundquist at lundquist@missoulacurrent.com.