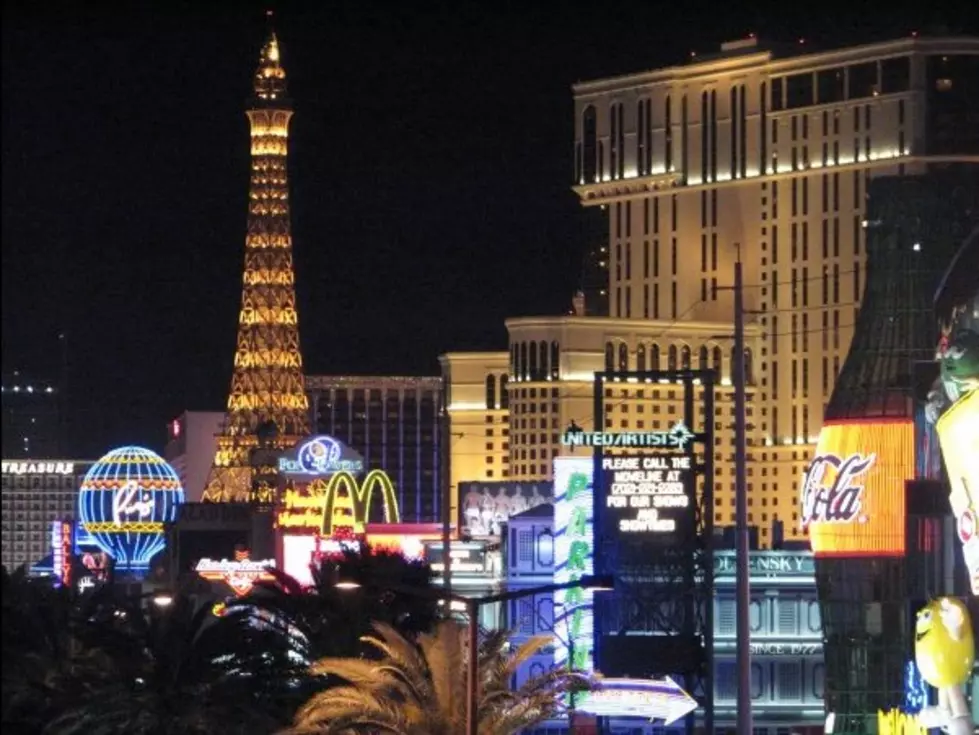 Bills would increase penalties for buying sex, living off earnings of a prostitute
A nighttime view of the Las Vegas Strip. (Martin Kidston/Missoula Current)
Dana Gentry
(Nevada Current) A measure before Nevada lawmakers would allow police to arrest a person for buying sex on the first offense, and double the minimum fine from $400 to $800. A provision that would have changed the offense from a misdemeanor to a gross misdemeanor was removed by Assemblywoman Elaine Marzola (D-Henderson), who sponsored Assembly Bill 145.
Assemblywoman Shondra Summers Armstrong (D-Las Vegas) voiced concern during a hearing Friday in the Assembly Judiciary Committee about "the police having the agency to decide who to arrest" and asked for data on where arrests are taking place. "It's important for me to know that there is no difference in where arrests are being made. And if arrests are up to the police to do it at their own discretion, I'm concerned that it may not be equitable."
Armstrong also argued for taking away police discretion and requiring the arrest of individuals who buy sex.
"We have the Super Bowl coming next year to Las Vegas. And we have a thing, which I hate – 'Whatever happens in Vegas, stays in Vegas,'" Armstrong said, referencing the Las Vegas Convention and Visitors Authority's signature ad campaign. "And that to me is an invitation that people believe that they can come to our town, abuse our girls, bring other people in and abuse them. And it's cool because whatever happens in Vegas stays in Vegas."
"We have signs at the airport now that say smoking marijuana in public is not legal," Assemblywoman Lesley Cohen (D-Henderson) said, and asked what authorities are doing to let the public know sex is not for sale in Nevada's largest counties.
Sgt. Scott Smith of the Regional HEAT unit, composed of detectives from the Reno Police Department, Sparks Police Department, and the Washoe County Sheriff's Office, said he'd love to have billboards, but said tourists conduct research on their phones as to where prostitution is legal in Nevada.
Proponents said the measure would reduce demand for buying sex by increasing the profile of the crime. Defendants who avoided detection by friends and family by previously paying a fine would be subject to the embarrassment of arrest.
The only opposition to the measure came from Victoria McMahon, who is a PhD student at UNLV, and from a woman who identified herself as a voluntary sex worker.  Both argued the bill would push sex workers further underground, depriving them of services designed to assist them.
"The only pathway forward to help end sex trafficking and victimization is through decriminalization," said the woman identified as a sex worker.
The committee also heard testimony on Assembly Bill 157, which would make living off the earnings of a child who is sex trafficked a category B felony, punishable by imprisonment for 3 to 10 years, if physical force is used; and by imprisonment for one to ten years if no physical force is used.
One of the bill's primary sponsors, Assemblywoman Angie Taylor (D-Reno), noted the National Center for Missing and Exploited Children received more than 19,000 reports of possible child sex trafficking in 2021, and 571 calls from Nevada, resulting in the identification of 296 victims. "However, this data still does not show the full picture," Taylor said, noting the fear and intimidation used to control victims of sex trafficking makes it difficult to gauge its prevalence.
The bill specifies penalties for those convicted of living off the earnings of child sex workers, "because oftentimes, this trafficking begins, the grooming in particular begins, as early as middle school."
"According to the U.S Department of Justice, the average age a child first becomes a victim of sex trafficking is between 12 and 14 years old," testified Regan Comis of R&R Partners, adding that traffickers prey upon vulnerable children, many of whom are victims of sexual abuse before they are exploited for gain. Buyers, she said, pay more for younger girls.
Officials said that under AB 157, traffickers of adults can be charged with living off the earnings of a child if there's proof of victimization dating back to the time the person was a juvenile.
"We have continued to criminalize sex trafficking over the last 10 years," said Erica Roth of the Washoe Public Defenders Office, testifying in opposition to the bill. "It is a crime – a category A felony to traffic a child. That conduct is covered."
"I have seen women brought in chains to courtrooms after being prosecuted for living off the earnings of a prostitute," Roth said. "We appreciate the stories of everyone today. But this is a nuanced conversation that requires a nuanced policy decision and this simply does not solve that issue."
The Clark County Public Defender also testified in opposition.
The Assembly Judiciary committee took no action on either bill.