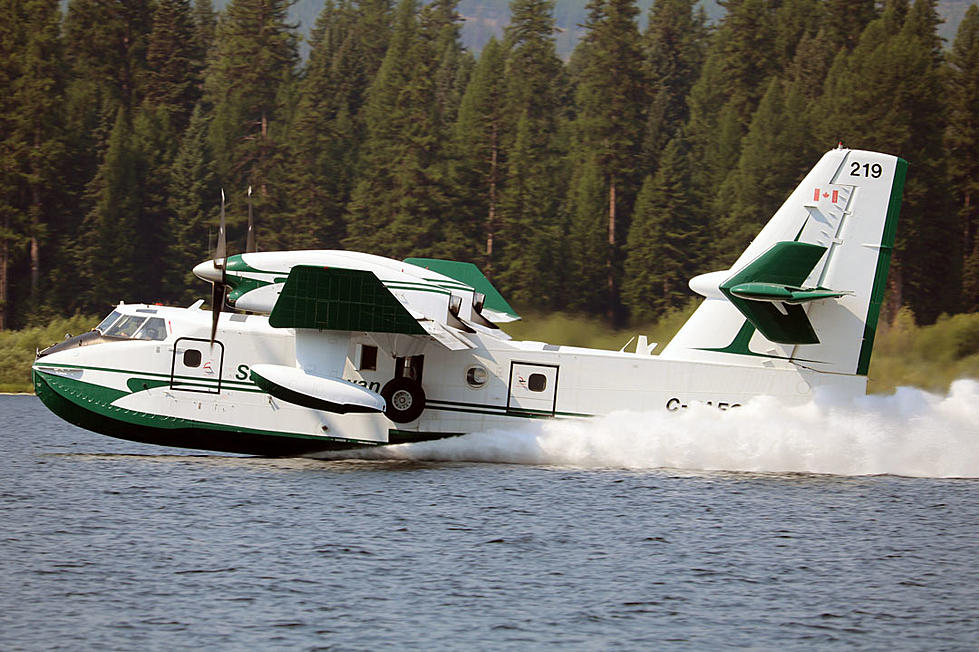 New Montana law adds criminal penalty for flying drones near wildfires
A plane scoops water from Seeley Lake. (Martin Kidston/Missoula Current file)
Jonathon Ambarian
(KPAX) Gov. Greg Gianforte has signed a bill into law that clarifies the penalties when someone interferes with firefighting aircraft by flying a drone in the area.
Leaders said the state's existing laws made it challenging to handle these incidents.
"There was definitely some ambiguity on who had the ability to prosecute previously," said Matt Hall, the Montana Department of Natural Resources and Conservation's Fire Protection Bureau chief.
When a wind-driven wildfire burned on Mount Helena last August, aerial firefighting operations were delayed for about 10 minutes because of an unauthorized drone.
It's just one example of the issues caused by "drone incursions."
"It does have a huge impact on our ability to suppress the fire, especially when it's in an urban interface area," said Hall.
Previously, Montana law established a civil penalty for operating a drone that interfered with aerial firefighting, based on the costs of the disruption.
Senate Bill 219, sponsored by Sen. Willis Curdy, D-Missoula, created a criminal misdemeanor with a fine of up to $1,500 – and the violator can still be charged with firefighting costs.
"This provides law enforcement the jurisdiction and discretion to make a professional determination of obstruction, and then leaves it to the prosecuting authority to follow through," Hall said.
Lewis and Clark County Sheriff Leo Dutton said the change also ensures law enforcement can take stronger action to get a drone out of the air if needed.
"If you fly your drone into an area where we have aerial suppression efforts going, we'll use whatever means necessary to take that drone out," he said.
Even a small drone can have a huge impact on what firefighters are able to do.
"Firefighting aircraft include many planes, helicopters, air tankers, and they fly as low as 150 feet above the ground – which is the same altitude as many hobbyist drones fly," Hall said. "So incident commanders will have to ground that aircraft to avoid potential midair collisions with drones, which really affects the safety and efficiency of the overall firefighting effort."
The National Interagency Fire Center officially reports 15 public drone incursions nationwide in 2022, with the Mount Helena fire the only one listed in Montana. However, Dutton told MTN they also had issues with a drone at the Matt Staff Fire several weeks earlier.
"Oftentimes, there are firefighters that are positioned – everything is orchestrated," he said. "If you let the fire get out of control, homes are at risk. More importantly, lives are at risk."
The federal government also has its own rules against flying drones that interfere with wildfire suppression efforts — with civil penalties, including fines up to $25,000, and potential criminal prosecution.
Hall encouraged drone pilots to check KnowBeforeYouFly.org for important information on responsible drone use.
Dutton said the best advice as we move into fire season is to be respectful of firefighters.
"You are more than welcome to come to a command post, ask for the fire incident commander, and talk to them about when would be a safe time to get a picture from your drone," he said.
SB 219 had an immediate effective date, so the new law will be in effect when wildfires break out this year.