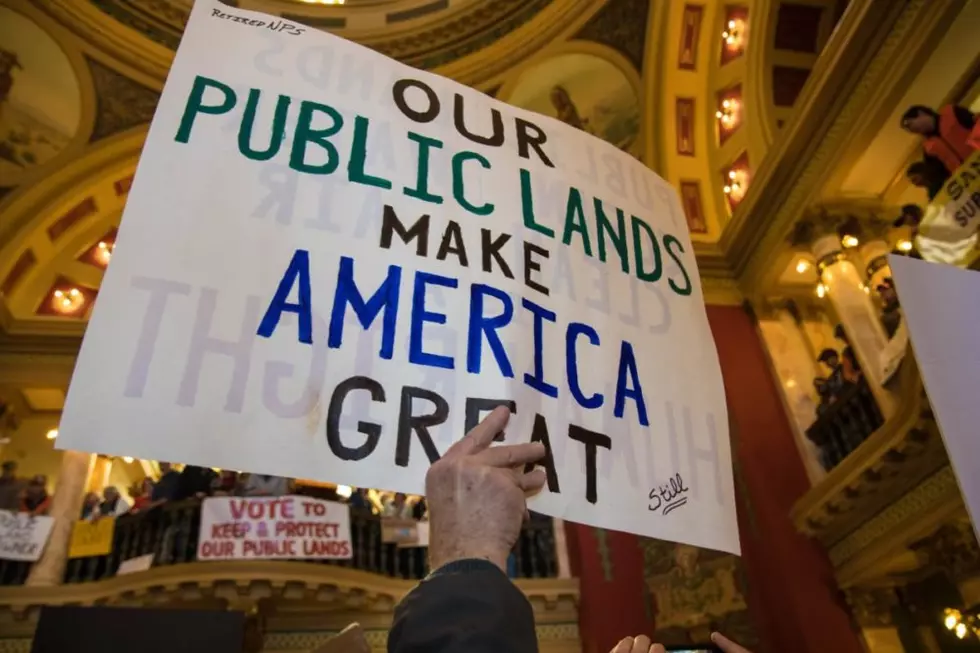 Pendley retained as "acting" BLM deputy director over growing protest
(Cole Grant/UM Legislative News Service)
Public lands opponent William Perry Pendley will continue as the head of the Bureau of Land Management, even after more than 100 conservation organizations, including those in Montana, raised their collective voices opposing his reauthorization.
On Thursday, the Trump administration extended Pendley's tenure three more months, just as time was getting ready to run out Friday on his last temporary authorization.
In a written order, Interior Secretary David Bernhardt justified continuing Pendley's appointment, saying it was "intended to ensure uninterrupted management and execution of the duties of these vacant non-career position during the Presidential transition pending Senate confirmation of new non-career officials..."
The thing is that Bernhardt hasn't put forward any candidates to be confirmed as the director of the BLM during the six months that Pendley has been in charge.
Various conservation groups expressed their disappointment on Thursday.
"Mr. Pendley has spent his entire adult life arguing against the need for public lands and has even stood up for extremists armed against the very people he now manages," said Tracy Stone-Manning, associate vice president for public lands at the National Wildlife Federation.
"Pendley is a self-described 'rebel,' but the only thing he has consistently rebelled against is the essential idea that public lands should remain in public hands. Quite simply, he does not believe in the mission of the Bureau of Land Management, so he does not deserve the honor of running it."
Phil Francis, chair of the Coalition to Protect America's National Parks, said by gutting the BLM, Pendley could end up degrading any adjacent national parks.
Since July, even though he's unconfirmed, Pendley has ordered the BLM out of Washington, D.C. in order to set up a new headquarters in Colorado, forcing dozens of employees to either move or resign. He's also opened up formerly non-motorized trails to e-bikes and encouraged BLM employees to defer to state authorities when management decision come up.
"The bureaus at the Department of the Interior do not operate in a vacuum. Decisions made by BLM regarding our public lands have an impact on our national parks," Francis said in a statement. "William Perry Pendley has not been an advocate for public lands. His continued leadership at BLM poses a threat to our national parks and the irreplaceable resources they protect and preserve."
Knowing that Bernhardt would probably keep Pendley on, 91 conservation groups representing almost 4 million Americans from across the nation signed a joint letter to Bernhardt on Dec. 30 demanding Pendley's removal.
"Only a Senate-confirmed Director or a Presidentially-appointed Acting Director would have legal legitimacy to lead the Bureau. Deputy Director Pendley is neither of those. Further, his actions betray BLM's mission and demonstrate his lack of fitness to lead it," the letter said.
The letter pointed out that the Federal Vacancies Reform Act allows the president to appoint "acting" directors for no more than 210 days, but Pendley wasn't even designated as an acting director.
Given the term "deputy director exercising the authority of a director," a role normally assigned only during the changeover from one president to the next, Pendley is allowed to skirt the law while Bernhardt ignores the duty of finding a permanent director.
Montana groups included Friends of the Bitterroot, Footloose Montana, the Montana Environmental Information Center, Save Our Cabinets, Western Values Project, Wilderness Watch, WildWest Institute, and Alliance for the Wild Rockies.
Interior Dept. leadership scoffed at the letter, calling all the groups "extremists."
"For this group of environmental extremists to call themselves sportsman and conservationists is as laughable as this letter. Mr. Pendley brings a wealth of knowledge and experience to the Department and is committed to carrying out the Administration's priorities for the betterment of the American people," an Interior Dept. spokesperson told The Hill by email.
On Thursday, the groups returned the volley.
"After three years of skirting the constitution by appointing temporary non-confirmed political hires to key positions at Interior, it is long past time for Senators to demand an up or down vote on zealots like Pendley. Putting extremist William Pendley in charge of the BLM again is the equivalent of the Trump administration openly putting America's public lands up for sale," said Western Values Project Deputy Director Jayson O'Neil.
Meanwhile, another 21 groups sent a letter last week to the Senate Energy and Natural Resources Committee demanding Pendley's removal.
"If Mr. Pendley is nominated to lead the BLM, we strongly urge you to oppose his confirmation, and we also encourage you to assert with DOI that his current extended acting role is highly inappropriate and should be rescinded. In question is the management of over half of our nation's cherished public lands. The risk to these lands is too high for inaction," said the letter to the Senate committee.
Conservation groups and public land advocates, particularly those in Montana, have opposed Pendley since Bernhardt first assigned Pendley as "acting co-director" of the BLM in July 2019.
At that time, a coalition of Montana groups protested that Pendley, president of the Mountain States Legal Foundation, should be barred from the position, because he's regularly suggested selling off public land and the foundation has filed several lawsuits in opposition to the BLM.
Pendley also represented Solenex, the oil company pushing to drill in the Badger-Two Medicine lands south of Glacier National Park.
They've asked Montana's senators to oppose Pendley if he is ever nominated for the job. Sen. Jon Tester has demanded that Pendley explain his support for a public lands sell-off to no avail. A spokesperson for Sen. Steve Daines said he'd probably support Pendley's nomination.
"He was ruled out exactly for the issues we're raising," said Dave Chadwick, former Montana Wildlife Federation executive director. "He was deemed politically unacceptable because he would have to go before the Senate and get consent. Then they proceeded to find a way to put him in the highest job they could without actually letting the Senate exercise its Constitutional duty to confirm."
 Contact reporter Laura Lundquist at lundquist@missoulacurrent.com.