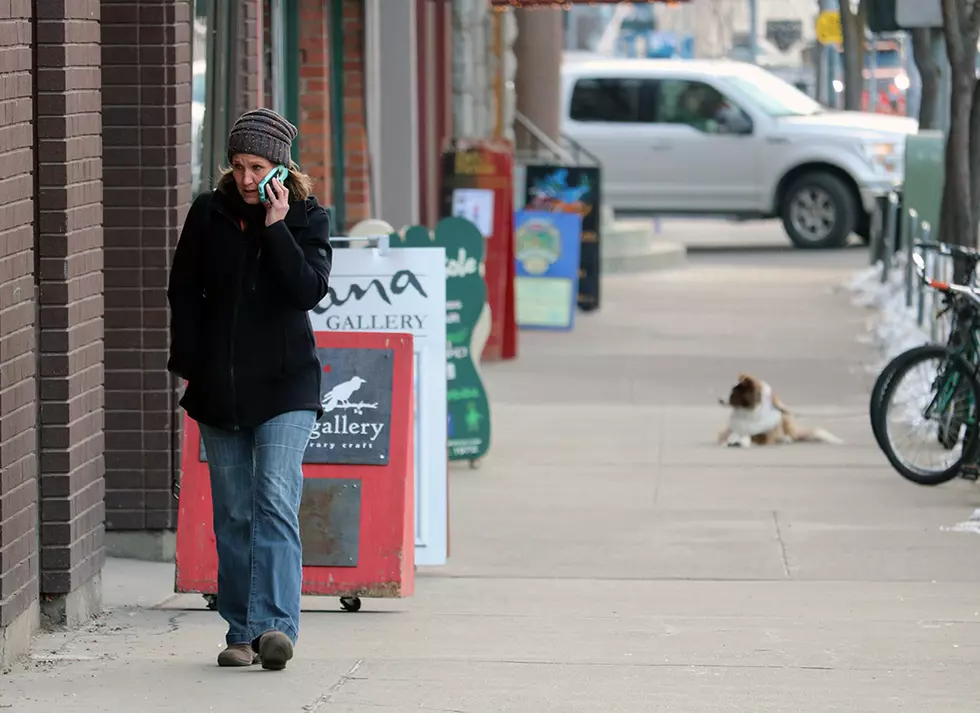 Bill aims to change permitting for sidewalks on highways in Montana cities
John Riley
TOWNSEND - Highways are the lifeblood of many Montana communities.
They often go through the middle of town and bring travelers, tourists and commerce to those areas.
If passed, House Bill 198 would give control of the sidewalks on highways in a city's limits from the Montana Department of Transportation to the local municipality.
Broadway Street in Townsend is just about the textbook definition of a main street in rural America.
The road is lined with shops, there are signs on buildings proudly supporting the high school teams, and residents can often be found chatting with each other about the goings-on of the community.
The street is also a major highway for the state, Highway 12. The roadway, parking and sidewalks are all under the jurisdiction of the Montana Department of Transportation (MDT), and it requires a state permit to set up displays on the sidewalk.
"I believe this is a situation where good intentions have kind of run amuck. Some unforeseen consequences to the laws," said JB Howick, owner of Townsend Hardware.
Howick and his family bought Townsend Hardware in 2019. He told MTN he's had difficulties with MDT in the past trying to get permission to set up displays on the sidewalk.
He admits during his first year owning the business he went too far with some potted plant displays, but since then has been denied displays that are adjacent to the building.
"As a result, items that are on sidewalks, that are above sidewalks, that encroach into sidewalks they feel that is their jurisdiction and they just assume none of them were there," said Howick
HB 198 would change that, giving control of permitting to the local municipalities.
"This is a small town issue," explained the bill sponsor Rep. Julie Dooling, R-Townsend. "There's plenty of small towns where the highway goes right down the main street along. For businesses, especially during Covid, it was hard to get those folks because they didn't have a particular reason to come in."
Dooling says businesses being able to have items on display or signs advertising specials helps draw in travelers and tourists to spend money in those small towns. She also noted going through a local process for permitting can be easier on involved parties to find solutions if a request doesn't work out initially.
"They can put it on their city of county agenda. They can deal with it directly and you're going to have more local support," said Dooling.
Businesses MTN spoke with who had issues with MDT over displays said they were told by the state their signs or other items were in violation of the Americans With Disabilities Act.
Some businesses were warned about their displays and given a timeline for when to take them down, while others said their displays were taken by MDT for being in violation.
According to MDT's 2021 Transition Plan, the state standards following ADA require a minimum clearance of 60 inches on walkways. However, ADA does allow for 36 inches of clearance as long as there are 60-inch-by-60-inch passing spaces at intervals of 200 feet.
Dooling says no matter what, any law passed by the legislature has to follow the federal requirements under ADA.
"One of the main points of this bill is we still have to be in compliance with ADA," she noted. "It just gives the municipality discretion and authority to make their own ordinance regarding the display of items on the sidewalk within the MDT right-of-way."
Regarding ADA, Howick says it's good business to make sure everyone, no matter their mobility, has access to his business and would never want to block that access.
"That's undermining my own customer base," he said. "I want them to come into the store. Frankly, it's a little hard enough as it is dealing with a hundred-year-old store that was never originally designed for disability access. To block the sidewalk, that would just be mean."
MDT opposed similar legislation to HB 198 during the 2021 Legislative Session. That bill failed to make it out of committee. MTN reached out to the MDT for comment on the current proposed bill, but our requests were not returned.
HB 198 will be heard before the House Local Government Committee Tuesday, Jan 17 at 3:00 p.m.