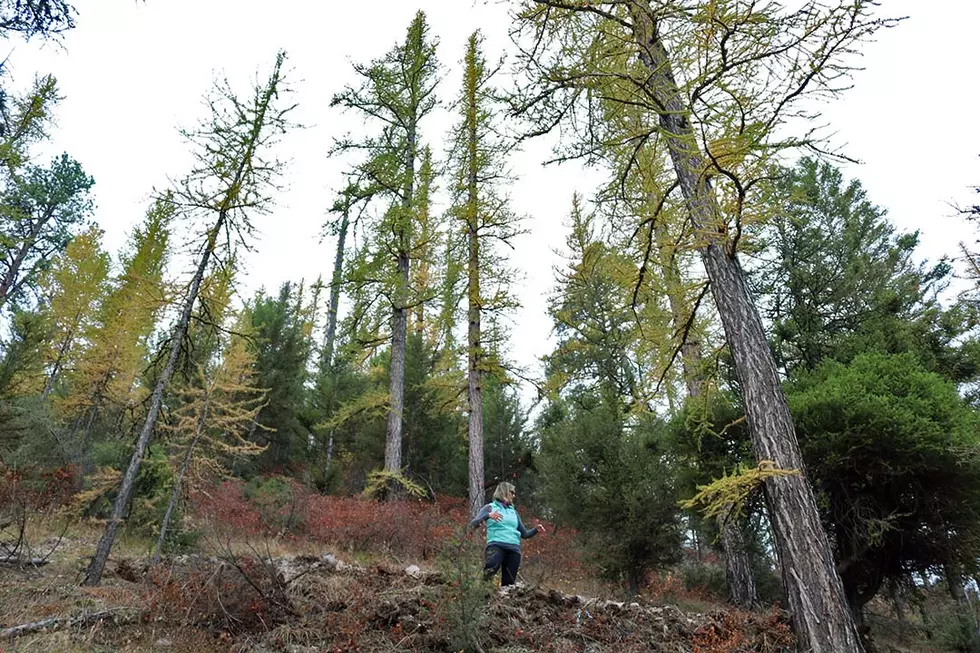 Poll indicates climate change, pandemic upped conservation concern in the West
Of the 442 Montanans who were surveyed, 58% said they were worried about the future of land, water and wildlife. That cuts across political party with 71% of Democrats and 53% of Republicans expressing concern. (Missoula Current file photo)
Westerners across the political spectrum prize public lands, water and wildlife, and a recent poll shows climate change and the pandemic have increased support for conservation.
Released on Thursday, the Colorado College State of the Rockies Poll, now in its 11th year, shows Western voters have consistently support conservation over the past decade, but now, they have a growing concern for wild and natural places.
"We asked a new question this year, asking them to project ahead and think about the future of nature," said Lori Weigel of the Republican pollster New Bridge Strategy. "We have really three in five telling us they were more pessimistic and 36% telling us they were hopeful. One dynamic that stood out was our younger voters were the most pessimistic. You can see 70% of those under the age of 35 indicated they were more worried."
Colorado College started the poll in 2011 with five states, including Montana, and now surveys voters in eight Rocky Mountain states. The most recent poll, conducted during the first few weeks in January, sampled many more voters, including people of color, through the use of telephone and online interviews.
Of the 442 Montanans who were surveyed, 58% said they were worried about the future of land, water and wildlife. That cuts across political party with 71% of Democrats and 53% of Republicans expressing concern.
As to why they're pessimistic, voters increasingly agree with seven reasons, including pollution and loss of land. But climate change has climbed to rank among the top three reasons, which also include loss of fish and wildlife habitat and water pollution. Back in 2011, only 27% listed climate change as a concern. Now, that's climbed to 54%.
The poll started asking voters about wildfires in 2016, and 77% said wildfires were a serious problem then. That's increased to 90% now. This year, the pollsters also asked if voters thought wildfires are more of a problem than a decade ago and about 70% said yes. When asked why, climate change again took the lead with 42% while 40% said drought and almost 30% attributed it to more people living in fire-prone areas. Only 12% attributed the problem to not enough logging occurring.
All of this concern appears to be translating into an increasing desire for states to invest in conservation. All eight states, including Montana, had an almost identical bipartisan majority of about 90% of voters who want the state to budget for conservation projects, up from 84% in 2011.
That could partly explain why Montana voters in November passed Initiative 190, which promised half of the tax on recreational marijuana to go to public lands programs, including Habitat Montana. However, Gov. Greg Gianforte didn't include this additional money for public lands programs in his budget.
"Despite (budget deficits), we are seeing Western voters even more adamant today that their states should continue to invest and find the money to protect their state's land, water and wildlife," Weigel said.
The poll also indicated strong voter support for restoring national monument protections – this was particularly popular with Native Americans - restoring the Clean Water Act and the Endangered Species Act, and creating new national parks, wildlife management areas and other public lands.
Almost 80% support protecting 30% of America's land, waters and oceans by 2030.
Dave Metz, of the Democratic pollster Fairbank, Maslin, Maullin, Metz and Associates, said a couple factors likely caused support for conservation and public lands to grow even stronger this year.
"First is that the degree to which voters value the opportunity to recreate outdoors has probably gone up during the pandemic," Metz said. "A solid majority of Western voters, almost three in five, say they intend to visit (public lands) more often. Only 4% say they'll visit them less often. So there is pent-up demand to get out there and be able to experience and enjoy these public lands."
Weigel said the survey also asked voters what might limit whether they visit, and this year, the top answer was overcrowding, beating out the travel time required or the cost.
"The top response in every single state was that it's too crowded," Weigel said. "That was particularly high in Montana, where two in five said that was a barrier to visiting more often."
But voters threw their strongest support – 80% or more – behind policies requiring oil and gas companies to pay for cleanup and restoration, to use state-of-the-art equipment and to ban development in wildlife migration corridors on public lands.
Two-thirds of voters back restoring limits on public land drilling, which would seem to support Pres. Joe Biden's freeze on future oil and gas lease sales. Weigel said some poll responses appear to indicate that some voters don't necessarily understand oil and gas policies but come at it from a framework of wanting to preserve nature and places to recreate.
Metz said the data continues to show that conservation and appreciation of public lands are Western values regardless of voters' political leanings. And as time passes, conservation is going to become even more important.
 "What I think we see changing here with these younger voters is that what has always been broad support for conservation in the West may start to become a more urgent priority, and as they age, it will be for a larger and larger share of the electorate," Metz said. "There are a number of factors behind that. Increasing concern about climate change and very real impacts as far as water supplies and wildfire frequency – all of those real changes will lead those voters to be even more focused on these issues as they look forward to the future of this region."
Contact reporter Laura Lundquist at lundquist@missoulacurrent.com.