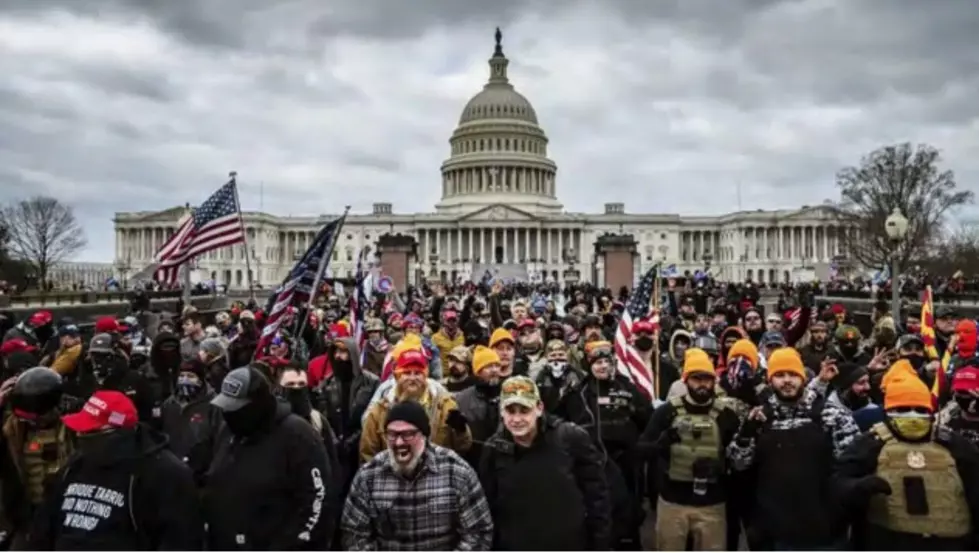 Democrats praise U.S. Capitol police, pledge to seek accountability on Jan. 6 anniversary
Proud Boys riot outside the Capitol. (House Select Committee via Courthouse News)
Jacob Fischler
(States Newsroom) Two years after a mob of Donald Trump supporters stormed the U.S. Capitol in an attempt to undo Trump's loss in the 2020 presidential election, Democrats in Congress on Friday vowed to remember the Capitol police officers who died, hold Trump accountable and prevent similar attacks in the future.
Democrats applauded the work of the House committee to investigate the attack, which published its final report last month that held Trump largely responsible for the insurrection, and passage of the Electoral Count Act that tweaked the process of certifying presidential elections.
They also warned that more needed to be done to protect the nation's form of government.
"Jan. 6, 2021 was the most sweeping attack on the U.S. Capitol ever by domestic forces," Maryland Democrat Jamie Raskin tweeted. "Numerous people died, 150 officers were wounded, and we came close to losing our constitutional democracy. Two years later, we must remember this solemn anniversary."
House Democrats held an event on the Capitol steps Friday morning to commemorate the anniversary, and dozens of members issued statements about the attack.
"Two years ago today, our nation watched in horror as a terrorist mob stormed the Capitol grounds in a violent attempt to subvert the peaceful transfer of power," outgoing House Speaker Nancy Pelosi said in a statement. "The January 6th insurrection shook our Republic to its core – and left behind physical scars and emotional trauma on members of our Congressional community and our Country that endure to this day."
Pelosi thanked police, commended the House for returning hours after the attack to certify the election results and hoped that Jan. 6 — which also marks the Feast of the Epiphany in her Catholic tradition — would "serve as an epiphany for our nation."
Praising police
Members who released statements Friday about the attack were united in praising the law enforcement response.
"What was a day of unimaginable horror was also a moment of extraordinary heroism, as courageous law enforcement officers stared down the insurrectionists to protect the Capitol," Pelosi said. "We are forever grateful to these heroes, and we continue to pray for the fallen, the afflicted and their families."
"Although we saw our democracy fall under attack that day, we also saw it prevail," former House Majority Leader Steny Hoyer, a Democrat of Maryland, said. "Despite the president's refusal to intervene, the Capitol Police — aided by the D.C. Metro Police, the National Guard, and an assortment of other brave first responders — drove back the assault."
Capitol Police Officer Brian Sicknick died from injuries he sustained in the attack and four other police officers took their own lives in the following days. Several statements mourned their passing.
"Today, we mourn the brave lives we lost and thank our courageous law enforcement officers who defended the beacon of our democracy on that terrible day," North Carolina Democrat Deborah Ross said.
French Hill, a Republican of Arkansas, was one of few GOP members to publicly reflect on the attack. He thanked law enforcement officers in a tweet.
"As America reflects on the violence that took place two years ago today, I am grateful for the men and women of the @CapitolPolice and for their bravery and service to protect members, staff, and the Capitol," he wrote.
Congressional probe
Several Democrats praised the work of the House Select Committee to Investigate the Jan. 6, 2021, Attack on the U.S. Capitol, whose fact-finding over its 18 months of work revealed new details about Trump's involvement in a multipart plan to overturn the election results.
They also mentioned the passage in December of the bipartisan Electoral Count Act, which was enacted late last year, as a positive step. The law clarified that the vice president's role in certifying election results is purely ceremonial and raised the threshold for objecting to a state's electoral results — both responses to avenues Trump pursued in an attempt to overturn the 2020 election.
Trump pressured Vice President Mike Pence to use his ceremonial role to reject the election results and sought false slates of electors in states he lost to create a conflict with legitimate slates that were pledged to Joe Biden.
While Democrats applauded passage of the measure, they said it was insufficient, calling for stronger voting rights bills and prosecution of Trump.
"While passage of the Electoral Count Act was a positive step forward, we can't stop there," U.S. Sen. Chris Van Hollen of Maryland said.
"To protect our democracy from states erecting barriers to the ballot box, we must pass the John Lewis Voting Rights Act … We must hold Donald Trump and his accomplices accountable. The January 6th Committee was the first step — now, the Justice Department should finish the job."
"Our democracy is sacred, but it is not invincible," U.S. Rep. Jennifer Wexton, a Virginia Democrat, said. "Since this horrific attack, I'm proud that Congress has taken action to defend our democracy, passing into law the Electoral Count Reform Act to reform the way free and fair elections are certified and prevent another January 6th from ever happening again."
New members
U.S. Rep.-elect Hillary Scholten, a Michigan Democrat who won election to the House in November, said in a statement that Jan. 6 was part of what motivated her to seek office.
"I'm part of a class of freshmen who raised their hands to run after the January 6 insurrection. We knew what we were getting into, and we are committed to doing the work of bringing our country together," said. "I'm committed to doing the work of governance — and I'll always fight back against the anti-democratic extremism that motivated the attack on January 6th, 2021."
Scholten's fellow freshman, New York Democrat Daniel Goldman, a former House staffer who was the lead counsel during the second impeachment of Trump, said he was introducing a bill with House Democrats Jason Crow of Colorado and Dean Phillips of Minnesota to designate Jan. 6 as Democracy Day.
Calls for accountability
Many Democrats mentioned Trump and his congressional allies, saying more should be done to make them accountable for the insurrection.
"Trump & MAGA Republicans incited a violent insurrection that left five people dead," Missouri Democrat Cori Bush tweeted. "Today, I stood with my colleagues on the Capitol steps in remembrance of January 6th. Our democracy is fragile. We demand accountability."
Minnesota Democratic U.S. Sen. Tina Smith also connected the attack with House Republicans' trouble this week to elect a speaker and organize the chamber.
"Two years ago, our democracy was violently attacked — incited by Trump and enabled by extremist MAGA members of Congress," she said. "Some of these same MAGA Republicans are behind this week's chaos and dysfunction in the House. So remember: the dangers of January 6th are still with us."
Silence from GOP leaders
Congressional Republicans were much quieter about the anniversary.
Sen. Mitch McConnell of Kentucky, the GOP Senate leader, and California's Kevin McCarthy, the House GOP conference leader who has been embroiled in a week-long campaign to become speaker, didn't mention the date in official releases.
Liz Cheney, the Republican former vice chair of the now-disbanded House panel to investigate the attack, acknowledged the anniversary in a tweet.
"Today, we honor members of law enforcement who defended our Capitol, and public servants who did their duty and prevented a much graver crisis," the Wyoming Republican posted. "America needs honorable leaders who put their oath ahead of personal ambition and take seriously their obligation to defend our nation."
Cheney was defeated in a GOP primary last year.
The other Republican member of the panel, Adam Kinzinger of Illinois, posted a multi-part message on Twitter blaming Trump for the attack.
"Today marks the second anniversary of a day that lives in infamy — the January 6th attack on the U.S Capitol," he wrote. "Donald Trump incited a violent mob to stop the counting of the electoral votes, and to 'help' Mike Pence find some 'courage' to overturn the election.
"It was one of the saddest days our democracy has ever experienced, and certainly was the lowest point of my 12 years in Congress. Thanks to the courageous acts of many, Trump and his mob ultimately failed. Our democracy prevailed — but just barely."