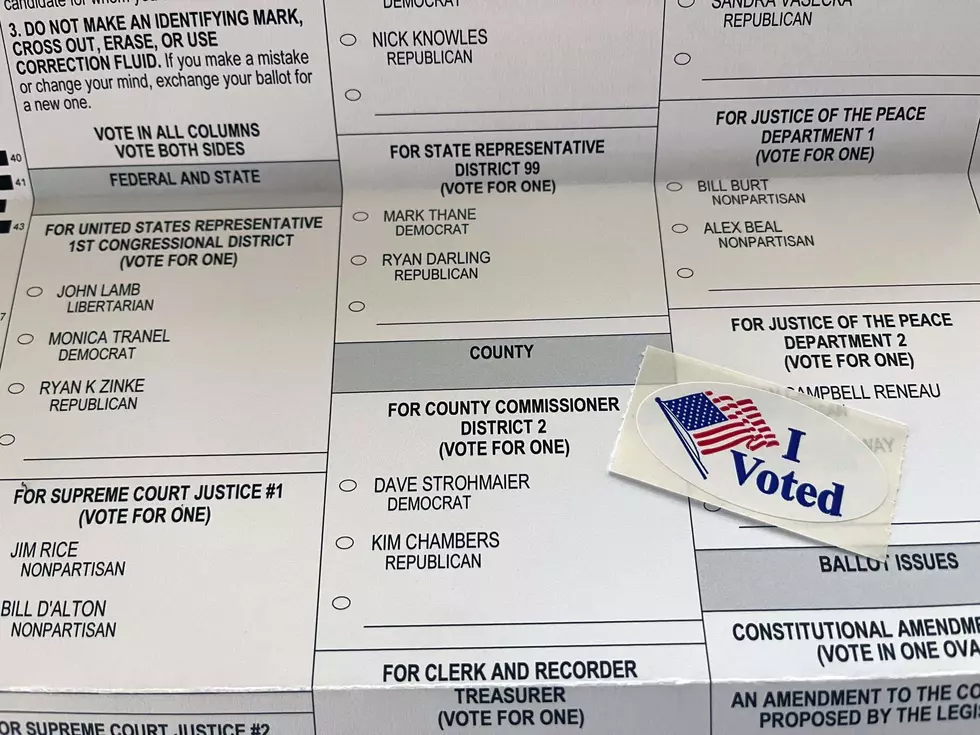 Bill to make nonpartisan races partisan draws opposition
Darrel Ehrlick
(Daily Montanan) Lewis and Clark County Justice of the Peace Mike Swingley told Montana Senate State Administration Committee that he cannot imagine what adding partisan politics to nonpartisan races would do to his job.
He has had to avoid the pressure of his own mother, who once called to tell him to go easy on a man in jail because she knew the man's mother.
"It's difficult enough to make impartial decisions without partisanship," Swingley said.
He wondered how much more pressure will come from political parties looking for an advantage.
Montana is considering allowing candidates in nonpartisan races to appear on the ballot with their political party affiliation as part of Senate Bill 200, sponsored by Sen. Greg Hertz, R-Polson.
Pushing back against opponents who pilloried the proposal during testimony, Hertz said the issue is one of honesty.
"Do we really want to stick our head in the sand and believe the nonpartisan races are truly without partisanship?" he asked.
He said everyone in the legislature knows which Montana cities are liberal, which are conservative.
"Both sides want to say they're nonpartisan, but they're not," Hertz said.
He pointed out that even the United States Supreme Court is identified by politics, with more conservative justices outnumbering the liberals.
Closer to home, he called the nonpartisan justices a "fallacy," and pointed to the Montana Supreme Court.
"We have known partisans on our state Supreme Court," Hertz said, referring to Justices Mike McGrath, who ran successfully as a Democrat in politics as well as Jim Rice, who was elected as a Republican in politics.
Instead, Hertz said it was about giving citizens more information to make better decisions. He also said he had faith in judges and politicians to set aside partisan differences in order to do the right thing.
"When I was the Speaker of the (Montana) House, I was the speaker for everyone in the House, and sometimes I got knocked around by my party because of it," Hertz said.
Only one person, a member of the Lewis and Clark Republican Central Committee, testified in favor of the bill.
Gina Reilly said that she believed the change would allow the parties to support candidates who shared their views. But the Republicans can only use funds to support other Republicans, not those running in nonpartisan races. This would allow the party to fund candidates who shared their views, she said.
Reilly said Hertz's bill would help people learn more about the candidates if they didn't follow politics closely.
"We can't rely on the media and ads to give us the full truth," she said. "I believe there's no such thing as a nonpartisan. Everyone leans one way or another, and everyone who does should have the courage to stand up and say that."
Meanwhile nearly two dozen opponents testified that changing the nonpartisan nature of some of the races, namely judges and school board candidates, would be defeating a custom the Treasure State has had since 1935.
"Not everything needs to be or should be partisan," said Norane Appling-Freistadt. "Partisanship plays a big part in our lives, and I believe it's detrimental to us."
Bruce Spencer, a lobbyist for the Montana Judges Association, alerted committee members that the law, if passed, could set up a court challenge because the U.S. Ninth Circuit Court of Appeals has ruled that Montana's Judicial Code of Ethics is constitutional, and the U.S. Supreme Court declined a challenge to them. That means, if the law is passed, it would set up an inherent conflict between the rules, which say a judge must be nonpartisan but can also declare a party affiliation.
Moreover, he said if judges are elected on a partisan basis, that will create an impression that will undermine the judiciary, something Spencer said, citizens need to have faith in.
"What's the first internal instinct you have," he asked, if a litigant loses a court case.
He said that Montanans who come to court will naturally assume political views had some influence and decide the system is inherently unfair.
"This is not an insignificant thing to consider," Spencer said. "If you force a partisan label on judges, you create an appearance that they aren't going to get a fair hearing."
John Mudd, the general counsel for the Montana State Bar Association, said that partisanship should play no role in the judicial branch.
He said that every day judges hear cases centering on domestic violence, criminal activity, divorce and insurance – none of those are inherently partisan.
"Partisanship would demand allegiance," he said. "Our clients and their problems don't come with partisanship."
Currently seven states allow partisan election of judges, and Spencer said all of them rank lower than Montana in studies of effective judicial systems, and none of them make the top 10. Montana ranks seventh, he said.
"You don't get a quality judiciary by a partisan race," Spencer said.
Al Smith, a lobbyist for the Montana Trial Lawyers Association, said that passing such a law is deceptive.
"It misleads the public into believing that partisanship has anything to do with it," he said.
Others spoke out against it, saying that they were concerned that by allowing partisan politics into the race, the money and influence would have a corrosive effect on what are local institutions, far removed from the national political landscape.
Melinda Reed, who was elected to the Helena City Commission in 2021, said she had better conversations because her position was nonpartisan because the focus was on local issues, not national politics.
Still others said that the entry of partisan politics into impartial judiciary business represented a violation of the concept of separation of powers.
"Our legislature needs to stay out of the judicial branch to ensure our system of checks and balances," said Patrick Yawakie, a spokesperson for the Blackfeet Tribe, which opposes the measure.
Lauren Caldwell of the Montana Federation of Public Employees, the largest union in the state, said she was concerned that students in the public education system don't attend classes taught by Republicans or Democrats, nor do the police officers who are union members show up to calls based on political affiliation.
"If the legislature desires this big overhaul of the election, it should go to the people," she said.
Dennis Parman, the executive director of the Montana Rural Education Association, said that he and other groups that make up the organization oppose the bill because it's not in the best interests of the students. He said school board administrators and associations oppose it because partisan politics have nothing to do with the challenges of local, rural school districts, which comprise nearly 75% of the state.
"Now school trustees' actions are clouded by politics," he said. "Why would we do that? People already know each other and media coverage has been good. It adds nothing to the value of the position."
Other school board members, who would have the option of declaring a party, said it's hard enough to recruit candidates, and this change would exacerbate the issue.
Ann Peterson a municipal court judge in Helena, said that municipal judges are often the first time a citizen has been before a judge.
"They come to me wanting a decision, and they don't come wanting a a partisan decision," Peterson said.
Opponents of SB200 said that declaring a party affiliation on a ballot wouldn't really help give the voters much information, and that democracy required some work on the part of voters.
"I think the answer is picking up the phone and calling them. Ask them for an interview if those candidates didn't make it to your doorstep," said Laura Obert, a former Broadwater County Commissioner. "We don't need to follow other states to the bottom."
Monte Beck, an attorney in Gallatin County, said that in practicing law for more than 40 years, he's never seen how SB200 could have been a positive.
"Not once would have I wanted to tell a client, 'This judge is a Democrat,' or 'This judge is a Republican,'" he said. "Most voters, I think, would think this is a bad idea. This is a simple bill, we were told, but it will create more complexities than the sponsor could imagine."