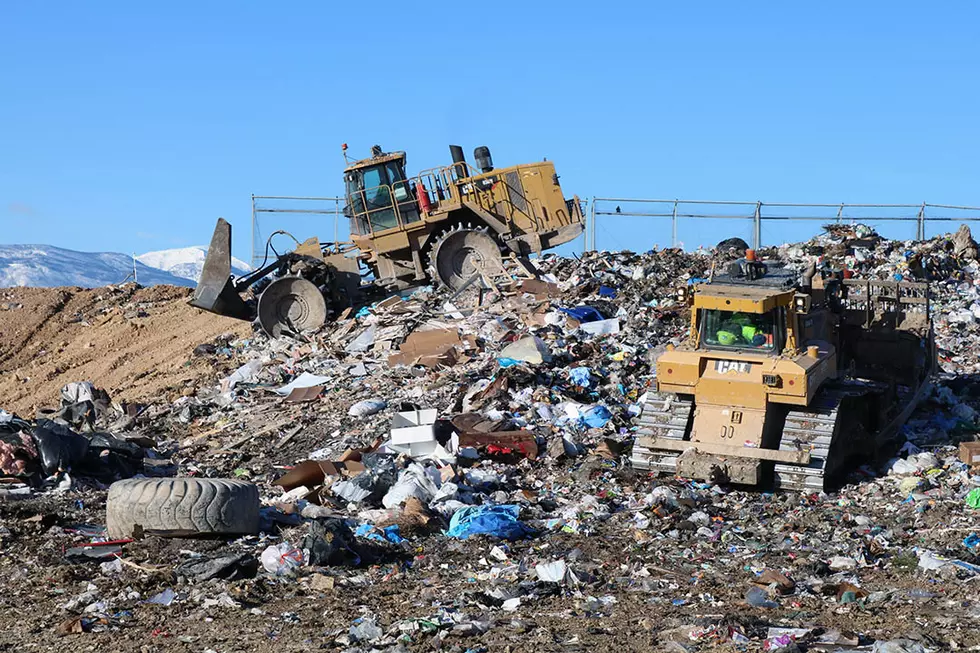 Republic Services ramps up lawsuits against Nevadans over trash bills
Michael Lyle
(Nevada Current) If Rebecca Gandara had received a bill from Republic Services for any unpaid amount for unpaid trash collection services, she says she would have paid it.
But she said in the 27 years she lived in her Henderson home, she never received a past due or any other notice that she owed the company money.
The first time she became aware that she owed money was in February when she received a letter from attorneys representing Republic Silver State Disposal, which does business as Republic Services, that a lawsuit was filed against her in December.
The letter said she owed $13,000 and could face foreclosure if it's not paid.
"When I finally got a hold of the attorney, they said I didn't pay (my trash bills) between 2004 and 2012," she said. "They wouldn't give me the records. They said I have to get my own records but I don't have them."
Peter Aldous, an attorney with the Consumer Rights Project at the Legal Aid Center of Southern Nevada, said the number of lawsuits filed by Republic Services over unpaid trash bills has drastically increased in recent years.
Documents provided by Legal Aid show Republic Silver State Disposal filed 196 lawsuits in Southern Nevada in 2022, double the amount of cases in 2021 and a sharp increase from three years ago.
Aldous said there were 45 lawsuits filed in 2019 and 98 in 2020 and 2021. And with 24 lawsuits filed in the first few weeks of January, he doesn't see the trend stopping.
Republic Services operates in 44 states.
Nevada is one of 12 states that has a state statute that allows for property liens for nonpayment of trash services, according to Legal Aid. About 19 cities across the United States have local ordinances allowing for property liens.
Aldous said that after a lien is recorded with Clark County, Republic Services can either wait for the homeowners to sell or refinance their home and recoup unpaid money then, or they can file a lawsuit and attempt to foreclose.
It's unclear why the number of lawsuits has been increasing.
"What's frustrating about it from my point of view is these are perpetual liens that have to be satisfied when the property is sold or refinanced," Aldous said. Republic Services "will get their money regardless if they file a foreclosure lawsuit or wait. They don't want to wait. They want to force these foreclosures to get paid more quickly."
Republic Services declined to answer emailed questions about why they've increased the number of lawsuits, how they alert customers about unpaid bills and what repayment options are available for customers who face lawsuits.
Instead, they sent a statement saying the company is "required to continue providing solid waste and recycling collection services even if payment has not been made."
"Unfortunately, there are times when customers' accounts become overdue to the point that Republic must exercise its authority to impose a property lien in order to ensure eventual payment for the services rendered," they wrote. "At this time and due to pending litigation, we are unable to respond further to your specific inquiry."
The statement was word-for-word the same as one the company gave to the Las Vegas Review-Journal in 2021.
Since the practice is legal, Aldous said there is no defense in court to try to dismiss lawsuits.
Unless the law is changed and removes their ability to foreclose on homes from statute, he can't do anything.
"At the end of the day, they aren't paying because they don't want to," Aldous said. "They aren't paying because they can't afford it. And now they are facing the loss of their home when they can't afford alternate housing."
'I would have called and paid it'
Gandara, who is being represented by Legal Aid, was one of 36 people who had a lawsuit filed against them in December.
When she received the letter from Republic Services' attorneys saying she owed $13,000, she didn't think it was real.
She moved into her Henderson home in 1996 and raised her two children, who are now in the 20s and live in other parts of the country.
In that time, she had never received a past due bill nor a court summons.
"I immediately thought it was a scam," she said.
When she called Republic Services in February, she said she couldn't get any information and was directed to an attorney working for Republic. Before she received a call back from the attorney days later, she got a letter from Chase, her mortgage company, verifying it wasn't a scam.
Aldous said Legal Aid clients usually owe between $5,000 and $10,000, but added that "it's not always clear at first how much is the actual recorded assessment and how much are fees added on later."
For example, the $13,000 amount Gandara owes includes $3,000 of attorney fees.
"So maybe I owe $2,000 and the rest is just interest," she said. "I just don't know."
Gandara said she asked the attorney about a payment plan. The offer: $900 a month for 13 months.
"They told me it was the only deal they were giving, so take it or leave it," she said. That's a lot of money. I said, 'you won't take $50 a month.' They haven't had their money in 20 years. What's the difference?"
And Gandara is still flummoxed at not remembering ever receiving a bill with an unpaid balance.
"Republic Services has not sent me any letters telling me I owe money," Gandara said. "If they had told me I owed $500, or you owe $300, I would have called and paid it. It just seems Republic Services just wants money. Why wouldn't they just send me my whole record since 1996? It's shady."
Aldous said the lien is from 2007.
Other than Republic Service being required to send Gandara a notice of the lien after recording it with Clark County – again, a notice she doesn't remember receiving – Aldous said they aren't required to take additional steps to notify people of unpaid bills.
Since coming to Legal Aid, Gandara has repeatedly called Republic Services to get documents that show the unpaid bill. Each time, she is directed to the attorney representing Republic Services, who then told her it is her obligation to get the records.
Aldous said it's rare for clients to be unable to get any documentation from Republic Services. But even when they get documents, people are often confused by the amounts.
"It's very common for the homeowners being sued to not understand exactly what amount they owe and how it is calculated," he said.
While Aldous said Gandara is certainly the longest time frame he's seen between alleged unpaid bills and a lawsuit, he said it's common for his clients to face lawsuits years later.
"It's likely homeowners aren't going to keep proof of payment for very long and certainly not 10 years or more," he said. "It does create an issue if (clients) believe the amount they are being charged is incorrect, they may not have the proof because it's been too long."
While Aldous said Legal Aid receives about a handful of clients a month, most people who received lawsuits are facing this alone.
"Personally I would like to see the power to foreclose on an individual's homeowners removed from the statute," he said.