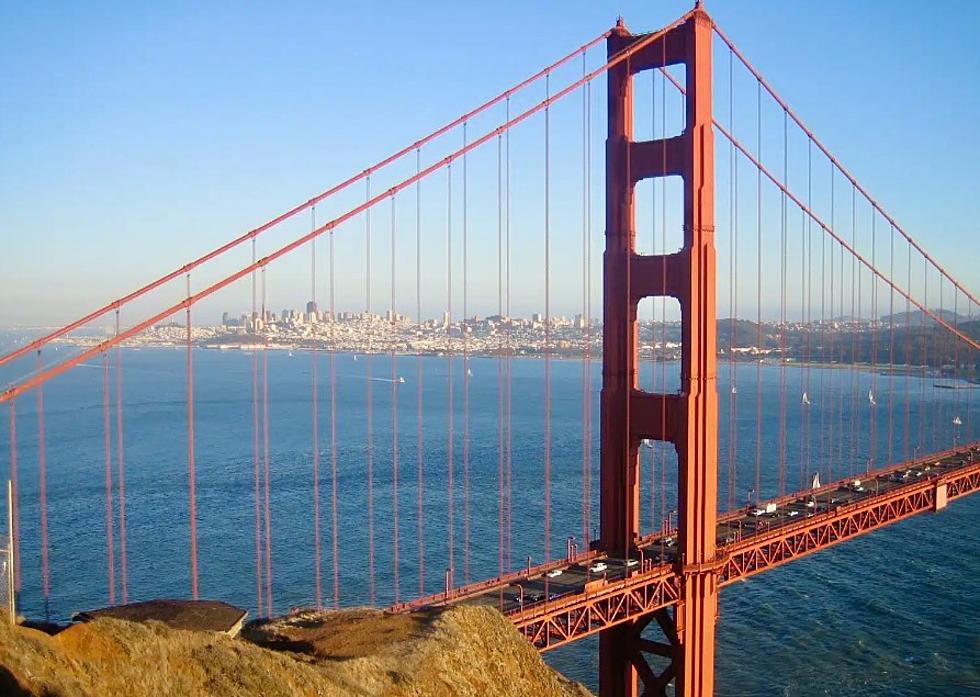 In San Francisco, talk of decline haunts iconic city
The San Francisco skyline through the Golden Gate Bridge, October 2005. (Adam Angione/Courthouse News)
Michael Gennaro
SAN FRANCISCO (CN) — The once-thriving streets of downtown San Francisco now echo with emptiness, even on weekday mornings. An exodus of workers accelerated during the Covid pandemic, leaving business owners and policy makers with a haunting question: Will those workers return?
As residents and businesses depart, city revenues are shrinking — leaving local officials with less funding for essential services like education, public safety and infrastructure. It's a worrying trend that's played out before in cities like New York and Detroit: a declining quality of life pushes ever more residents to leave, creating a self-perpetuating cycle of decline known as a "doom loop."
To be sure, San Francisco today is facing a range of challenges. Office space continues to sit vacant, while transit ridership has not rebounded to pre-pandemic levels.
A shortage of housing, coupled with skyrocketing property values and homelessness, has made the city a target of concern and mockery for some observers. That's particularly true in the right-wing media landscape, where commentators like Michael Shellenberger, twice-failed gubernatorial candidate and author of the book "San Fransicko," cast the City of Love as a cautionary tale about liberal decadence and permissiveness. (The subtitle of Shellenberger's book is "Why Progressives Ruin Cities.")
Take a step back from these caustic predictions, and experts say San Francisco continues to have a variety of inherent assets, from walkable neighborhoods and mild weather to the many companies already headquartered nearby, such as Apple and Meta.
Meanwhile, private-sector employment throughout the Bay Area is back above pre-pandemic levels, making it "hard to justify the most dire, pessimistic-sounding doom loop story," Jeffrey Clemens, an associate professor of economics at the University of California in San Diego and co-editor of the Journal of Public Economics, said in an interview with Courthouse News.
As Clemens sees it, businesses move to San Francisco for a variety of reasons. That's because the city "has such strong, embedded advantages," he said. In his interview, he rattled off a few of them: "the tech sector, world-class universities [and] some of the most beautiful coastline anywhere in the country."
There are genuine reasons for concern. Office vacancy rates are still up compared to before the pandemic. Ridership is way down on Bay Area Rapid Transit, the region's local transit system known as "BART."
Tech work, San Francisco's biggest industry, can be done from the comfort of a living room. There's still a dearth of affordable housing. All of these factors add to the uncertainty.
Other big and pricey cities like New York have faced similar challenges, especially after the pandemic. Still, it's "a bigger problem in San Francisco, at least measured by people returning to the office," said John Rosen, a professor at the Pompea College of Business at the University of New Haven who has studied these trends.
New York "is also struggling with the same stuff, just not as badly," Rosen told Courthouse News. When workers don't need to come into San Francisco, they have little reason to support ancillary businesses in the heart of the city like coffee shops, lunch restaurants and laundromats. As Rosen puts it: "If they don't return to the office, they don't return to Union Square."
Like other experts, Rosen pointed to the prevalence of work-from-home jobs as a major challenge for the tech hub's tax base. Millennials are now at the age where they have children, and suburbs often provide better amenities for families. The same exodus to the suburbs happened amongst Baby Boomers in the late 1970s.
Building affordable housing is one way to get people to return to the city, and San Francisco Mayor London Breed recently proposed turning some office spaces into apartments. Still, that may not be the panacea it seems, Rosen said.
"People tend to think there must be an easy solution to get housing prices down," he said. "My own opinion and my own research indicates there really isn't."
Converting unused office space into housing could alleviate some pressure, Rosen said, but those efforts are complicated by factors like zoning. Then there are property owners, who have a vested interest in keeping property values high so that they can get the most out of their assets.
Vrinda Mittal, an incoming assistant professor in the finance department at the University of North Carolina at Chapel Hill, agrees that the ubiquity of tech work in San Francisco makes it harder for the city to hold onto residents. She recently co-authored a paper about the decline of downtowns across the country, entitled "Work From Home and the Office Real Estate Apocalypse."
Even in today's increasingly online world, San Francisco is still unique amongst downtowns because the city relies so heavily on tech workers, Mittal said in an interview. Tech work translates easily to a work-from-home environment, removing a big incentive to live in central San Francisco.
By living and working in suburbs instead, residents can have bigger homes and quieter neighborhoods and yet still retain access to everything the city has to offer. Given this reality, "it's not a sure thing to me if people would still choose downtown San Francisco," Mittal said.
Even amidst these challenges, there is room for optimism. As both Rosen and Mittal point out, changes currently playing out in the city do not necessarily portend a dramatic collapse.
If anything, an exodus might contribute to the growth of suburbs and the emergence of new thriving towns. By focusing on purported decline, observers can miss the economic growth happening throughout the region, Mittal said. In an era of remote work, maybe it simply no longer makes sense to think of San Francisco as "the hub" of the Bay Area. "Maybe we need to go to Palo Alto or other areas in the Bay Area that are equally as attractive as downtown for offices."
In short, experts do agree that San Francisco is facing worrying trends. While the city has "all kinds of assets," a falling population and reduced tax base could make the city "drearier" or even "turn into a death spiral if you're not careful," said Rosen, the University of New Haven professor. Going forward, metrics like budgets, taxes and transit ridership could provide insight on whether the city is rebounding or continuing to bleed.
For now, though, rumors of San Francisco's death have been greatly exaggerated. See for example Swedish retail giant Ikea, which later in August plans to open a new store on Market Street in the heart of the city. If there's a canary in the San Francisco coal mine, it ain't dead yet.
The city may see big changes, but "a lower population version of San Francisco doesn't need to be described as a disaster," said Clemens, the University of California professor. As for the idea that San Francisco is stuck in decline, Rosen thinks pessimistic pundits are adding to the doom-and-gloom hype. "We have 24-hour news channels that are amplifiers," he said. "They latch on to a story like this and amplify it."