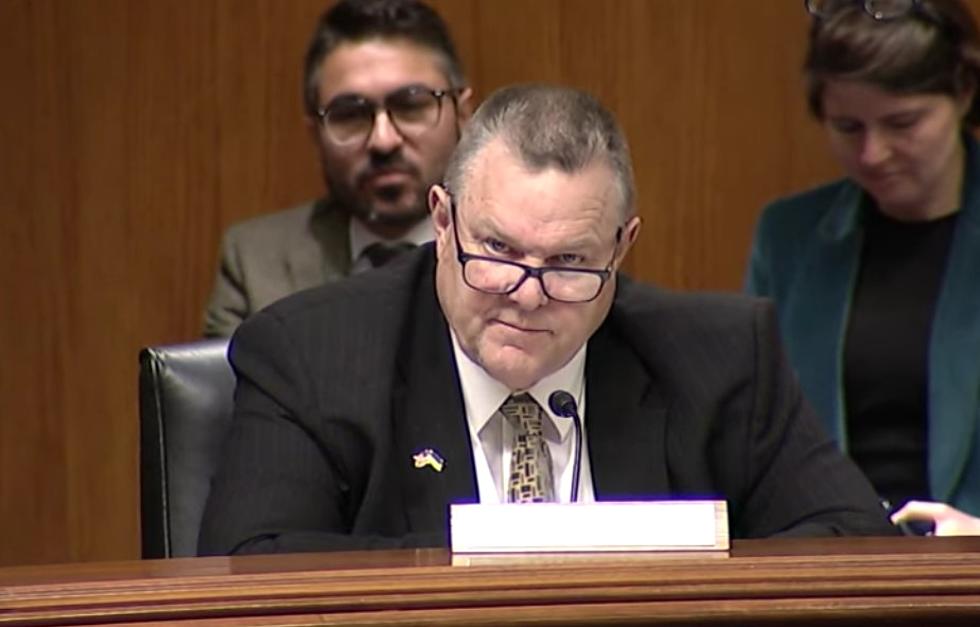 Bill targeting Tester's U.S. Senate race passes Montana Senate
U.S. Sen. Jon Tester. (Screenshot)
Nicole Girten
(Daily Montanan) A bill that would eliminate party primaries in U.S. Senate races, targeting Democrat U.S. Sen Jon Tester's race for re-election, passed the Montana Senate on Tuesday.
Senate Bill 566 would establish a "jungle primary" system, where the top two vote getters regardless of party affiliation advance to the general election, exclusively for the upcoming U.S. Senate election in 2024, with a sunset date in 2025.
Tester, the lone-statewide Democrat in the state, announced his bid for re-election in February. The race will be watched nationally as Democrats seek to keep their thin majority in the U.S. Senate.
"Let's just call this bill what it is. It's nothing but a partisan power grab," said Sen. Ryan Lynch, D-Butte.
But bill sponsor Rep. Greg Hertz, R-Polson cited U.S. Senate races where candidates won with less than 50% of the vote, in 1996, 2006 and 2012. He said the sunset date was in 2025 so the legislature could re-evaluate whether to move forward with potentially applying this system to future races during the next legislative session.
"We want to make sure that the winning U.S. senator has more than 50% of the supporting people in Montana," Hertz said.
Tester won 50% of the vote in the 2018 general election against now U.S. Rep Matt Rosendale.
Senate Minority Leader Pat Flowers, D-Belgrade, said all the U.S. Senate races after 2012 were won with over 50%.
"So your logic seems at best to be 10 years behind," Flowers said.
Flowers said this bill was "brazen partisanship" targeting a single race.
"This isn't fair. This isn't what Montanans want. They don't want one party rule. They want us to have fair elections, and this bill is not that," Flowers said.
Sen. Mike Cuffe, R-Eureka, asked, rhetorically, "what's unfair about the majority of voters in Montana picking one candidate?"
Sen. Carl Glimm, R-Kila, said he thought it was a good deal. Republicans currently hold a supermajority in the legislature.
"The only reason you need to be scared of it is if you don't think your guy can win," Glimm said.
The vote passed on third reading Tuesday on a 27-23 vote, with seven Republicans joining Democrats in opposition, including:.
Jeff Welborn of Dillon,
Russ Tempel of Chester,
Jason Small of Busby,
Dan Salomon of Ronan,
Walt Sales of Manhattan,
Brad Molnar of Laurel,
Theresa Manzella of Hamilton.
Following that vote, discussion turned to another bill, which would ban ranked-choice voting. It's, not currently used in Montana but was proposed in reaction to a rank-choice election in Alaska where Democrat Mary Peltola beat out Republican Sarah Palin.
Both Democrats and Republicans critiqued Senate Bill 598 as "code clutter" seeing as a separate bill would need to be brought for ranked choice voting to take place.
"You know how you change that? You bring a bill to do a top two jungle primary system, just to pull an example out of a hat," said Sen. Forrest Mandeville, R-Columbus.
Sen. Jeremy Trebas, R-Great Falls, said the ranked choice system stood to benefit the majority party.
"In Montana, and the way things are going politically, currently, do we want to shoot ourselves in the foot?" Trebas asked.
Trebas and Mandeville voted against the bill. It passed 29-21.