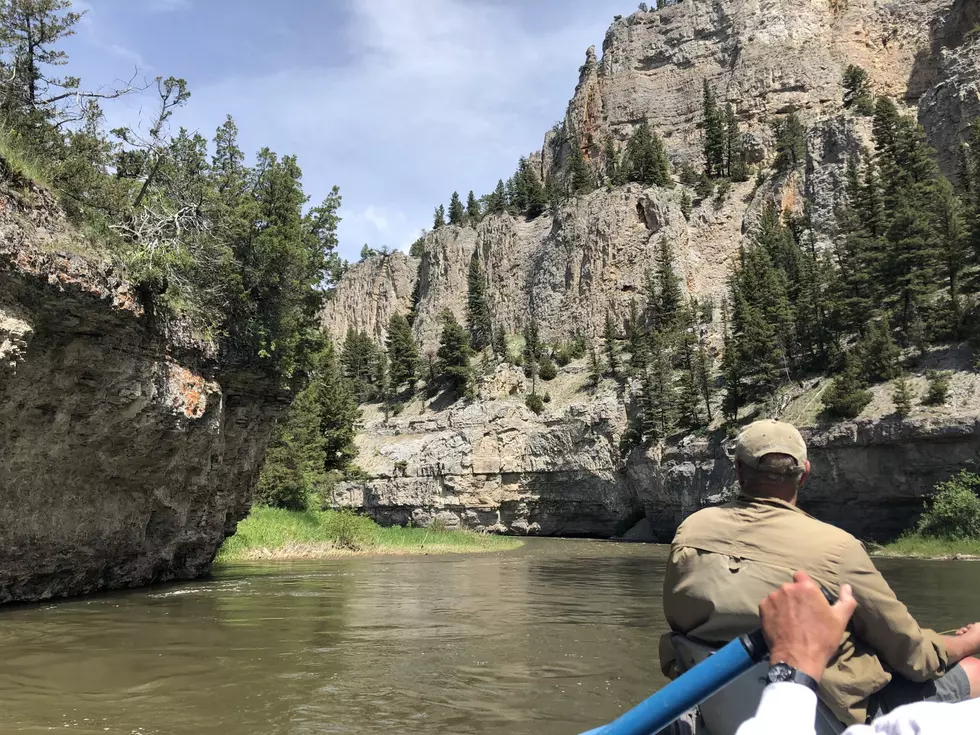 Watchdogs: DEQ failed to assess impact of copper mine in Smith River headwaters
The Smith River is 19 miles from a new copper mine in Montana that will tap into a copper reserve that is one of the largest in Montana. (Missoula Current file photo)
(CN) — The Montana Department of Environmental Quality failed to properly evaluate the environmental impacts of a new mining technique to be used in a proposed copper mine in the headwaters of Montana's Smith River, attorneys argued in state district court Friday.
The proposed underground Black Butte copper mine near White Sulphur Springs, Montana, would extract 440 tons of ore daily and generate 12.9 million tons of tailings from an 1,800-acre mine near the headwaters of the Smith River — one of the state's most pristine rivers.
The Montana Department of Environmental Quality issued a mine operating permit to Tintina Resources Inc. in April 2020, for the company to pursue the Johnny Lee copper deposit — one of the largest copper deposits Montana has ever seen.
The state was sued in June 2020 in Meagher County District Court over the state's alleged failure to properly analyze the mine's long-term effects. Jenny Harbine, an attorney for EarthJustice, a nonprofit law firm in Bozeman, Montana, argued Friday before Richland County Judge Katherine Bidegaray that the state did not properly analyze the nitrogen content of effluent water pumped out of the mine, nor did the state take into account Tintina's plan to build an above-ground tailings impoundment using new and untested methods.
EarthJustice represents plaintiffs Trout Unlimited, Montana Environmental Information Center, American Rivers and Earthworks. 
Tintina proposes to mix the treated copper mine tailings with cement and store them in a tailings impoundment. Harbine argued that this is an untested method and the Montana Department of Environmental Quality failed to properly determine what level of mine waste and cement would be strong enough to protect the environment.
The Montana Department of Environmental Quality is tasked with researching all aspects of the effects of metals mining in the state, and the courts are to give the agency deference in their decision making.
In this case, Harbine said, the state "fell well short of those standards" in its review of the Black Butte copper mine and its permit. In order to balance the stability of the cemented tailings with the amount of time required for each layer to dry, new layers would be added every seven to 30 days. The state and Tintina say this process would form a solid, hard mass that would be impermeable to water and would lock in hazardous materials left over from the copper-ore mining process.
Harbine said the state of Montana didn't study how the cemented tailings facility would perform as it suggests, as the proper cement mixture has never been field tested.
One of EarthJustice's main arguments was that this new method of cemented mine tailings may not form a solid, stable mass of mine waste that is impermeable to the elements.
Under Tintina's mine permit from the state, the top layer of mine waste will not have set before wet tailings are placed on top of them "layer after layer after layer," Harbine said. "There is no analysis that defendants can point to" in terms of how long it takes tailings to set.
"Without this timeframe, DEQ's vague timeframes are meaningless," Harbine said. "There's just no record evidence for set time of (cemented) tailings."
"There are more questions than answers" of whether Tintina struck the right balance of mixtures and timing, Harbine said, adding "it's important that Tintina gets this right."
Montana has a long history of mines that failed to contain leftover waste, such as the defunct Zortman Landusky mine, which a bankrupt mining company abandoned and left the state to pay cleanup costs.
"These were mines that DEQ permitted and predicted to be safe, and in each of these cases they were wrong," Harbine said, "leaving irreversible contamination and incalculable loss."
Because of the "huge potential for failure" of hardrock mining, Harbine said, Montana law now requires a conservative approach to mine permitting.
Tintina Resources, she said, plans to "employ new techniques, but are they enough to protect from nitrogen discharges? Based on the lack of substantial relevant evidence, the state could not have rationally approved the project."
Harbine said the Montana Department of Environmental Quality also did not address how acid within the tailings impoundment would affect the strength of the impoundment.
Exposure to air or water on the surface could lead to cracks in the impoundment, which would allow water and air to penetrate, although Tintina Resources in its mine application compared the acidity of the mine tailings to that of "Dr. Pepper."
"If Tintina is wrong about the efficacy … the tailings could exhibit a PH as low as two which is strongly acidic," Harbine said. "That's far from assuring that Tintina's tailings will perform like Dr. Pepper."
The Montana Metals Mining Reclamation and the Montana Environmental Policy Act demand an abundance of precautions and they require assurance that mining facilities are safe and free from potential of environmental harm, Harbine said.
"These laws are meant to protect our land and water and they couldn't be more important in this case. We ask you to send DEQ and the mine back to the drawing board to ensure these resources are protected."
Montana Department of Environmental Quality attorney Sarah Clerget said nearly 60 independent professional consultants have weighed in on the Black Butte Mine plan, and it has taken the state 11 years to fine tune Tintina's plan.
The final environmental impact statement for the Black Butte Mine is over 1,000 pages long and Tintina's plan went through three stages of "deficiency letters," Clerget said. While there's concern that the copper mine could affect water quality in Sheep Creek, a tributary of Montana's pristine Smith River, Clerget clarified that the mine is 19 miles away from the Smith River.
"This has been an exacting, exhaustive and all-encompassing review," Clerget said, "and the fact we have redundancy on redundancy means it's safe."
Harbine said the state rejected an alternative in the mine application to remove hazardous and highly acidic pyrite from the copper ore tailings. However, state attorney Clerget said concentrated pyrite removed from the tailings is much more volatile and Tintina would have to "make an entirely separate stream of tailings of pyrite, and it takes more chemicals than if you were to deal with all tailings together." 
Not only that, but the Montana Department of Environmental Quality found that by removing pyrite, only 45% of the pyrite concentrate tailings would fit back into the mountain, creating 7.6 million additional tons of mining material that would be required for storage.
And, Clerget said, "there's no guarantee that putting it back underground that it would be safe. That's never been tested and it would greatly increase the footprint of the mine. There's just no way this has a net environmental benefit  — that's why we dismissed it."
Meagher County, where the mine would be located, has watched as extractive industries like timber have dwindled over the last 40 years. Sawmills are long gone, and tourism has tried to fill their place. Agriculture — mainly cattle ranching — is the county's mainstay.
The Black Butte Mine would give Meagher County a financial boost it hasn't seen in decades, county attorney Burt Hurwitz testified in court.
"This process worked," Hurwitz said. "It ensured the community understood that this type of mine is like no other mine ever proposed in Montana."