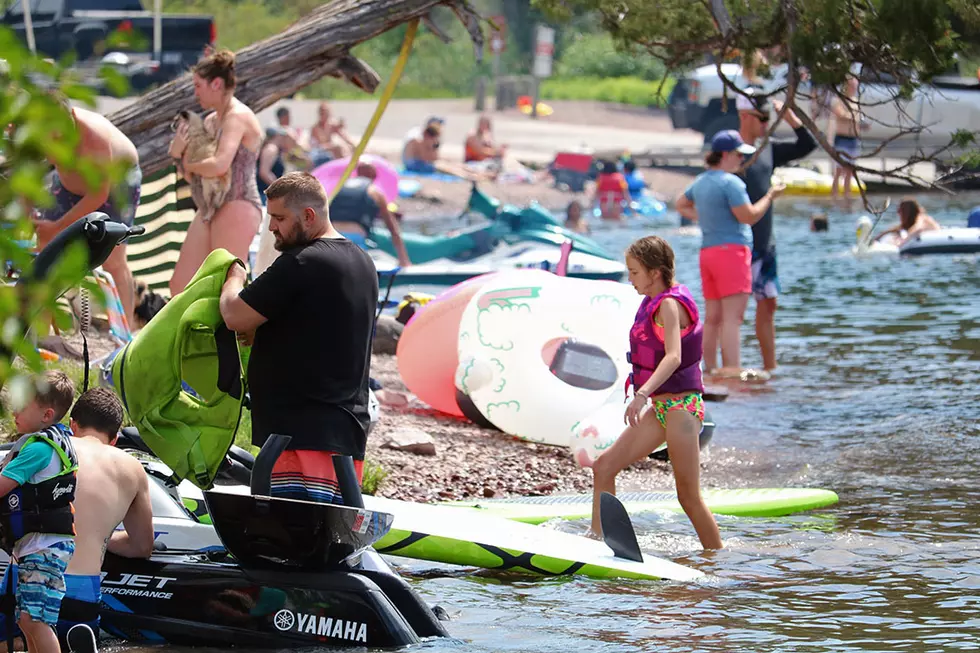 First-quarter totals point toward busy summer for Montana State Parks
The state park at Salmon Lake is a popular summer destination, though visitation can be heavy at times. (Martin Kidston/Missoula Current file photo)
Montana State Parks staff knew this season's visitation numbers would probably top last year's, and the first quarter of 2021 has already shown that to be true.
This year's mild winter encouraged more people to take advantage of state parks between January and March. Vaccinations for COVID-19 were just starting to be offered to older Americans, so many people were still favoring outdoor activities to avoid being exposed to disease. It appears state parks featured in many of those activities.
According to numbers released Monday, during the first quarter of 2021, more than 393,000 visitors took advantage of the 40 state parks that remain open during the winter. That's a 20% increase over last year, although the much colder weather of February 2020 brought more snow than this year, which may have curtailed visitation.
Last year's first-quarter numbers weren't affected by the pandemic, the effects of which didn't kick in until mid-March in Montana. So shear popularity probably played a part in the fact that visitation in 2020 topped that of 2019 by 58%.
Some of the parks that received the most visitation this winter are associated with lakes, such as Lake Elmo and Cooney Reservoir near of Billings and Spring Meadow Lake near Helena. Normally, that's because ice fishing is a popular winter sport, but some areas didn't freeze up enough to allow safe ice fishing this year.
Near Missoula, which has had several newcomers move in, people visited Milltown State Park more than an estimated 17,350 times, an increase of more than 115% over 2020. The easy access off Interstate 90 could be a contributing factor, and Montana State Parks will be adding two more entrances this year to try to accommodate the increasing numbers of visitors.
The six areas of Flathead Lake State Park received the 3rd highest number of visitors of all the state parks during the first quarter. Even so, the almost 29,000 estimated visits represented one of the few decreases in the state, down 2% from that of 2020.
The top two most visited state parks this winter were Spring Meadow Lake with more than 33,600 visitors, a jump of 18% over last year, and Giant Springs near Great Falls with almost 82,000 visitors, an increase of almost 8%.
Heading into the summer months, those numbers will likely skyrocket, as tourists continue to flood into the state. Already, people on social media are reporting lines of cars miles long waiting to get into Glacier National Park. Experienced fishing guides shake their heads at people floating the Bitterroot River during the peak of the spring runoff, which is pushing dangerous logs and debris downstream.
Last year, in Fish, Wildlife & Parks Region 2 around Missoula, Placid Lake State Park - a scenic lake where many in Missoula County go to cool off - ended up with the highest visitation in 2020 with almost 85,000 visitors. FWP staff anticipates the 36% increase in visitation last year at Placid Lake will be exceeded again this summer.
What they hope they won't see is an associated increase in poor behavior. Last summer, rangers and other state park and national forest employees had to deal with inconsiderate visitors and many violations, including dogs off-leash, littering, illegal parking and camping, or defecating in the campgrounds.
When warned or cited, some people were rude and even hostile. That adds stress for employees who are already working long hours doing a variety of jobs due to agencies being understaffed.
This year, public lands managers have been meeting to find better ways to deal with visitors so everyone can have a better experience. In some cases, state and federal agencies are sharing resources and manpower so employees have a little backup.
"The system is stretched anyway, and we saw it really strained in 2020. That's a much larger conversation to have about what our priorities are as a society. More and more people are recreating outdoors. So we need that infrastructure and we need to take care of it," said Region 2 Regional Parks manager Loren Flynn in November.
With more people camping, there's a greater chance of wildfire starts, especially this year, which is predicted to be hotter and drier than normal and which is already starting out with much of the state in various levels of drought. Research has shown that people are responsible for starting more than 80% of wildfires. Some actions that people should avoid include leaving campfires unattended, failing to put them out properly, tossing out lit cigarettes, driving vehicles on dry vegetation, or towing trailers with dragging chains that can produce a spark.
Contact reporter Laura Lundquist at lundquist@missoulacurrent.com.