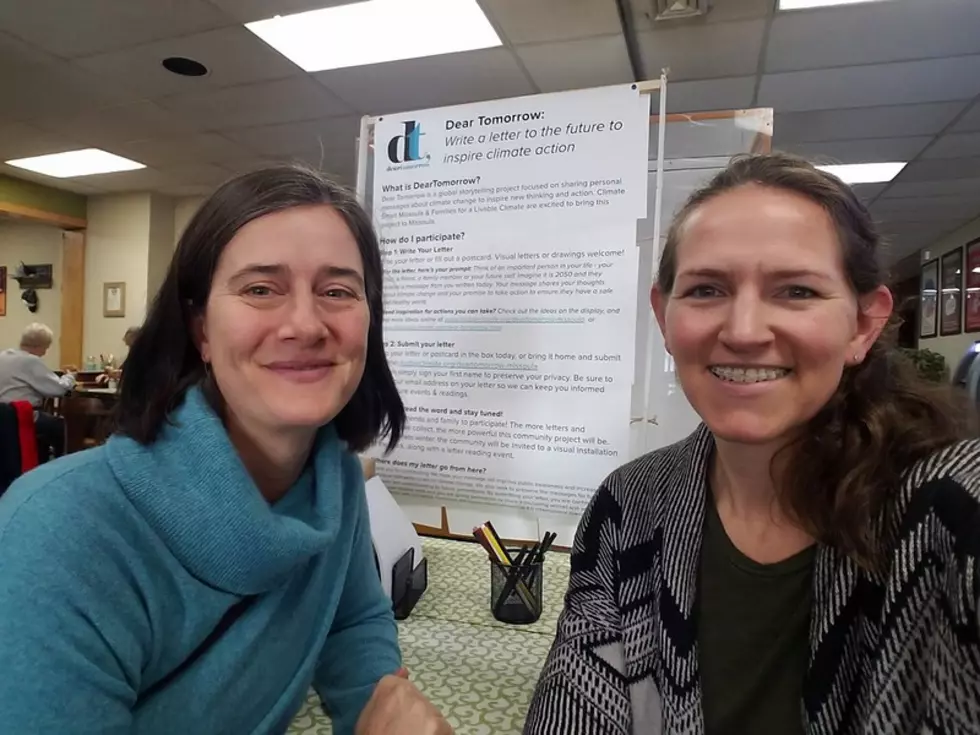 Sustainable Missoula: Everyday climate conversations are key to systemic change
Winona Bateman and Abby Huseth
Like millions of other Americans, over the holidays we cozied up in front of our small screens to watch the recent film Don't Look Up. Even if you haven't seen it yet, you've probably heard about it: scientists discover a massive comet headed straight for earth in exactly six months and attempt to warn everyone they can - world leaders, family, strangers - about the need for urgent action to avert catastrophe.
Let's just say that, despite their best efforts (spoiler alert), they're not terribly successful.
The comet is an analogy, if imperfect, for the climate crisis. Don't Look Up captures what it feels like to be a climate-concerned human in this moment, struggling to reconcile the gravity of the crisis with the mundane realities of our daily lives. With a combination of absurd humor and earnest sincerity, the film resonates and leaves us pondering so many questions: What does it mean to live fully amidst these challenging times? How do we accelerate momentum for climate action and bring people together to address the climate crisis effectively?
One place to start - or return to when we feel overwhelmed - is committing to have more climate conversations with friends, family, neighbors, and colleagues (and sure, even world leaders if you have the chance). 
Seventy-one percent of Americans say they are at least "somewhat worried" about global warming, and 35% say they are "very worried." But 61% of Americans say they "rarely" or "never" discuss global warming with family and friends (see Yale's Six Americas). How can we build overwhelming support for climate action if most of us don't talk about it?
Last night, a panel of Montanans of various perspectives shared their experiences and thoughts about how to have effective climate conversations. Some key takeaways:
These conversations don't have to follow a script, and you don't have to be an expert on the science. Focus on your personal story and why you care about climate change, and be curious about others' stories. Really listen to others; you might be surprised! Focus on common ground, and then connect the dots to climate impacts.

Share solutions. What do you find exciting, new, old, doable?

Offer examples for taking action. Whether it's advocating for policy change, or talking about the climate crisis to help normalize these conversations so that more people take systemic action, feeling a sense of agency can help someone move from aware but disengaged, to concerned and actively engaged.

Set one goal for the conversation: to have another conversation.
Given the current political landscape, it's understandable to feel overwhelmed or despairing that we'll ever see the kind of broad systemic change that's needed to meet the urgency of the climate emergency. It can feel like our current economic and political systems, defined by vast inequalities, racial injustice, and disregard for ecological limits, are "just the way things are", instead of human constructs that can be influenced by our values and norms.  
The reality is, as Dr. Kim Nicholas writes, "System change is a circle, not a waterfall."
Imagine a circle of dominoes. What does talking affect? Last spring Katharine Hayhoe (climate scientist and expert climate communicator) shared that it is absolutely critical to making a big impact.
She says, "To fix climate change, we have to knock over all the dominoes. What's the first domino? The first domino is having a conversation. Having a conversation triggers all of the other dominoes: to change what we think of ourselves, what people around us think, our social norms in our community, in our town, in our state, in our country, in our world; our sense of whether we actually can change anything, and ultimately, our ability and willingness to act."
Conversations are the key to systemic change. (Watch Hayhoe's entire talk here.)
Want to take your climate conversations skills and confidence to the next level? Join Families for a Livable Climate for a climate conversations skill-building workshop on Thursday, March 3, from 12-1 p.m. (MST) where we will work together to learn and practice skills to have effective climate conversations with our family, friends, and colleagues. Or, join one of their welcome calls to meet other parents and caregivers taking action in our community.
Wondering what you can do - your own unique way of being part of climate solutions? We're partial to the Climate Action Venn Diagram as a helpful tool. Ask yourself: what's the sweet spot between what brings me joy, what needs doing, and what I can do or bring?
And if like us, you watched Don't Look Up and want an excuse to gather in-person, next Wednesday February 9th from 5 - 6:30 p.m., join Climate Smart Missoula and Families for a Livable Climate for an informal happy hour conversation about the film at Imagine Nation Brewing. We'll meet outside under the big tent (with heaters!). Fingerling potatoes and store-bought pie are encouraged! 
Let's all look up, listen, talk, and connect.
Abby Huseth is the Outreach Director for Climate Smart Missoula and Winona Bateman is the Director of Families for a Livable Climate.
This Sustainable Missoula column is brought to you – via the Missoula Current – most weeks by Climate Smart Missoula and Home ReSource.
Sustainability Happenings
Here we offer ideas about sustainable ways to stay involved in our community. For more, consider signing up for Climate Smart's eNewsletter here. And sign up for the Home ReSource eNews via their homepage here.
Missoula's WINTER Farmers Market continues in Southgate Mall, Saturdays 9am to 2pm. Until April 23.
February 7. Public comments due on the Missoula Rattlesnake Valley Transportation Plan. Read the plan and submit comments here.
February 9, 5:00-6:30pm. Don't Look Up happy hour film discussion at Imagine Nation Brewing. Have you seen the new climate satire film Don't Look Up? Did it make you laugh, cry, or both?! Let's talk about it! Join Climate Smart Missoula and Families for a Livable Climate for an informal happy hour conversation about the film - and an excuse to gather over brews with fellow comet believers. We'll meet outside under the big tent (and heaters). Fingerling potatoes and pie encouraged!
February 12. Running Up for Air – Mt Sentinel. Runner's Edge is sponsoring Montana's participation in this 12, 6, and 3 hour event. And your participation supports Climate Smart's effort for clean air. Learn more about this series and sign up here - or donate to support participants (including Climate Smart's staff team!).
February 18 to March 3. Big Sky Documentary Film Festival. Many films have environmental themes. Festival is in-person in Missoula Feb 18 to 27 and online Feb 21 to March 3.
Thursday, March 3. Climate Conversations: Skills Workshop. Learn and practice skills to have effective climate conversations with family, friends, and colleagues.
Don't forget – Materials donations to Home Resource keep the wheels of reuse spinning in our community; and remember that everything you need to know about what to do with your unwanted stuff is at www.zerobyfiftymissoula.com.
Find more local activities and events at Missoulaevents.net and on Montana Environmental Information Center's Conservation Calendar.