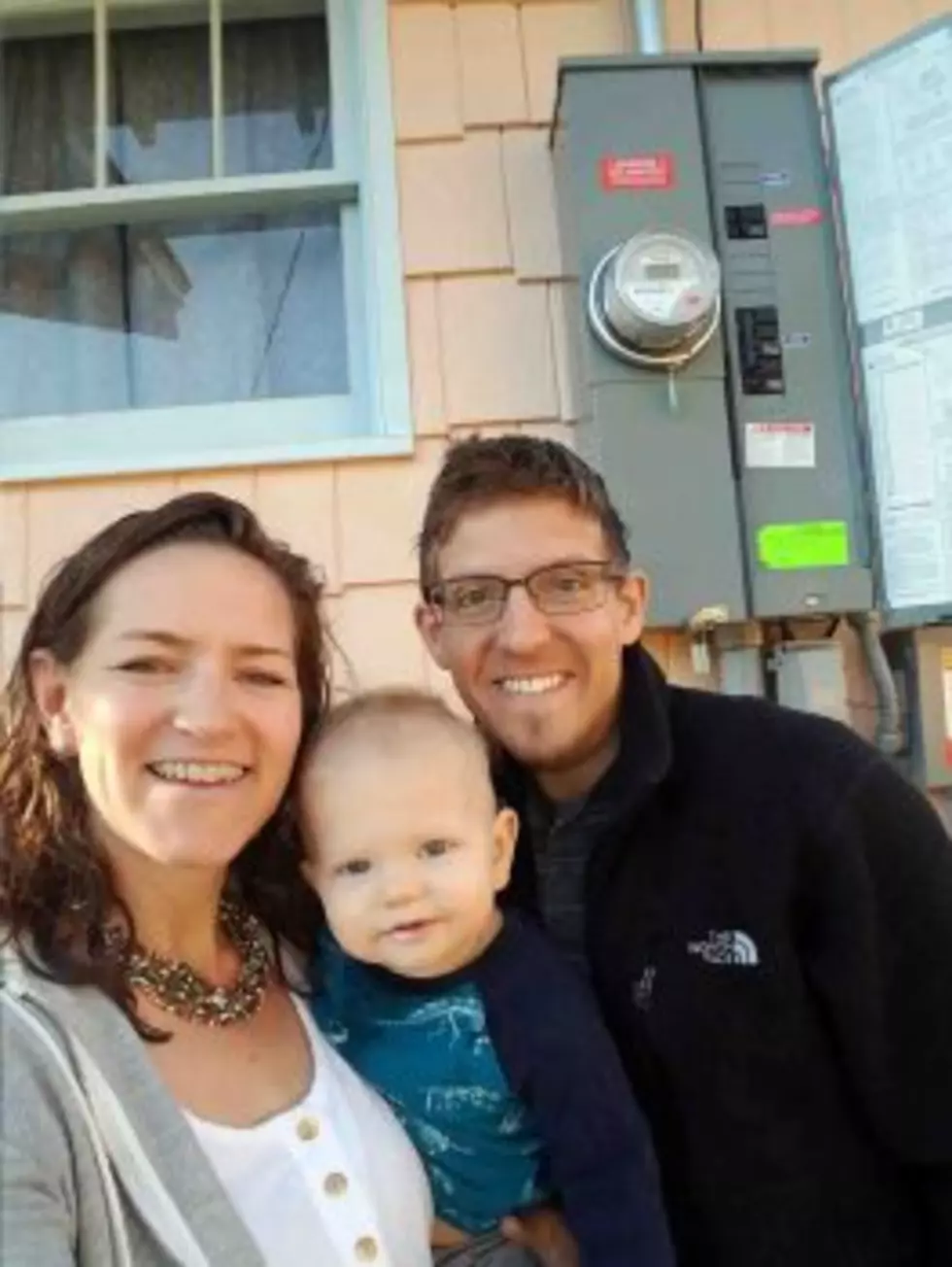 Sustainable Missoula: Let's address global challenges and work to electrify Missoula
Abby Huseth and her family turning on the panels when their new solar array was installed in 2019.
When my husband and I bought our home here in Missoula in the summer of 2016, we knew we wanted to go solar. We had plenty of reasons: the south-facing garage roof would be ideal; we could take advantage of the federal tax credits; it felt like a meaningful way to reduce our contribution to the climate crisis; and we liked the idea of locking in our electricity costs (and to be totally honest, we also just thought having solar panels would be cool).
We spent nearly every penny of our savings on our down payment, so we knew we'd need a loan - but funding wasn't actually the barrier that kept us from going solar as soon as we'd wanted.
Like millions of American homes, our 1930 bungalow used methane gas (still commonly called "natural" gas - a misleading term) for space and water heating, and electricity for the rest (including our stove/oven and clothes dryer). In our small home, with just two of us at that time, our electricity bill was low enough that we couldn't get solar to pencil out.
So we got creative - and tapped into resources through Climate Smart Missoula, the organization I'd just started working for. Our hardworking gas boiler dates from 1960 (that's not a typo - it's over 60 years old) and when we moved in, our gas water heater was nearly 20 years old and on its last legs. We did some research and calculations and realized that, if we swapped out our gas water heater for an efficient electric one, the increase in electricity use would make solar viable. Bingo! Turns out there were incentives for the new water heater, too. And we had no idea we were on the leading edge of the movement to "electrify everything".
Once we'd done that, the process of working with a local solar installer and loan officer was surprisingly straightforward. On a bluebird spring day in April 2019, NorthWestern Energy finally installed our net meter and we got to flip the giant switch on our solar panels and watch the meter run backwards. It felt really good.
This week, I've been thinking a lot about that feeling - how empowering it can be to do our part, however small it may seem, to build a more livable future. How, in these times, to hold on to that empowering feeling?
With both the IPCC's latest, most devastating yet climate report and Russia's violent invasion of Ukraine on the top of my mind, the heaviness and pain of our world feel paralyzing. And the timing of these two events is striking, highlighting just how interconnected they are. As climate journalist Eric Holthaus wrote, "The same fossil fuels that are weapons of the climate emergency also help fund the weapons of war that oligarchies use to colonize and extract lives and livelihoods in places like Ukraine, Yemen, Nigeria, and Sudan."
Climate activist Bill McKibben had an even more pointed take, arguing for immediate actions to cut fossil fuel use, such as ramping up production of electric heat pumps for European markets that are still dependent on, and impacted by disruptions to, the flow of Russian oil and gas. McKibben wrote in a piece in the Guardian,
"This is not a 'war for oil and gas' in the sense that too many of America's Middle East misadventures might plausibly be described. But it is a war underwritten by oil and gas, a war whose most crucial weapon may be oil and gas, a war we can't fully engage because we remain dependent on oil and gas. If you want to stand with the brave people of Ukraine, you need to find a way to stand against oil and gas."
In Missoula, we may not have the ability to influence the supply of heat pumps to Europe, but there's plenty we can do right here to get off oil and gas, grow renewable energy, and electrify our homes, buildings and transportation.
That's what our Electrify Missoula campaign is all about, and we're excited to host a series of educational events this spring to help our community learn more and be part of the movement to electrify everything. Each event will offer both practical resources for taking steps to electrify, plus ways everyone can be an electrification advocate. 
Part 1 of this series, Growing Solar: Clean Electricity for All - begins Thursday March 10, at 5:15pm via Zoom. The Climate Smart team will be joined by Andrew Valainis of the Montana Renewable Energy Association, Orion Thornton of OnSite Solar, and Paul Herendeen of Clearwater Credit Union, for an informal conversation (with plenty of time for Q&A) about:
How solar fits in to the electrification equation, at the home and community levels

The nuts and bolts of installing solar on your home or business

The latest policy updates and financing options, and what's coming down the pike

How to be a solar advocate in support of Missoula's quest to reach 100% Clean Electricity by 2030 (and a livable, clean-energy future)
Part 2, on April 7 at 5:15pm via Zoom, is all about Getting off Gas: Why - and How - to Electrify Our Homes and Buildings. Climate Smart will be joined by the Montana Environmental Information Center (MEIC) and local building-industry professionals to discuss the harms of methane gas and steps you can take to Electrify at home. And Part 3 (tentatively - May 5) will cover Electrifying Transportation - from EVs, to electric buses and bikes, and more.
This three-part series is an opportunity to get involved and act locally, where and how we can.
Over the last several years, difficult world and national events have captured our attention. The COVID-19 pandemic, George Floyd's murder and the movement for Black Lives, threats to democracy, too many climate disasters to count, and now the war in Ukraine. Wrestling with these events, we at Climate Smart always find ourselves asking: Does what we do here in Missoula, Montana still matter? Can we, as individuals and as a community, make a difference?
Each time, we come back to the same truth: taking action here in our own community is essential. In fact, it's how we keep building momentum for the wider global transformations we need. Step by step. Home by home, neighborhood by neighborhood, community by community. When we figure out what we can do, and then do it, that sense of empowerment can fuel us to keep going even when hope seems distant.
Abby Huseth is the Outreach Director for Climate Smart Missoula; this Sustainable Missoula column is brought to you – via the Missoula Current – most weeks by Climate Smart Missoula and Home ReSource.
Sustainability Happenings
Here we offer ideas about sustainable ways to stay involved in our community. For more, consider signing up for Climate Smart's eNewsletter via their homepage here. And sign up for the Home ReSource eNews via their homepage here.
Missoula's WINTER Farmers Market continues in Southgate Mall, Saturdays 9am to 2pm. Until April 23.
March 10. Electrify Missoula series part 1 - Growing Solar: Clean Electricity for All. 5:15-6:15pm via Zoom. Learn how to go solar, how solar is key to electrification and reaching Missoula's 100% Clean Electricity goal, hear about policy updates and what's coming down the pike, and how to be a solar advocate. Electrify Series details and zoom link here.
March 12. (Sat)– Fixit Clinic Missoula at the University of Montana UC. Come learn how to repair your beloved broken items and torn clothing! 12 pm – 3 pm. Register Here.
March 15. UMAA Community Lecture Series - It Affects All of Us: Climate Change, Wildfires and Human Health. 7-8pm via Zoom. Learn more about the series and register here.
April 7. Electrify Series Part 2 - Getting off Gas: Why - and How - to Electrify our Homes and Buildings. 5:15 - 6:15pm via Zoom. Learn about the climate and health dangers of methane gas & Montana's current energy landscape; why we have to electrify everything, especially buildings; common barriers to electrification; and what steps we can take to electrify, as individuals and communities. Electrify Series details and zoom link here.
April 22 - 23. The 53rd Kyiyo Pow Wow. At the University of Montana Adam's Center. Details are here.
April 22. Project Earth. Save the date for a unique performance, a fusion of art, science and community engagement centered around the climate crisis. 7pm at the Dennison Theater at the University of Montana.
 April 23. MUD's Earth Day Celebration. 12-4pm at the MUD/HomeResource site. This annual community favorite event is back - The festival will feature an environmental expo, activities and workshops for children and adults, and educational programs, as well as food, drinks, and local music. Details here: mudproject.org/events/earth-day/
Don't forget – Materials donations to Home Resource keep the wheels of reuse spinning in our community; and remember that everything you need to know about what to do with your unwanted stuff is at www.zerobyfiftymissoula.com.
Find more local activities and events at Missoulaevents.net and on Montana Environmental Information Center's Conservation Calendar.