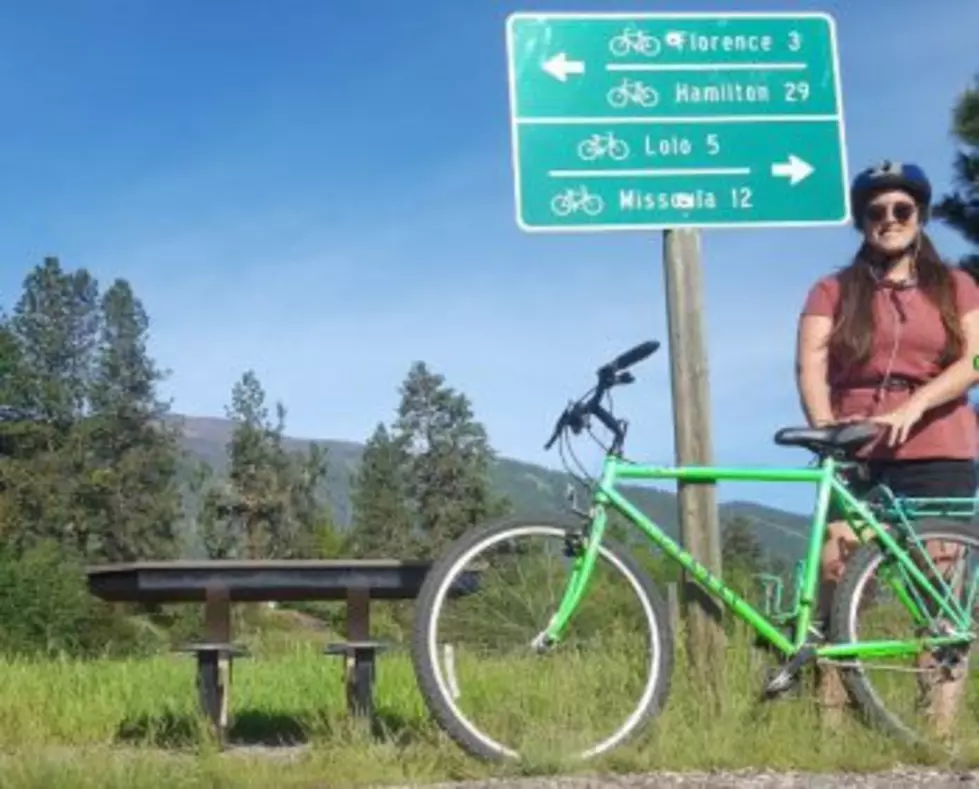 Sustainable Missoula: Changes needed to make room for people, bikes and buses
Alli Kane explores the Bitterroot bike trail connecting Missoula to Hamilton.
These long summer days have filled me with nostalgia for my years spent in Denmark where the sun would stay up well past 11 p.m. this time of year and never fully set.
Riding my bike down to the harbor in the evening for a swim, I was flanked by hundreds of Copenhageners using the city's extensive protected bikeway to commute home after work, pick up their kids in a cargo bike or head down to the harbor to take a dip for themselves.
Even as an avid bike commuter, it was like nothing I'd ever experienced. I quickly felt like a part of the community and fell in love with their biking culture. Any time of year the bike lanes are filled with people riding the green wave – a system of cycle traffic lights that are coordinated in such a way that if you ride ~12 mph during rush hour you'll catch green lights all the way into or out of the city center.
Copenhagen wasn't always a cyclist's haven and it didn't happen overnight. Transformation from a car-centric city filled with smog and parking lots to a destination hailed for its wide pedestrian-only streets and reliable bike and bus system was jump-started in the 70's by the oil crisis and a growing environmental awareness.
In an effort to relieve the stress on oil supplies, the City instituted Car Free Sundays and the Cyclist's Federation held huge demonstrations demanding a car-free city. Planners and government agencies saw the value in transforming the city's infrastructure and began changing policies and taking space once used for cars to build pedestrian-only streets and wide, protected bike lanes, also known as cycle tracks, to improve safety.
From 1982 – 2001 every budget had funds allocated to cycle path construction and improving existing infrastructure. Today, they have the longest pedestrian street in the world, bicycle superhighways that connect 28 municipalities in the Capital Region complete with bridges dedicated solely to bike traffic, an integrated traffic light system, and ample bike parking. Bike traffic has risen by 68% in the last 20 years, over 60% of the population commutes to work and school by bike, and bikes outnumber cars.
Now I'm a Missoulian and biking is my favorite way to experience this town. I wonder what it would be like if there were fewer cars and more people on bikes alongside me - and how to make that dream a reality.
Like Copenhagen, Missoula is making incremental changes to improve our infrastructure and foster a culture of active and sustainable commuting. Every four years the Metropolitan Planning Organization (MPO) establishes regional goals, projects, and investment strategies through a Long Range Transportation Plan (LRTP) update.
This year they're developing Missoula Connect 2050: Missoula LRTP based on goals established in 2016, the existing conditions of our transportation system and our feedback as community members.
I've found Missoula Connect to be an incredibly useful tool for familiarizing myself with the sustainable transportation network in Missoula, envisioning the future, and guiding our growth as a community towards safer, more active, and more equitable transportation options.
Right now, the MPO is in Phase 2 of Missoula Connect. If you took the values survey, your feedback was used by MPO planners to develop preliminary goals and desired outcomes for the future of our transportation infrastructure:
(1) Improve safety and promote health to enhance quality of life, (2) advance sustainability and climate resilience to protect natural and historic resources, (3) expand mobility choices to improve efficiency and accessibility, (4) connect and strengthen communities to create a more equitable region, and (5) maintain assets and invest strategically to boost economic vitality.
Via a citizen advisory committee, we discussed these goals at length, working with other community organizations to ensure they reflect our call for an equitable and resilient community with improved access to sustainable transportation options. Now it's time to make sure you feel the same. Then we'll figure out the best ways to meet them. Can you take this short values survey to make sure your voice is heard? Check back on their website for more participation opportunities down the road.
Another way to get involved is to submit photos of how you use Reserve Street. The MPO is hoping to answer the question "what will improve people's experience with Reserve Street?" and no one knows Reserve like you do, so whether you bike, bus, walk or drive, let them know what you like, dislike, or hope to see in the future. From now until August 15th, take a few photos and upload them here. Having ridden my bike along Reserve Street many times, I know I would feel safer and less stressed with a buffered or protected bike lane system.
The Climate Smart Missoula page on transportation and smart growth also has more information on the relationship between transportation and climate change and how we can act, advocate, and assist for a healthier and more resilient future.
In these challenging times, when so many aspects of our lives - including our commutes and travel patterns - have been disrupted, we have an opportunity to think creatively about how our community can work better for all of us. Investing in sustainable transportation options is a crucial piece of building a more livable and equitable Missoula.
Alli Kane is the Energy Corps member serving with Climate Smart Missoula. This Sustainable Missoula column is brought to you – via the Missoula Current – every week by Climate Smart Missoula and Home ReSource.
Sustainability Happenings
As COVID-19 has postponed or cancelled many community events, some have moved on-line or found creative outlets. Here we offer ideas about sustainable ways to stay involved in our community. If you like these offerings, consider signing up for Climate Smart's eNewsletter here. And sign up for Home ReSource's eNews via their homepage here.
Weekly through September 3. Montana Renewable Energy Association's Summer Series. Thursdays at 12:30pm, join in on virtual lunchtime presentations about renewable energy topics. More details and RSVP here.
August 19, 12pm: Film and Panel Discussion: Unbreathable: The fight for healthy air. With the potential of wildfire smoke on the horizon, and given how air pollution is linked to worse COVID-19 outcomes, this timely film highlights how air pollution continues to disproportionately harm low-wealth and communities of color. Sponsored by the American Lung Association of Montana, Montana Health Professionals for a Healthy Climate, and Climate Smart Missoula, the panel will explore how to strengthen local and statewide efforts to protect all Montanans as our climate changes.
August. Take part in Northern Plains Resource Council's annual Local Food Challenge – a great reminder to support local producers who are struggling during the COVID pandemic and build community climate resiliency too.
All Summer. It's farmer's market season! The markets look different this year to protect public health, but both the Missoula Farmer's Market (at the XXXXs) and the Clark Fork Market are happening. Check their websites for more details. CFAC also has a great list of local food resources for consumers.