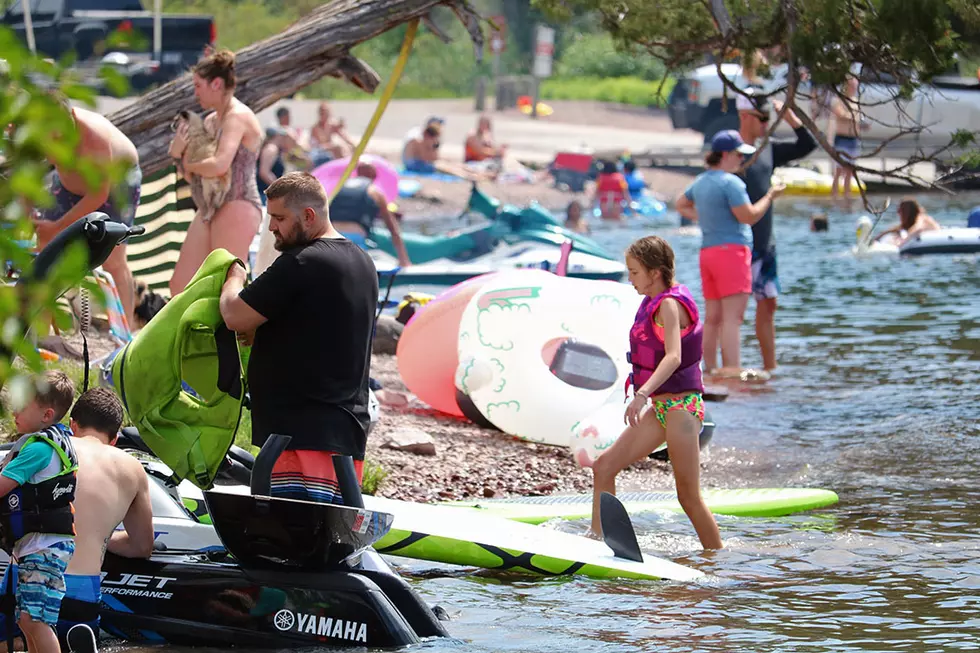 Swamped State Parks raises questions about insufficient staffing, old facilities
Several dozen swimmers converged on Swan Lake State Park in July 2020. Montana's state parks are seeing heavy use and a shortfall in funding to keep up with impacts and maintenance. (Martin Kidston/Missoula Current)
Placid Lake State Park had a hard time living up to its name this year after a third more people than usual flocked to its shores. With similar pressure statewide, the aging State Park system and its employees need some critical care if the same crowds return next summer.
If there was still any question that COVID-19 unleashed millions of visitors onto Montana's public lands, Montana Fish, Wildlife & Parks announced a week ago that Montana's 55 state parks hosted about 3 million visitors from January through September, an increase of almost 25% over last year.
Forty-four parks saw far more visitors last year, and eight parks took in more than 100,000 visitors each. The six units of Flathead Lake State Park had the highest visitation of all with almost 430,000 people, a 33% increase over last year.
"These visitation increases represent the busiest summer on record for the State Park system. FWP staff, volunteers and AmeriCorps members went above and beyond to keep these sites open and safely host visitors in the face of the pandemic," said Martha Williams, FWP director.
"Countless families and visitors to Montana had memorable park visits this summer, and we hope their positive experiences will keep them coming back to enjoy the great recreational and cultural opportunities stewarded by Montana State Parks."
Placid Lake State Park had the highest visitation in FWP Region 2 with almost 85,000 visitors, an increase of 36% over last year.
But it's just the latest jump in a decade-long trend in increasing park use, said Region 2 Regional Park Manager Loren Flynn. Between 2011 and 2019, visitation at his 10 parks had climbed about 70%, and then this year added another 50% across the region.
"We've been seeing an increase in visitation from the last decade or more. And then this year, it exploded," Flynn said. "And we don't expect that it's going to change anytime soon. While we don't expect to see the levels we saw this year, we don't anticipate we'll go back to pre-2019 levels either. There are more people living here now."
This year's crowds brought out people who don't know how to camp or how take care of shared outdoors areas, which made parks' staff jobs more difficult.
Placid Lake State Park manager Ryan Sokoloski said Placid Lake's visitation rate averaged about a person a minute during some weeks. Rangers and caretakers spent a lot of time answering questions and showing people where to go and what to do. Flynn said the most effective way to get people to recreate responsibly is person-to-person – brochures and signs only go so far.
"All of the interactions took a tremendous amount of time. All of the interactions add up – it was extremely busy," Sokoloski said. "My staffing hasn't changed since before I took over (7 years ago). All the parks could use more staff."
The few rangers there are had to spend more time chasing down problems this year.
Sokoloski made about the same number of calls to law enforcement for serious violations as in previous years, but the number of smaller violations, such as dogs off-leash, littering or defecating in the campgrounds, soared. Parking illegally along the side of the road or edges of parking lots was rampant, destroying vegetation and causing traffic problems. Also, when rangers had to ask people to pay camping or boat dock fees, some people were less than courteous and not all of them were nonresidents.
"All my staff had people swear at them or throw fee money at them in a rude, disrespectful way. We'd ask for their fees and people would wad it up and throw it at us. In other cases, they'd write a check, fold it and throw it on the ground," Sokoloski said. "The things that some people do – some have bad intentions but others just don't know better. The liberties that people take and the assumptions people make – this year was particularly bad."
Flynn said he's noticed his employees are under more strain, and COVID-19 didn't help. Part of the stress is because the season has gotten longer over the past decade or so and employees have to deal with the public longer. Improvements in outdoor gear allow people to camp in colder weather and climate change means warmer weather arrives earlier and stays later.
It reached the point where some parks, such as Frenchtown Pond, remain open year-round now, requiring more work such as plowing snow and maintaining a presence.
"One of the challenges is our system was build on this idea that state parks had a peak season that starts on Memorial Day and ends on Labor Day. It used to be people didn't want to go camping much before Memorial Day. That's not the case anymore," Flynn said. "Our seasonal staff doesn't start until May in most cases. So we're relying on park managers and rangers to do a lot of work that they weren't doing in the past."
While park managers could use more full-time staff statewide, especially with pandemic-induced crowds, they don't anticipate they'll get any. The upcoming Legislature has a Republican majority and governor intent on cutting the budget.
Flynn said recreation managers across multiple agencies are currently in discussions on how they might share resources to overcome the dearth of manpower.
While they may be able to stretch their employees thin, State Parks can't demand the same cooperation from infrastructure that hasn't been replaced in decades.
Sokoloski is very worried about the comfort station at Placid Lake, which is almost 50 years old. The flush toilets and showers funnel wastewater into a septic tank and drain field that is reaching its limit.
When the system was installed, it had been designed for fewer users and a shorter duration of use each year. Managers couldn't foresee the pandemic and the surge of people coming to Montana, and they expected the system would be replaced by now.
"If the drainfield was to fail, it probably wouldn't happen in October when things are winding down – it would happen in mid-June. And that's a year-long repair," Sokoloski said. "So now, when the phone rings, I wonder if it's going to be a simple problem or something like that."
Placid Lake isn't the only park in the state with old infrastructure that was put to the test this summer. Flynn said his two full-time maintenance workers have managed to keep parks in the region open, but their workload has also increased as FWP has installed more electrical plug-ins in campgrounds.
"We're seeing Montana change. It used to be that there was some sentiment that we shouldn't be building electrical campsites or that we were building too many. Now we don't have enough," Flynn said. "The system is stretched anyway and we saw it really strained in 2020. That's a much larger conversation to have about what our priorities are as a society. More and more people are recreating outdoors. So we need that infrastructure and we need to take care of it."
State Parks employees hope next summer won't be as crazy. But even if it is, many still wouldn't trade what they do for another job. Recreation is generally understaffed and underfunded, so it attracts those with a can-do personality, Flynn said. Sokoloski said special moments and people can make up for those who aren't as courteous.
"I did meet some awesome people this summer as well," Sokoloski said. "That's what keeps me around for another year, even with the prognosis of another summer like this one."
Contact reporter Laura Lundquist at lundquist@missoulacurrent.com.