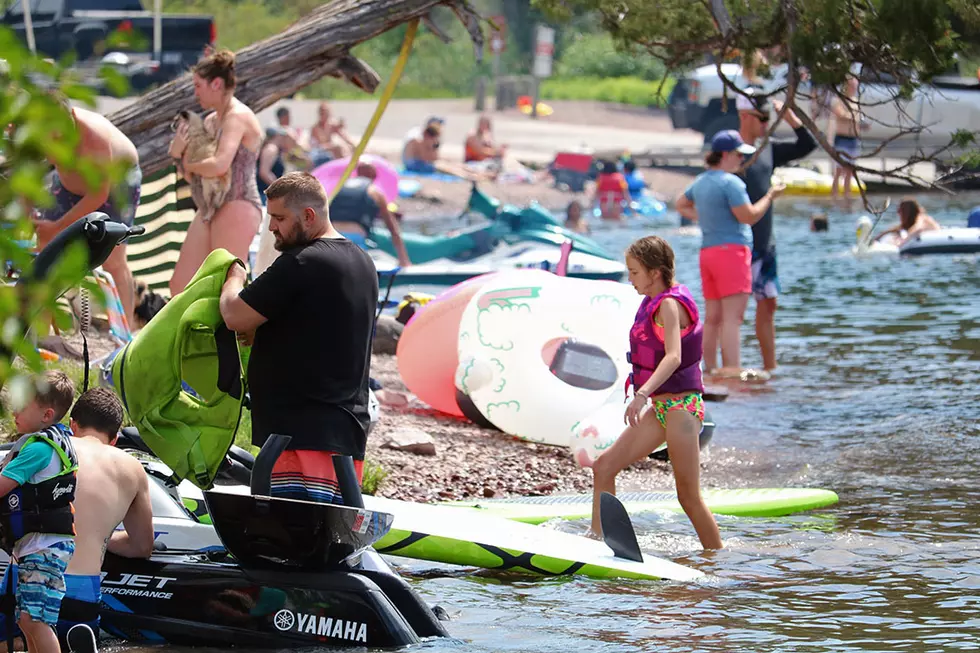 Tourism promoters now searching for solutions to tourist crowding
The beaches at lakes in the Seeley-Swan have become crowded in recent summers, and campsites are nearly impossible to find. (Martin Kidston/Missoula Current file)
Since the start of the pandemic, tourists have surged into Montana, bringing dollars but also environmental damage and crowding. Now that the floodgates have opened, tourism experts are struggling with how to dial back the crush.
On Monday, City Club Missoula hosted a panel discussion on "Destination Stewardship: How can we keep from "loving Montana to death?" The four guests – all of whom are associated with the tourism industry – said the sudden growth in the numbers of tourists coming to Montana have them scrambling to try to figure out what to do.
Some said that in just a few short years, they've had to reverse their focus from pushing for more visitation to trying to advocate for values that are now under threat.
"Today, many (of us) are evolving toward destination stewardship, and (these) organizations begin with a community-first mindset: support creating a thriving tourism economy while protecting and supporting destination assets," said Racene Friede, Glacier Country Tourism CEO. "This strategy is all about protecting the very qualities that make Western Montana, first and foremost, a wonderful place to live, with the added benefit of being a wonderful place to visit."
Last year, about 12.5 million tourists came to Montana, and while they spent about $5.15 billion, they also jammed roads, parking areas, river access sites, trailheads and campgrounds. They put pressure on restaurants, hotels and community services. In their wake, some left piles of trash, graffiti and toilet-paper gardens where they relieved themselves, especially if they camped away from established campgrounds.
Gia Randono, owner of Lewis and Clark Adventures, said she's not really been overwhelmed by clients, but her guides have seen more rafts on the rivers and definitely more cars at river access sites.
Last week, a University of Montana Crown of the Continent poll showed many western Montanans weren't happy with the recent uptick in visitors. About 70% of those living in western Montana towns said growth and development was happening too fast. About 75% said the changing character of the state, loss of wildlife habitat and crowding were serious concerns.
Sarah Lundstrum with the National Parks Conservation Association said the millions now flocking to national parks are making it increasingly difficult to allow unlimited access without adding to park degradation.
"There's an increasing tension between protecting park resources and the number of people coming to visit national parks," Sundstrum said. "The question has become how do we protect park resources and a variety of experiences, including quiet backcountry solitude, in the face of ever growing visitation?"
Only in the past few years have national parks gone to reservations or timed entry to parks as a way to keep a handle on the crowds to minimize disturbance to wildlife and preserve the experience for everyone. Some are adding buses and shuttles instead of allowing personal vehicles on some roads.
Sundstrum said it's still too early to tell how effective these changes have been at managing visitors. But a preliminary survey of Glacier Park visitors found 70% favored the reservation system on the Going-to-the-Sun Road. A similar survey will be carried out in Arches National Park to assess its timed-entry program.
"Nobody knows how to do this because nobody's done it before," Sundstrum said. "People are the No. 1 not-studied animal in parks at this point. So it's partnerships, it's trying new things and building this plane as we're flying it when it comes to crowding and visitation."
Friede said her organization is now pushing the messaging of "Recreate Responsibly," not only in advertisements that bring visitors to the state but also once people are within the state. Regional destination marketing organizations in Montana weren't allowed to do in-region messaging two and a half years ago, but the swell of pandemic tourism changed that, Friede said.
Glacier Park Conservancy executive director Doug Mitchell said the situation has changed greatly from when he was the deputy director of the state commerce department between 2013 and 2017. Back then, tourism organizations didn't get money to educate people about Montana – they got money to "sell them on Montana."
Be careful what you wish for. Now organizations are beginning to wonder how to apply the brakes on the surge of tourists.
Montanans need to ask some tough questions about what's important, Mitchell said. Money or Montana as we knew it? Crowds or quality of life? The demands of more people require more money for maintenance, services and expansion.
But neither national nor state parks have been given any additional funding over the years, so the added wear-and-tear becomes worse. That means it's up to private donors and organizations to make up the difference or decide what is really important, Mitchell said.
A decade ago, when 1.85 million visited Glacier NP, the Glacier Park Conservancy donated $300,000 for park projects. After last year, when the visitation reached 3.3 million, the park needs an extra $4.85 million for projects.
"The (NPS) Organic Act of 1916 says two things: keep (parks) the same and make sure people can enjoy it," Mitchell said. "But portalettes at Many Glacier entry station so when people can't get in, they have a place to go to the bathroom? That's a tougher ask. So we are also having some discussions about what is the threshold of what we can support? How does supporting wifi and portalettes at Many Glacier – how do those things work in terms of that long-term mission of helping to preserve Glacier National Park for future generations?"
Lundstrum said a tax on recreational equipment, like bikes and rafts, could be a good source of revenue for recreational maintenance, much like the tax on guns and ammunition helps finance state wildlife projects. Montana already has a bed tax, part of which goes toward tourism advertising.
Mitchell said advertising wasn't as necessary these days, so maybe some of the bed tax should be set aside for projects like building Many Glacier portalettes. None of the panelists thought a state sales tax was a good way to raise money to counter tourism demands.
"The bed tax was intended to 100% go to tourism. There was a minor problem with the general fund (in the early 2000s) so they redirected it for a couple years, and it's never come back," Mitchell said. "So more taxes is just more taxes unless one thinks about where they're going to go very carefully."
Contact reporter Laura Lundquist at lundquist@missoulacurrent.com.