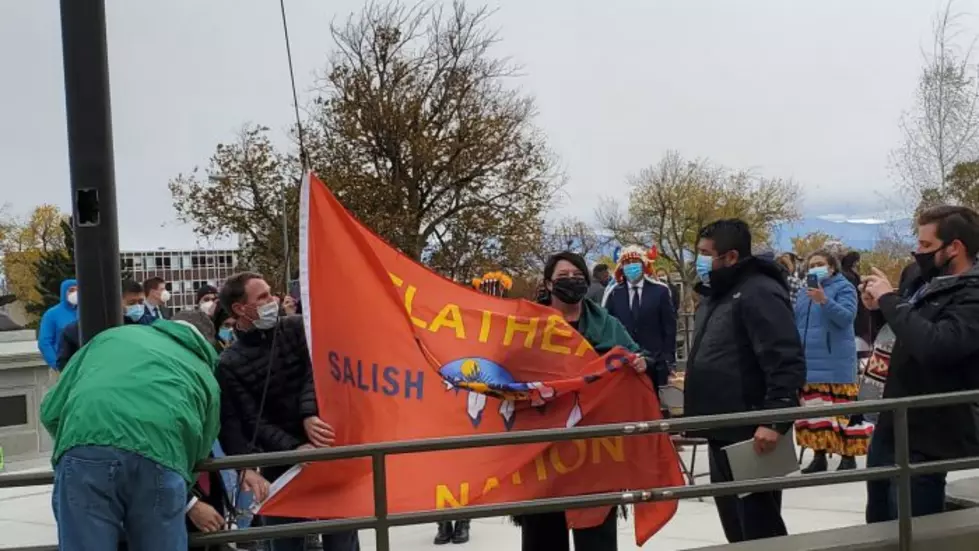 Biden moves to restore power of states and tribes to protect their waters
Members pf the Confederated Salish and Kootenai Tribes. (MTN)
WASHINGTON (CN) — Looking to give states and Native American territories and tribes more power to block energy projects capable of polluting waterways on their land, the Environmental Protection Agency on Thursday proposed reversing a Trump-era rule.
The rule change centers on Section 401 of the Clean Water Act, under which regulatory permitting was explicitly secondary to a review process states and tribes could undertake for projects — like natural gas pipelines or dams — that might affect water quality within their borders. However, former President Donald Trump directed the EPA to revise this regulation in 2020 in an attempt to make projects easier for fossil fuel companies, resulting in a reduction of state and tribal authority under Section 401 that makes it more difficult to challenge environmentally harmful projects. 
Accusing states of using the 401 rule to hold projects hostage under the previous rule, Trump's 2020 edict forced federal regulators to zero in on the pollution projects might create in rivers, streams and wetlands, and gave them just one year to make permitting decisions.
The Biden administration's proposed rule, by contrast, will allow states and tribes to ensure they have gathered all information needed to make a decision before hitting permitting deadlines. 
The EPA championed the proposed rule change Thursday as a "key milestone" in updating Clean Water Act text to be more consistent with the mission of the 1972 law, which mandates that if a project, like a natural gas pipeline, discharges into federally regulated waters, that states, tribes and territories can review the legality of the emissions.
"EPA's proposed rule builds on this foundation by empowering states, territories, and tribes to use congressionally granted authority to protect precious water resources while supporting much-needed infrastructure projects that create jobs and bolster our economy," EPA Administrator Michael Regan said in a statement Thursday. 
Still, fossil fuel interest groups were skeptical about the change while Americans are seeing climbing high gas prices. Robin Rorick, vice president of midstream policy for the American Petroleum Institute, said in a statement Thursday that "adding bureaucratic red tape is the exact opposite of what is needed" at such a time.
"A consistent and transparent process for water quality certifications for energy developers and manufacturers is critical to develop vital energy infrastructure and meet increased global demand," Rorick said. "We support the Clean Water Act and are concerned these actions would counteract the well-defined timeline and review process enacted by Congress, increasing permitting delays and allowing states to go well beyond their scope for water quality certifications."
After the rule is published in the Federal Register, it will undergo a 60-day comment period. The final rule is expected to go into effect sometime in 2023. The American Petroleum institute said Thursday it would be submitting comments.
In reaction to Trump's 2020 rule, lawsuits were filed by 20 states, the District of Columbia, three tribes and six conservation organizations. In 2021, with the EPA planning to revise the 2020 rule in light of the election of President Joe Biden, a district court agreed with the agency that the case should be remanded and the 2020 rule vacated. 
Still, Louisiana and seven other Republican-led states joined with the American Petroleum Institute and other industry groups to reinstate Trump's rule. After both a federal judge and the Ninth Circuit denied them a stay in December, the states sought relief from the U.S. Supreme Court, which sided with the red states and fossil fuel groups in April to reinstate the Trump administration policy. 
The high court's three liberal justices and Chief Justice John Roberts dissented, saying that the states and industry groups hadn't proven they'd be sufficiently harmed by the rule's stay.