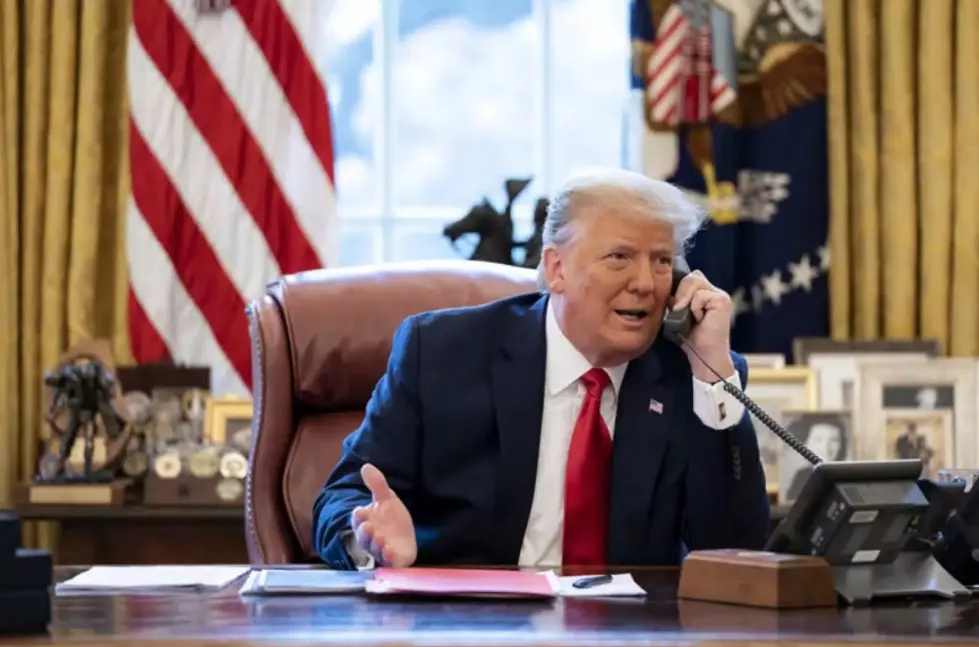 Voters ask Denver judge to block Trump from Colorado ballot
Former President Donald Trump. (House Select Committee via Courthouse News)
Amanda Pampuro
DENVER (CN) — A Denver judge heard evidence Monday in a civil case that will determine whether President Donald Trump's actions on Jan. 6, 2021, render him ineligible to hold office, and thus ineligible to appear on the state's GOP primary ballot next year.
In a civil suit filed Sept. 6, six Colorado voters — four registered Republicans and two Independents — contend that under the Fourteenth Amendment, Trump disqualified himself from holding office by inciting the 2021 attack on the U.S. Capitol. In a speech at the Ellipse park in Washington on Jan. 6, 2021, Trump called on then-Vice President Mike Pence to refuse to certify the election and encouraged the crowd to march to the U.S. Capitol.
Passed in the aftermath of the Civil War, the Fourteenth Amendment bars individuals from holding office if they "engaged in insurrection or rebellion" while under the oath of office. The ban can only be overturned by a two-thirds vote in the U.S. House and Senate.
On behalf of the voters, attorney Sean Grimsley argued that the former president's tweets and Ellipse rally speech drove his followers to riot.
"Trump assembled an angry mob to stop the transfer of power," said Grimsley, who practices with the firm Olson Grimsley Kawanabe Hinchcliff and Murray.
Trump, however, contends his statements questioning the results of the 2020 election and his Jan. 6 rally cry constitute protected political speech and fall far below the bar of insurrection.
On behalf of Trump, attorney Scott Gessler argued that whether he may be elected president in 2024 is a decision that belongs in the hands of the people, not a court in Denver. Gessler practices with the firm Gessler Blue.
"When it comes to decide who goes on the ballot, the people decide, not six voters in Colorado," Gessler asserted in opening statements. "This lawsuit is anti-democratic. It seeks to extinguish that opportunity for Colorado voters to choose which candidate they want to support."
On the stand, D.C. Metro Police Officer Daniel Hodges recalled defending the Capitol against a mob made up of people waving Trump 2020 flags, some of whom urged him to remove his badge and join them "on the right side of history." During the attack, one rioter tried to gouge out Hodges' eye with his thumb and another beat him over the head with his own baton.
Gessler objected to Hodges' descriptions of "the mob," as a whole rather than a group of individuals, but Hodges said even apparently non-violent people in assembly prevented officers from doing their jobs.
"The size of the crowd made it impossible to make arrests," Hodges said. "Officers would become responsible for the prisoner and must guarantee their safety, but we couldn't guarantee our own safety much less for any prisoners."
Capitol Police Officer Winston Pingeon also defended the U.S. Capitol on Jan. 6, 2021. He described his growing sense of dread as rioters broke through police lines.
"I was horrified to see many members of the mob had already flooded the west terrace," Pingeon recalled. "I was horrified even more to see they had broken into the U.S. Capitol and were streaming inside."
Pressed by Gessler, Pingeon said he called the group "a mob," because "to me a crowd turns into a mob when it engages in unlawful conduct and violence."
Inside the building, Pingeon said a sharpened flag pole aimed at his head missed him by two inches.
When rioters breached the building, U.S. Representative Eric Swalwell, a California Democrat, said he considered arming himself with a pen. Testifying remotely, Swalwell said he listened to Trump's speech from the coatroom outside the House floor.
"In the week before Jan. 6, the president had fired up his supporters with claims the election had been stolen and said Jan. 6 was going to be wild," Swalwell recalled. "From the speech, it appeared an angry mob had assembled around the capital, and when the president said his supporters had to 'fight like hell,' or they wouldn't have a country anymore, it worried me."
Weeks later, Swalwell participated as a manager in the second impeachment trial of President Trump — the first occurred in October 2019 on claims of abuse of power and obstruction of Congress. On Jan. 13, 2021, the House voted to impeach Trump for incitement of insurrection. Following a February 2021 Senate trial, 50 Democrats and seven Republicans voted to remove Trump from office, falling 10 votes short of the necessary two-thirds.
When Grimsley introduced evidence from the Jan. 6 Report compiled by the House Select Committee, Gessler objected, characterizing it as a biased political document. Though Second Judicial District Judge Sarah Wallace indicated she was likely to continue overruling objections to the report, she invited Gessler lodge as many as he wanted on the record.
To date, Wallace has also rejected three separate motions from Trump asking for the outright dismissal of the lawsuit. On Friday, the Colorado Supreme Court rejected Trump's request for the high court's review.
On Sunday, Gessler asked Wallace to recuse herself from the case entirely, after learning she made a $100 donation to the Colorado Turnout Project last year. The political action committee, per its website, seeks to mobilize Democrats and defeat Republican Lauren Boebert, a contentious U.S. representative.
Wallace claimed she doesn't remember making the donation and denied the motion.
"I can assure both parties that I have made no opinion whether President Trump committed insurrection," said Wallace, who was appointed by Democratic Governor Jared Polis at the beginning of the year. "If I had formed any opinions before the hearing, I would recuse myself."
On behalf of the state, Senior Assistant Solicitor General Grant Sullivan said Secretary of State Jena Griswold awaits direction from the court on whether to print Trump's name on the ballots.
The trial is scheduled to continue through Friday.