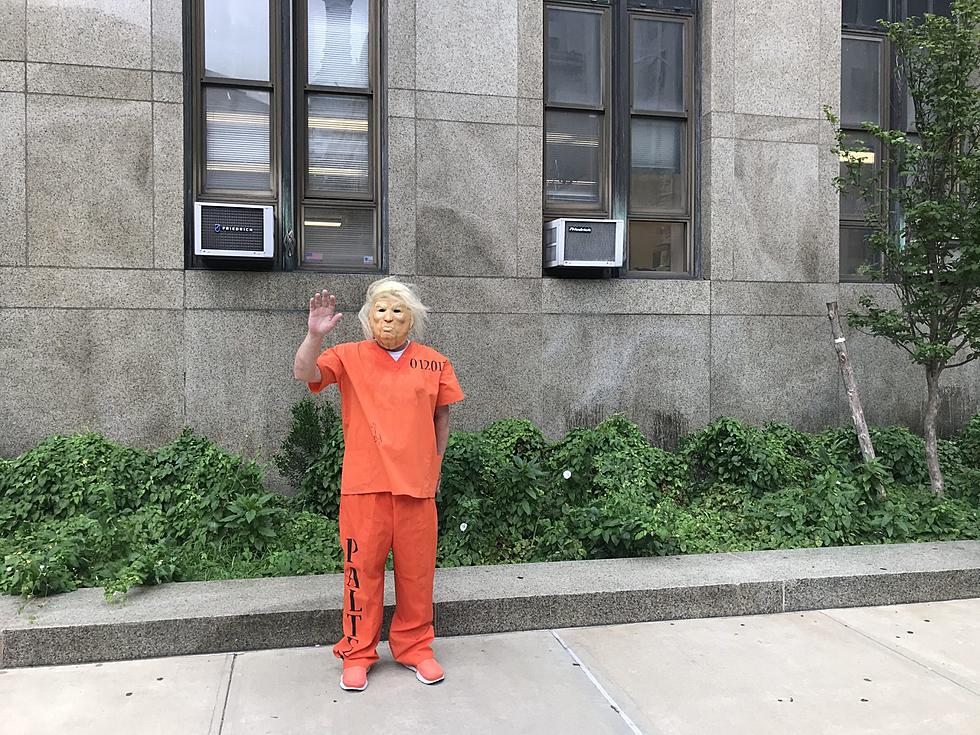 Trump indicted in NY, will face criminal charges
Ahead of the July 1. 2021, arraignment of the Trump Organization's chief financial officer, a spectator costumed as former President Donald Trump in an orange prison jumpsuit waves outside of Manhattan Supreme Court. (Nina Pullano/Courthouse News Service)
Josh Russell
MANHATTAN (CN) — Lashing out at the unprecedented indictment filed against him Thursday evening, former President Donald Trump harangued prosecutors for what he called "political persecution and election interference at the highest level in history."
The charging papers remain under seal, but the Manhattan District Attorney's Office has noted that it is working with the defense team to coordinate Trump's surrender so he can be arraigned in New York.
It marks the first time in U.S. history that an indictment has been returned against a current or former U.S. president. Trump meanwhile is ramping up his 2024 campaign to regain the White House, while simultaneously battling legal problems on multiple fronts. In Fulton County, Georgia, he faces a separate grand jury investigation into possible criminal efforts to overturn the state's ballot count in 2020 after he lost reelection to President Joe Biden.
Led by Manhattan District Attorney Alvin Bragg, the New York indictment is expected to tie Trump explicitly to an otherwise known criminal conspiracy: payments that were made weeks before the 2016 presidential election to porn actress Stormy Daniels and to Playboy playmate Karen McDougal so that neither woman would make public statements about extramarital affairs they claimed to have had with Trump.
Trump did not make the payments himself, but his company made a log of "legal expenses" when it reimbursed his former personal attorney and longtime "fixer" Michael Cohen, who personally cut Daniels a check for $130,000 from Essential Consultants, a shell entity formed just weeks before the 2016 presidential election.
The former president has repeatedly denied any affair with Daniels or McDougal, and insists the payments to the women were a private matter that did not amount to campaign finance violations.
"The Democrats have lied, cheated and stolen in their obsession with trying to 'Get Trump,' but now they've done the unthinkable — indicting a completely innocent person in an act of blatant Election Interference," Trump said in a statement Thursday.
Cohen admitted to facilitating the payments — McDougal's check for $150,000 came by way of the National Enquirer's publisher, American Media — to prevent both women from speaking about their alleged affairs with the Republican candidate. After pleading guilty to eight counts, Cohen faced a three-year federal prison sentence.
In a brief response to the news of the grand jury's conclusion, Cohen on Thursday underscored a point that has come up repeatedly for Trump in his various legal battles.
"I take no pride in issuing this statement and wish to also remind everyone of the presumption of innocence; as provided by the due process clause," he said. "However, I do take solace in validating the adage that no one is above the law; not even a former President. Today's indictment is not the end of this chapter; but rather, just the beginning. Now that the charges have been filed, it is better for the case to let the indictment speak for itself. The two things I wish to say at this time is that accountability matters and I stand by my testimony and the evidence I have provided to DANY."
Once considered among the most loyal figures in Trump's inner circle, Cohen has met with Manhattan prosecutors some 20 times in this investigation, culminating in early March with two afternoons of testimony before a 23-person special grand jury.
In recent weeks, various members of Trump's White House inner circle, including his former political adviser Kellyanne Conway and former spokeswoman Hope Hicks, were seen leaving the Manhattan DA's office. Trump himself meanwhile declined an invitation to testify before the special grand jury. Such invitations often indicate a decision on indictments is near.
"President Trump has been indicted," his lawyers Joseph Tacopina and Susan Necheles said Thursday. "He did not commit any crime. We will vigorously fight this this political prosecution in Court."
Trump recently retained Tacopina to joint his defense team in a pair of civil cases against the former "Apprentice" star brought by famed New York columnist E. Jean Carroll, who alleges Trump raped her in a dressing room at the department store Bergdorf Goodman some time in the 1990s.
Tacopina is a founding partner of Tacopina, Seigel & DeOre in New York City. Fellow New York attorney Necheles represented the Trump Corporation last year during the Manhattan district attorney's trial against the Trump Organization, which resulted in jury convictions on all counts and a guilty plea from longtime Trump Org finance chief Allen Weisselberg.
Another of Trump's attorneys, Alina Habba, assured the press that Trump would prevail.
"A former president, a current candidate and my friend President Donald J. Trump is a victim of a corrupt and distorted version of the American justice system and history," Habba said. "He will be vindicated."
Those helping Trump to run for president again in 2024 urged supporters to see the charges as a deep-state effort to undermine Trump's candidacy.
"They will fail," the campaign promised. "He will be re-elected in the greatest landslide in American history, and together we will all Make America Great Again."
Trump's 2024 campaign has long used anti-Semitic language and conspiratorial themes to denounce the expected indictment, referring to the Manhattan district attorney as a puppet of George Soros, the Jewish philanthropist and Hungarian-American billionaire who funds pro-democracy activism across the globe.
Steve Bannon, who served as Trump's White House strategist, used a similar tactic last year when the same prosecutor, Alvin Bragg, criminally charged him last year in connection with the We Build The Wall fundraiser fraud.
Mark Pomerantz, a former mafia prosecutor hired to lead the DA's probe, repeatedly described the hush-money probe in his book "People vs Donald Trump: an Inside Account," as a "zombie case" that returned from the dead after investigators had moved on.
The abrupt resignations of Pomerantz and fellow top prosecutor Carey Dunne from the investigation in February 2022 threw the future of the probe into question.
Both started on the probe under former District Attorney Cyrus Vance Jr. and were asked to stay when Bragg took office in January.
The New York Times reported that Dunne and Pomerantz quit after Bragg raised doubts about pursuing a case against Trump, prompting Bragg to issue a rare public statement affirming his office's commitment to the ongoing investigation.
Cohen admitted as part of his 2018 guilty plea that the payoffs he made were "at the coordination with and the direction of Individual-1," meaning Trump. The Southern District of New York prosecuted Cohen but never brought criminal charges against Trump, who would have been empowered through the office of the presidency to pardon himself for any federal crime.