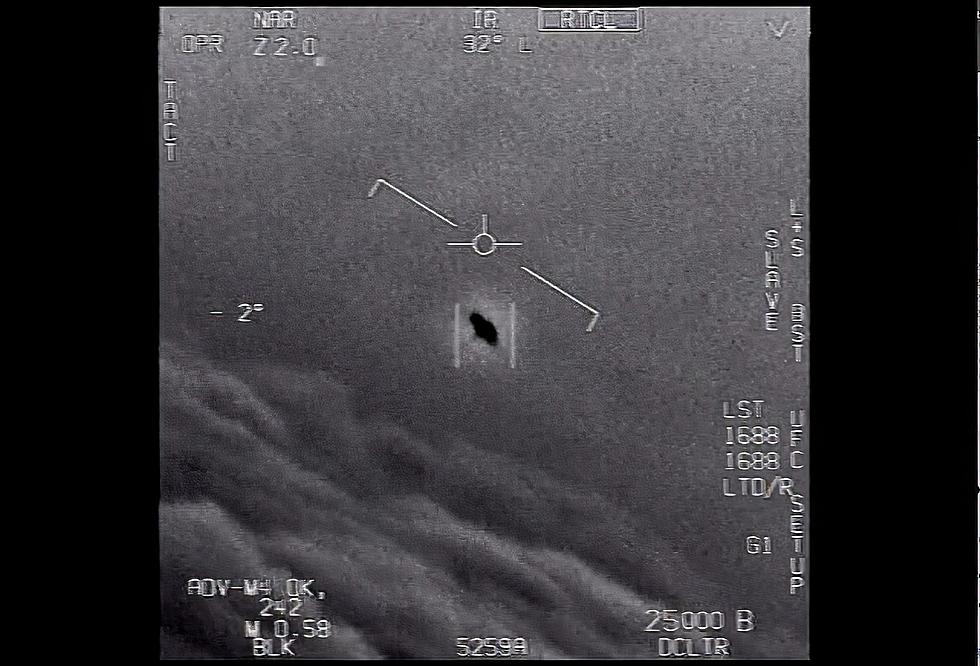 Whistleblower: Feds recovered 'non-human' biological material from UFO crash site
(Department of Defense image)
Benjamin Weiss
WASHINGTON (CN) — A much-anticipated congressional hearing on unidentified anomalous phenomena reached a crescendo Wednesday morning as a government whistleblower made bombastic claims that the Department of Defense has not only recovered extraterrestrial craft from crash sites but also possesses non-human biological material.
Former intelligence official David Grusch made the claims during a blockbuster hearing of the House Committee on Oversight and Accountability. Testifying under oath, the former team lead at the National Geospatial-Intelligence Agency said that he had conducted interviews with around 40 witnesses which "absolutely" led him to believe that the government is in possession of non-human craft.
While working at the Geospatial-Intelligence Agency, the military's satellite and mapping authority, Grusch oversaw the bureau's program analyzing unidentified anomalous phenomena — otherwise known as unidentified flying objects or UFOs. During the course of his work, which afforded him top-level security clearance, Grusch testified that he was made aware of what he called a "multi-decade UAP crash retrieval and reverse-engineering program."
After being denied access to the details of such a program, Grusch said that he became a whistleblower and faced retaliation for his actions.
Although he declined to publicly share many of the classified details of the whistleblower report, which Grusch said he provided to his agency's inspector general, the former intelligence official said he knew the exact locations where many of the alleged extraterrestrial craft were kept.
"I actually had the people with firsthand knowledge provide a protected disclosure to the inspector general," Grusch told California congressman Robert Garcia.
Responding to questions from South Carolina Republican Nancy Mace, Grusch also made the explosive claim that the Department of Defense had also recovered non-human biological remains from crash sites.
"That was the assessment of people with direct knowledge on the program I talked to, that are currently still on the program," Grusch said. The whistleblower declined to say publicly whether he had documentary evidence, such as photos and video, of such biological material, but told Mace that he would be willing to share that information in a closed-doors environment.
Grusch also testified some federal officials could have withheld information from Congress related to such programs.
"I would not be surprised," Grusch said, adding that some elected officials have more information but that he did not know what specifically had been shared with the "gang of eight," a group of top Republican and Democrat lawmakers that includes the heads of the House and Senate intelligence committees.
The Pentagon has denied Grusch's claims. A spokesperson for the Defense Department did not immediately return a request for comment, but the Pentagon told The Associated Press that federal investigators have not unearthed "any verifiable information to substantiate claims that any programs regarding the possession or reverse-engineering of extraterrestrial materials have existed in the past or exist currently."
Grusch first came forward with his claims in June, but Tuesday marks the only time the former intelligence official has made such allegations under oath.
Meanwhile, lawmakers heard testimony Wednesday from two former Navy pilots who had personal experiences with unexplained aerial phenomena. The witnesses described craft that moved blindingly fast, were impossibly maneuverable, and did not have traditional aeronautical features such as wings or rotors.
While neither witness slammed the door on the possibility of an extraterrestrial encounter, both acknowledged that the seemingly advanced craft they saw could have originated from another country — or even from the Pentagon itself.
Ryan Graves, a former F-18 pilot and founder of advocacy group Americans for Safe Aerospace, agreed with Grusch's claim that the government knows more about unknown aerial phenomena than it lets on, pointing out that videos of such encounters have been highly classified since 2021. "This level of secrecy not only impedes our understanding but fuels speculation and mistrust," Graves said.
David Fravor, a retired Navy commander who related his 2004 close encounter with an unidentified craft, argued that the uncertainty surrounding the origin of unknown flying objects begs more stringent congressional oversight.
"What concerns me is that there is no oversight from our elected officials on anything associated with our government possessing or working on craft that we believe are not from this world," Fravor testified. "If we in fact have programs that possess this technology, it needs to have oversight from those people that the citizens of this great country elected to office."
Interest in UAPs has grown in recent years. A report published by the U.S. intelligence community in 2021 turned up no evidence that unexplained craft spotted by military pilots had extraterrestrial origins, but did not deny that such a link could exist.