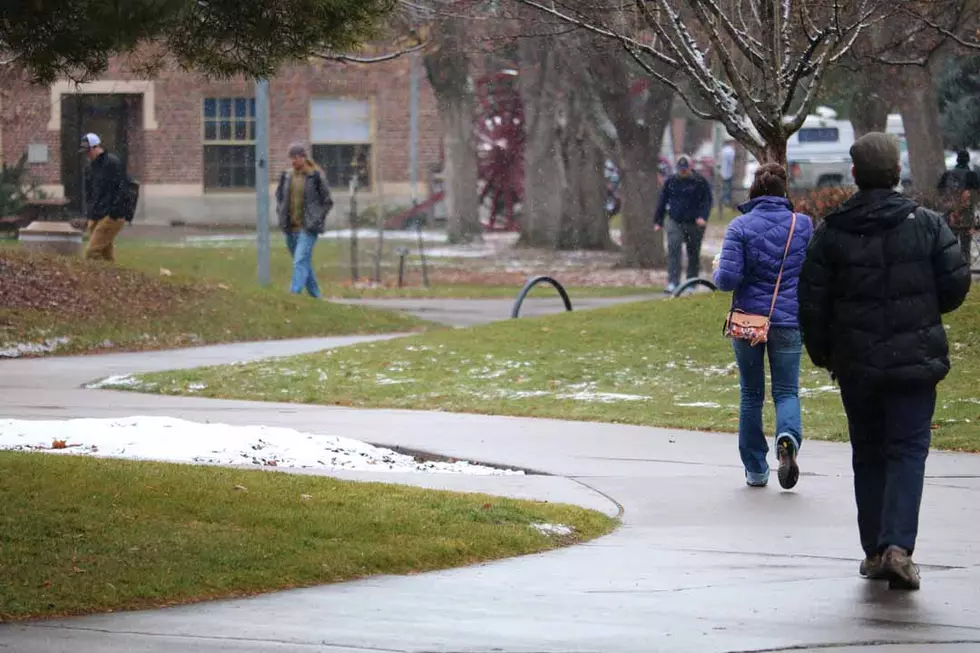 University of Montana dean resigns after eight months leading humanities
(Daily Montanan) The dean of humanities and sciences at the University of Montana has stepped down just eight months after taking the reins of the flagship's cornerstone college.
"Throughout the months of academic planning in which we have been engaged this year, it has become clear to me that aspirations I have for the college cannot be met in the current budget environment," Larry Hufford wrote in an email to colleagues. "The vision I hold for the college is not sufficiently consistent with the vision held by university leadership. Recognizing this, I believe it is best for me to step down."
In the email last Wednesday, Hufford said he would leave the position as dean of the College of Humanities and Sciences the same week and move into a faculty role in biological sciences. Hufford, who did not respond to an email Monday requesting an interview, signed the note, "Larry Hufford/Professor."
Paul Lasiter, vice president for operations and finance at UM, said the campus is implementing a new budget model to align resources with student needs. The administration had presented the College of Humanities and Sciences with a $2.5 million potential cut on top of a budget that had already dropped 24 percent to $27.7 million in five years, according to financial information provided this week by UM.
"We gave deans a preliminary target," Lasiter said. "It's a plan with which they were expected to respond to. And Larry took the action that he did."
UM is the liberal arts university in Montana, and Hufford's departure leaves the institution's key college without a permanent leader for the second time in the span of two and a half years.
In the meantime, engineering and agriculture powerhouse Montana State University has been conferring more degrees in the arts, humanities and social sciences than UM, although it's a trend also in line with the respective enrollment at both campuses; Bozeman counted 16,200 students in the fall, and UM counted 9,800.
Commissioner of Higher Education Clayton Christian said the liberal arts remain a key component of UM's identity, but student interest has changed during the decades and will continue to do so, and the campus must respond. UM said it is in the early stages of figuring out how to make the cuts in the College.
"They need to make sure they are flowing with those changes, and I think the president is committed to that while they don't lose their identity," Christian said.
Christian said he didn't want to predict whether the current target for reduction represents either a tipping point or the bottom of the trough for the college budget, which funds a wide mix of departments including African-American studies, chemistry and biology, political science, English and sociology.
"I'm always concerned for the well-being of the institution, and I realize it's had its struggles over the last decade," Christian said. "But I do believe there's reason to be optimistic."
***
In summer 2018, Chris Comer stepped down as dean of the College of Humanities and Sciences after nearly a decade in the job. UM named associate dean Jenny McNulty to the interim post and undertook a national search for a permanent dean.
In a hiring announcement last April, former UM Provost Jon Harbor asked the campus to welcome Hufford as the new dean. Hufford came from Washington State University. (McNulty, who had applied to be dean, took the interim provost position at UM Western in Dillon in July 2020.)
"I see considerable strengths in the College of Humanities and Sciences," Hufford said in a statement at the time. "The UM faculty in humanities and sciences are incredibly talented and committed, and I look forward to my work with them. There is tremendous potential for innovations to heighten student experiences and success."
In the announcement of his hire, Harbor praised Hufford's ideas for the College: "Dr. Hufford presented a compelling vision for the future of the humanities and sciences at UM throughout the interview process."
In the email he sent about his return to faculty, Hufford said he appreciates the commitment of his colleagues and the ways they create opportunities for students and "offer an engaged academic environment." Nonetheless, he said he was compelled to step down.
"This has not been an easy decision, and it is one that comes with anguish," Hufford said.
Hufford could not be reached for comment this week; an employee in biological sciences said email was the best way to contact him, and a separate voicemail left for him with dean's office in the College of Humanities and Sciences was not returned.
"There is much to be pleased about in our college," Hufford said in the email to colleagues. "I have enjoyed the opportunity to promote the college to students, leadership and stakeholders. As a faculty member, I will look forward to working with you toward continuing the success of Humanities and Sciences."
***
Lasiter said the reallocation at UM is targeted. Some areas, including in the College of Humanities and Sciences, have seen declining numbers of student credit hours and majors. But he said UM has many areas that are growing, such as business, law, health, and forestry and conservation, and it must make investments in those places.
"You can see the mix of what we're doing here is shifting," Lasiter said. "And so we've got to align resources within those areas which students are demanding and need the services that we offer. We've got to support them too."
Over the years, faculty at UM have decried an assault on liberal arts and clashed with the administration on budget priorities. But the humanities face challenges across the country, and UM President Seth Bodnar said the Missoula campus won't support new areas to the detriment of the humanities and sciences.
"What we're focused on is how do we meet the needs of our students," Bodnar said. "And to be clear, the departments within the College of Humanities and Sciences are critically important to this university and will absolutely remain so moving forward."
The administration does not appear to have sufficiently convinced Hufford, at least enough to stay at the helm. In response, Bodnar said the change underway "requires us to adapt," not everyone will be on board, and people have to make their own difficult decisions. In general, he said the flagship's budget plans, academic structure and curriculum have to evolve to serve the most students.
He also said the adjustments UM is making will lead to improvements in the core objectives of the College of Humanities and Sciences.
"We're intending to strengthen them," Bodnar said.
***
To strengthen an organization while simultaneously stripping its resources sounds like a difficult proposition. But Bodnar said UM is starting from a robust place, and it already has strategies in place to bolster its liberal arts education.
This year, the only three Montana finalists for the Truman Scholarship come from UM, and Bodnar said they all are majors in the humanities and sciences; the scholarship is billed as the premier fellowship in the country for young leaders in public service. He noted acceptance rates for UM students going to law school or medical school are roughly 20 percent higher than the average across the nation as well.
Just last week, the president talked with a political science graduate who is now working in the state Office of Economic Development. It's a story with perhaps less pizzazz, but it's critically important as UM markets its programs to students and parents looking for the best bang for their buck in a college education.
"We're sending students out into a very complex and dynamic world, and our goal is to say, how do we best prepare them for that experience?" Bodnar said.
To strengthen its approach, the president pointed to experiential learning opportunities, creative interdisciplinary programs, and grant projects such as one from the W.M. Keck Foundation that supports neuroscience curriculum in the context of the humanities at UM. It's focused on how to explain brain function when, for example, someone is reading a great piece of literature.
The World Economic Forum lists top competencies employers will need in future jobs, and problem solving and critical thinking top the list. Bodnar said that's hand in glove with teaching at UM.
"I think we're seeing that there is an increased demand for these high-level cognitive skills that a UM education prioritizes and develops," Bodnar said.
***
Higher education officials can be reluctant to compare the flagships or admit the campuses compete for students. But in roughly the last decade, Montana State University has increased the number of degrees it's doling out in social and behavioral sciences by 59 percent to 500 last school year, according to data from the Commissioner's Office. 
MSU's Michael Becker said overall enrollment growth remains one factor in that increase, as the campus must provide its students general education courses, such as writing.
"Beyond that, we are also seeing students in STEM (Science, Technology Engineering and Math) disciplines seeking to be better communicators, and we know that employers want people with strong technical skills who can also share ideas effectively," Becker said in an email. "Another factor is that students are not one-dimensional when it comes to their disciplines, and they recognize that the humanities — such as literature, history, philosophy and sociology — contribute to a well-rounded education and to a well-rounded human being. Finally, delivering a liberal and practical education is part of our land-grant mission, and we honor it to this day."
MSU has roughly held steady the number of arts and humanities degrees it has conferred in the last decade, last year granting 324. It's proportionally a smaller number of its student population, but a 2.5 percent uptick since the 2007-08 school year.
The number of arts and humanities degrees conferred by UM has fluctuated in the same period. It dropped 17 percent to 284 since 2007-08, and social and behavioral sciences have fallen 50 percent to 264, although those numbers represent a greater share of UM's student population. The trends are in some ways to be expected because they follow the general upward undergraduate enrollment in Bozeman and drop in Missoula.
In general, though, Bodnar said the enrollment at UM means the campus can offer the benefits of a small liberal arts college with its top notch education. He stressed the quality of instruction at UM.
"Here, students are more than just a number. I think our students get the best of both worlds," Bodnar said.
***
In 2017, the budget of the College of Humanities and Sciences was roughly $36.4 million in personnel and operating expenses, according to data provided by UM. The number has shrunk by roughly a couple of million dollars a year, and now the College has a target to reduce by another $2.5 million from $27.7 million.
Academic leaders are still designing the roadmap for reductions and reallocations. Lasiter said the current targets are preliminary, and the administration has not made a final request for cuts.
Taylor Gregory, president of the Associated Students of the University of Montana, said he hopes UM leaders make cuts with an eye to preserving quality. He said the decrease several years ago did not sit well with many of his peers.
"That caused significant anxiety among students," Gregory said. "I know there were significant cuts to the foreign languages department."
He said he hopes UM keeps funding for adjuncts intact in particular because they bring a new perspective to students. As a political science major, he said he met Hufford several times and thinks it's a shame he was on board not even two semesters.
"It's an unfortunate situation to see Larry go," Gregory said.
Interim Provost Reed Humphrey told the Montana Kaimin last week the three associate deans would provide "collaborative leadership" while UM searches for an interim dean. Bodnar told the Daily Montanan the new permanent dean position could look different, but the College would not go without a dean.
"We need leadership for our departments," Bodnar said.
Commissioner Christian said the commitment to UM as the state's liberal arts institution has not waned, and higher education officials have done their best to protect the university within the parameters under their control. For example, he said the state allocation per student remains similar across campuses.
He also said prior to the COVID-19 pandemic, indicators at UM looked good for enrollment. Now, he said demographics suggest an uptick in high school graduates in the next five years or so, and he believes UM will get its fair share of those students. UM is increasing both recruitment and retention, and admitted students are up 50 percent this year over last. News in real estate shows a "tremendous in-migration of families," and increased enrollment typically follows a recession.
"I do think there's a lot of reason to be optimistic about the future, and I think that campus will pull together and we'll move forward and be prepared for it when it comes," Christian said.