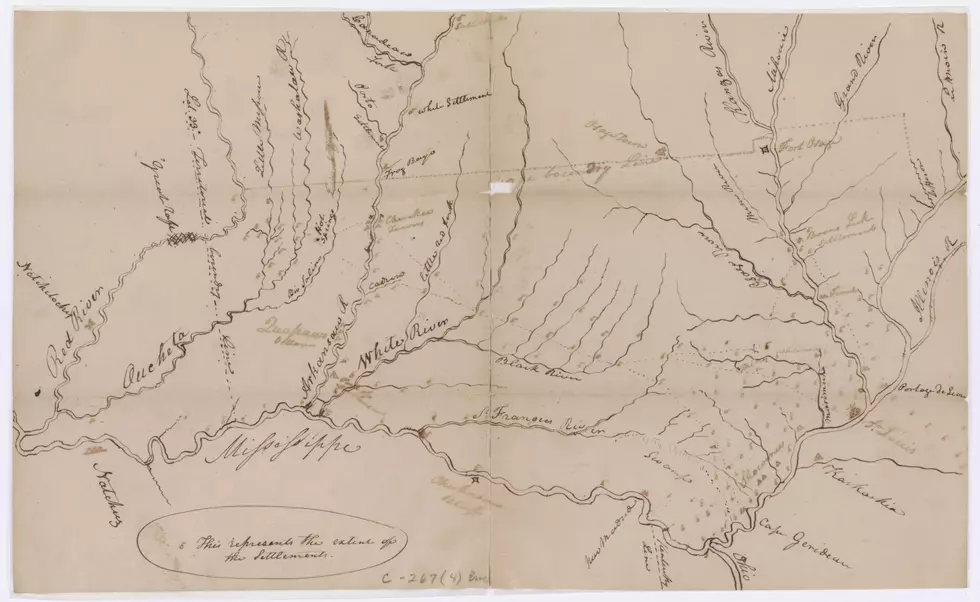 Map discovery reveals American 'hero' William Clark broke peace treaty
William Clark, Map of Extent of Settlement in Mississippi Valley (1816). (National Archives and Records Administration, Washington, D.C.)
(CN) — A unique hand-drawn map discovered tucked away in a Washington archive shows famous American explorer William Clark leveraged the U.S.–Indian treaty system to promote settler supremacy in the United States at the expense of Indigenous inhabitants during the early 1800s.
While searching through historical microfilm at the National Archives and Records Administration, Dr. Robert Lee happened upon Clark's map, which was originally filed under false authorship in the secretary of war's correspondence archive. But something stuck out — the map didn't conform to the known geography of land succession depicted in the Osage treaty of 1808.
Lee contends the map was actually drawn by Clark himself during his time as governor of Missouri Territory, which Lee describes in a new study published Friday in the journal William and Mary Quarterly. The map points to Clark's role in stealing more than 10.5 million acres from Sauk, Meskwaki and Iowa territory on behalf of the United States, according to Lee's analysis.
"Most Americans learn about Clark for the three years he spent with the Corps of Discovery (1804-1806) and few know that he then spent over 30 years as the leading architect of Indigenous dispossession in the trans-Mississippi West," said Lee, an assistant professor of history at Selwyn College, Cambridge, and author of the study, in an email. "As historians have started to look closely at his whole career, the picture has become more balanced and less flattering. This map adds a new level of detail that makes it hard to defend Clark's taking of tens of millions of acres of Indigenous land as a series of decisions forced on him by circumstance."
It's the first original map attributed to Clark to come to light in many decades, and shows how Clark was secretly chipping away at Indigenous land at a time when he was being hailed for protecting it from squatting settlers. According to Lee, Clark carved off a chunk of land the size of Switzerland for the early United States, in violation of the Treaty of Ghent, triggering an influx of slaveholding emigrants and reshaping Missouri's political boundaries for centuries to come.
"A naïve interpretation might say he found a huge loophole in the Treaty of Ghent. A realistic one would say he broke it to seize a landmass triple the size of Connecticut," Lee explained. "Clark's land grab worked by denying that his post-war interpretation of the Osage treaty was new. He carefully maintained the fiction that he had clarified an old boundary, not manufactured one. This plan worked so well that historians have tended to either believe him or overlooked the incident entirely."
Despite the map being freely available for researchers to view since the 1930s, no one had previously identified its true authorship or even realized that the map had been misattributed to an army officer named Capt. Eli Clemson. The map depicts around 50 named features, half of them rivers, with the rest being small towns and settlements, salt licks, springs and boundary lines, along with around 150 unnamed features.
Lee was able to attribute the map to Clark by studying its depiction of geographic features and comparing those with features described in a letter written by Clark in September 1816.
The roughly drawn map shows how Clark assisted in the takeover of Indigenous land to secure the settlement of two sites following the War of 1812. Clark drew the map as part of a plan to protect settlers on Quapaw land in modern-day Arkansas, which he described in his September 1816 letter. According to the study, the details in that letter are the key to establishing Clark's authorship of the map.
A lone stray line on the more than 200-year-old map betrays Clark's scheme to steal Indigenous land half the size of the modern state of Missouri on behalf of a nascent United States, according to Lee. Lee claims that Clark originally attempted to purchase the land in 1815, but soon after failing he asserted that the land already belonged to the United States by virtue of the 1808 Osage treaty.
"This stray line looks like the cartographic equivalent of a Freudian slip," Lee explained. "It's the closest thing we have to an admission in Clark's own hand that he dispossessed the Sauks, Meskwakis, and Iowas of a huge tract of land to hasten settler supremacy in Missouri. Clark didn't discuss this plan in his 1816 letter and it remains largely unknown today despite playing an integral part in Missouri's colonization."