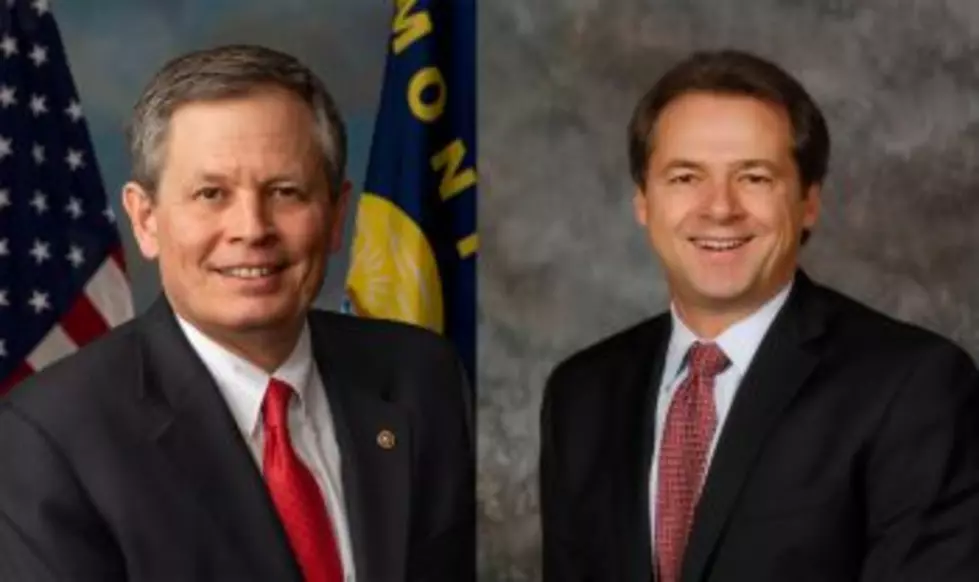 Bullock announces 100th COVID death; Daines questions reporting transparency
Sen. Steve Daines and Gov. Steve Bullock
Montana recorded its 100th fatality from COVID-19 on Friday, marking a grim milestone that threatens to play a new role in the state's pivotal upcoming elections.
Gov. Steve Bullock called the latest dead a "somber statistic."
"But the people we have lost are not statistics," he said. "These men and women were beloved family members and cherished friends. And their loss will continue to reverberate throughout their families and communities – for so many Montanans, this virus has taken away Christmas dinner at Grandma's, family history and cultural knowledge, or a best friend."
As of Friday morning, Montana also had surpassed 7,000 confirmed cases, which now include 1,791 active cases. More than half of those active cases – 940 of them – are in Yellowstone County. Flathead County has seen its active case numbers jump in recent weeks to 132.
While the state initially had a handle on the virus' spread early in the pandemic, state leaders relaxed a number of regulations around June. Since then, the number of cases has jumped, with more than 50 new cases reported nearly every day. That many cases weren't recorded once from the onset of the pandemic in March until June 28.
More than 120 people were being hospitalized as of Friday morning.
"We all share the responsibility of learning to live in our new normal," Bullock said. "By doing so, we are not disregarding that 100 Montanans have lost their lives; the best way to honor these souls is to protect the people and the state they loved. Through acting collectively to mitigate the risk, we are preventing this virus from leaving more tragedy in its wake."
Sen. Steve Daines on Friday sent a letter to Bullock, in which he questioned the state's lack of transparency regarding COVID-related deaths in nursing homes and long-term care facilities.
Daines said Montana is one of four states not reporting COVID cases and deaths in such facilities. He said the lack of information has caused a reporting gap and has hindered the ability of policy makers to craft effective solutions.
"In Montana, outbreaks of COVID-19 in senior care facilities have tragically resulted in at least 200 positive cases and 25 deaths according to news reports," Daines said. "However, the data currently available provides an incomplete picture of the impact of COVID-19 on Montana's senior communities."
Bullock, a Democrat, is challenging Daines, a Republican, for his seat in the U.S. Senate.
Daines said AARP also has called for increased transparency of COVID-19 data to help identify disparities in health care, and to bring about better health outcomes for seniors and other population groups, including Native Americans.
"This lack of reporting causes an information gap and hinders the ability for policy makers to produce comprehensive, effective solutions that will help combat the spread of this virus and prevent future deaths," Daines said. "In order to help mitigate the number of lives lost moving forward, I encourage you to make public cases and deaths due to COVID-19 in long-term care facilities without further delay."