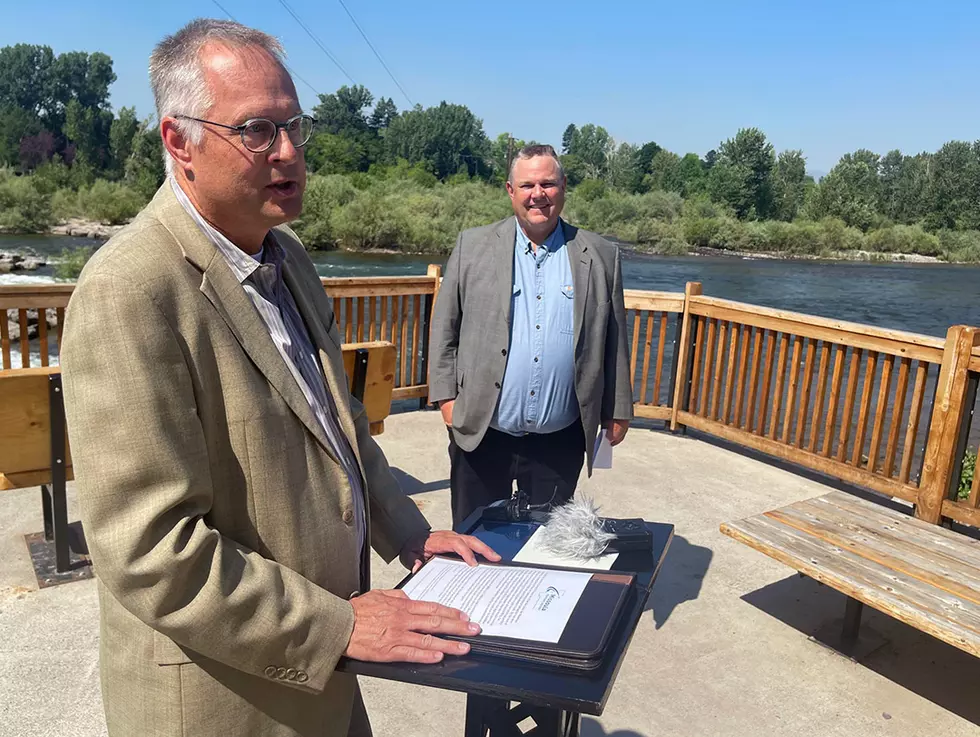 Missoula County Airport Authority selects Ellestad as new airport director
Brian Ellestad, left, talks about the impacts an infrastructure bill could have on Missoula International Airport. Ellestad was selected by the Missoula County Airport Authority this week to replace Cris Jensen as the facility's new director. (Martin Kidston/Missoula Current)
After a hiring search, the Missoula County Airport Authority on Tuesday selected Brian Ellestad to serve as the facility's new director.
The offer is pending contract negotiations, though Ellestad said that should be "pretty easy."
"I've been on both sides of the hiring," Ellestad said. "The committee did awesome. They went through the process and lined everything out. Thank you for the opportunity."
Ellestad is poised to take the reigns of Missoula International Airport at a critical point. The airport is wrapping up a $67 million passenger terminal and is prepared to embark on the project's second phase, estimated at $42 million, as early as next year.
The airport will have to transition between the old and new facility in the spring while maintaining operations. The number of new flights are growing and the number of passengers have nearly returned to pre-pandemic levels.
Ellestad has been part of the growth and construction since the beginning.
"I've poured my heart and soul into this for the last 12 years and I want to continue it," Ellestad said. "The staff here is awesome. I'll work hard for however many years I have and I'm happy to be here. The contract negotiation will probably be pretty easy."
Ellestad has served as the airport's interim director since spring when former director Cris Jensen announced his resignation to pursue other opportunities in Nevada. Jensen was named director in 2005 and brought stability to what had been a rocky operation.
The airport authority said it was pleased with Ellestad's selection.
"It was a good process and we really did have a lot of good candidates," one board member said. "All the interviews went really well. I feel good about our decision."
https://missoulacurrent.com/business/2021/02/missoula-airport-director/